Welcome to Sugar High, a series devoted solely to spotlighting the best ways to sate a sweet tooth in St. Louis. We'll sample the best the city has to offer at restaurants, bakeries and holes-in-the-wall, and provide some insight on how these confections are made along the way.
Classic Gus' Pretzels: pretzel sticks and cinnamon-sugar twists. | Photos by Mabel Suen
Since 1920, Gus' Pretzels (1820 Arsenal Street; 314-664-4010) have been part of the fabric of St. Louis. The recipe for the soft, dense sticks and twists has remained the same through three generations of sons named Gus.
The salted, browned bread has long been sold on street corners throughout the city. But a sugar-coated offering at the Benton Park bakery recently caught our attention: the cinnamon-sugar pretzel.
Owner Gus Koebbe Jr., who runs the bakeshop with his wife, Suzanne, and son, Gus Koebbe III.
A typical production day in the Gus' kitchen generates an average of 8,000 pretzels, with a process unchanged from the bakery's humble beginnings. Flour, water and other dry ingredients make up the base of the initial mixture. After rising on a table, the dough is cut into smaller chunks and placed in a machine that chops and portions individual pieces into a rolled form. From there, an employee twists and dips the dough in a browning agent and bakes it up in the oven.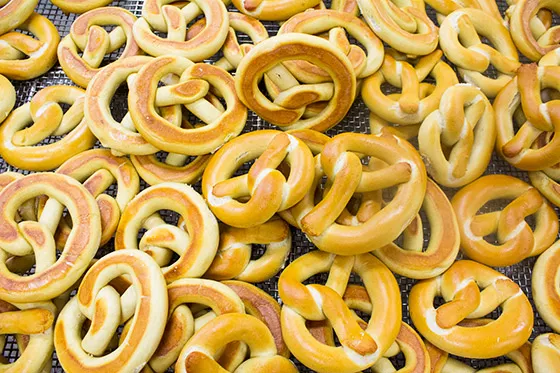 Fresh Gus' Pretzels, ready to take a dip in butter and seasonings.
After cooling, the "baldys," as the Koebbes call the untopped baked goods, take a dip in butter followed by a heavy-handed coating of cinnamon sugar. Gus' has been making these for 10 years now.
Served warm and ready to eat in a paper bag, the snack sates our sweet tooth with a satisfying chew. For an extra dose of sucrose, try it with a raspberry dip. And to balance out the ensuing savory craving, try one of Gus' other popular options, including the bratwurst pretzel. With nearly a century in service and a fan base to show for it, it seems as though Gus and his family will keep on twisting for years to come.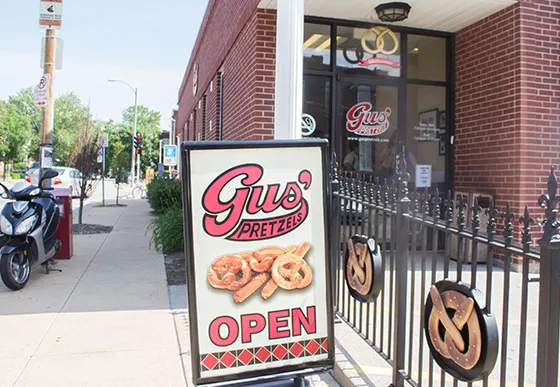 Previously on Sugar High: - Fitz's Berry Pomegranate Soda - Smallcakes' Wedding Cake Cupcake - Pastries of Denmark's Petit Fours - Lucky Buddha's Five-Spice Crème Brûlée - Amy's Corner Bakeshop's Scones - Vincent Van Doughnut's "Mini Vinnies" - Piccione Pastry's Sfogliatella Riccia - The Feasting Fox's Warm Apple Strudel - I Scream Cake's "I Scream Sammys" - LuciAnna's Pastries' Chocolate-Mousse Cheesecake - Spoon Baking Company's Spoon Cookie - Insomnia Cookies' S'mores Deluxe Cookie - Living Room's Peanut-Butter Chocolate-Chip Cookie - Stimulus Baking Company's Pad-Thai Cupcake - La Bonne Bouchée's Strawberry-Mousseline Cake - Pie Oh My's Pumpkin-Maple Pecan Pie - Annie Moons' Banana-Split Muffins - Cyrano's Carrot Cake - Whitebox Eatery's Cheese Pastry - Comet Coffee's Mousse Cakes - Whisk's Apple-Cinnamon "Pop Tartlets" - The London Tea Room's Blueberry-Lemon Cake - Corner 17's Fluffy Ice - The Fountain on Locust's "Banana Bourbon" Sundae - Vinnie's Pinwheel Baklava - Red Fox Baking & Catering's Lemon Tart - Sugarfire Smokehouse's Crack Pie - Russell on Macklind's Coconut Cake - The Kitchen Sink's Sweet Potato Fries - Giovanni's Kitchen's Panna Cotta Trio - Crepes Etc.'s Crepe Cake - Cafe Ventana's Beignets - Frida's Raspberry-Chocolate Avocado Mousse - India Palace's Gulab Jamun - Melt's "Violet Beauregarde" Waffle - Brevan's Patisserie's "Brendan" - Winslow's Home's Chocolate Cake with Espresso Meringue - La Patisserie Chouquette's Eclair - Black Bear Bakery's Raspberry Oat Bar - Gelateria's London Fog Gelato - 4 Seasons Bakery's German Cheesecake - Libertine's "Candy Bar" - Cleveland-Heath's Old Fashioned Cherry Pie - Schlafly Tap Room and Bottleworks' Sticky Toffee Pudding
We're always looking for some sweet ideas. E-mail the author at mabelsuen@gmail.com.