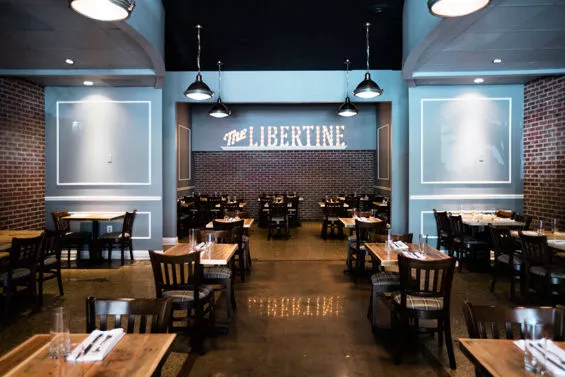 The Libertine is facing some big changes. | Jennifer Silverberg
UPDATE: We updated this post after publication to include comments from Chef Galliano. See the end of the post for the latest information.
Original post follows....
Big changes are in store for The Libertine (7927 Forsyth Boulevard; 314-862-2999). Proprietors Nick and Audra Luedde announced that chef Josh Galliano is leaving the acclaimed Clayton restaurant. Taking over the kitchen is Matt Bessler, a long-time friend of Nick Luedde and the former chef of Schlafly Bottleworks.
See Also: The Libertine's Josh Galliano Brings a Taste of the Mississippi to the James Beard House
"This is completely amicable," Luedde says. "It's been two years. We've done some really cool things with Josh, but we are looking forward to the opportunity to do something new."
Bessler, whose cooking style Luedde describes as "Midwest farm-to-table," will oversee a complete overhaul of The Libertine's menu. Aside from the diner burger, Luedde says diners should look forward to major changes both in substance and format. "We wanted to make something more accessible -- a little more neighborhood friendly."
Luedde adds, "We're completely switching the format of the menu. We're going to have more conventional appetizers, entrees and sharable items. We'll still continue with our housemade breads and charcuterie." And as for the restaurant's famous fried chicken? "That was Josh's thing -- and he did it so exceptionally, so it won't be part of the new menu. We'll do something for Sunday Suppers. Just not that."
Luedde and Bessler hope to take dishes that St. Louisans love and put their own flair on them -- "Re-imagining classics, but doing them Libertine style. We'll still be feeding the foodies, but this will be a little easier for the weekday diner."
As for Galliano, he has accepted a position with Companion Bakery, the home-grown baking company currently seeing huge growth (it's opening a massive new facility in Maryland Heights this summer).
The Libertine's executive sous chef Josh Poletti will also be leaving The Libertine to be executive chef at an undisclosed local restaurant. Current sous chef William Volny will remain with the restaurant.
"All of this sort of worked out perfectly -- the timing was just right," Luedde says. We've known for a while that we were going to take things in a different direction. It was just a matter of when."
UPDATE:
As for Galliano, he professes to be pleased with his new position at Companion.
"The main thing about this move is that I'm really lucky," Galliano says. "This [bread-making] is always something that I've been intrigued with but have only had the opportunity to do so as a hobbyist -- not in-depth like I'll be doing now."
Galliano adds that he is also looking forward to learning from such a large company: "I get to do so much more than I've done when it comes to operations. I get to learn about all of the moving parts at work at such a large organization. One thing I'm really excited about is that they will be providing me with skills and experience that will do me well when I'm sixty."
Though he is quick to say that it is not the singular force, there's a personal element to Galliano's decision to leave The Libertine for somewhere that provides a better work-life balance.
"I've been thinking a lot lately about my goals in this career -- how they have taken a lot of sacrifice from those who are close to me," Galliano explains. "My wife Audra has been by me and helping me over the last few years. The sacrifices haven't always been appreciated. Now I have the chance to reprioritize what is important to me."
Galliano is unsure what his impact will be at Companion, noting that he hasn't begun the training process. However, he and Companion owner Josh Allen have discussed that an important part of his position will involve mentoring the other employees. "I'll be pushing people in directions they may not know they wanted to go," Galliano explains.
One thing is certain: Galliano will not be frying up his famous fried chicken as part of the new gig. "Last night at The Libertine was the last night for that," Galliano says. "But here's the thing: it's all open source. As a cook and food person, you can make it for yourself."
Certainly, it won't be the same.
Follow Cheryl Baehr on Twitter at @CherylABaehr. E-mail the author at Cheryl.Baehr@RiverfrontTimes.com.
---