Photo by Sarah Fenske
The Italian Rye-der sandwiches at Lilly's.
Because St. Louis can be a small town once you get to know people, Kristen Goodman heard Luvy Duvy's was likely closing long before the news was public. As a musician, she'd played at the Benton Park breakfast and lunch spot, and she'd gotten to know the owners -- so when she heard they were looking to take a step back from the restaurant rat race and lease their space to someone else, she knew it was the opportunity she'd been waiting for.
"I'd been in the industry fifteen years," she says. "I'd always had this desire to open my own space." Suddenly the opportunity was right in front of her.
At the same time, Goodman believed there was a need she could fill. After Novak's closed, "there was a gap in the market for a space for women, LGBT women," she says.
Enter Lilly's Music and Social House.
Photo by Sarah Fenske
Kristen Goodman (left) and Elizabeth "Lilly" Fuchs, co-owners of Lilly's Music and Social House.
In January, Goodman and her longtime partner, Elizabeth "Lilly" Fuchs, began hosting "preview nights" in the Luvy Duvy's space, which confirmed to them there was a niche they could serve with a low-key wine bar for lesbians. They signed a lease for the space, and last Saturday, two months after Luvy Duvy's closed its doors, Lilly's Music and Social House (2321 Arsenal) held its soft opening.
For the next two weeks, they'll be open Wednesday through Saturday with abbreviated hours; on June 23, regular hours begin, which will include game nights on Tuesday, "Way Back Wednesdays" with throwback cocktails, live music on Thursday and Fridays, and a DJ on Saturdays. Brunch will be served beginning Saturday at 11 a.m. and Sunday at 10 a.m.; the leafy patio suggests it'll become a popular hangout.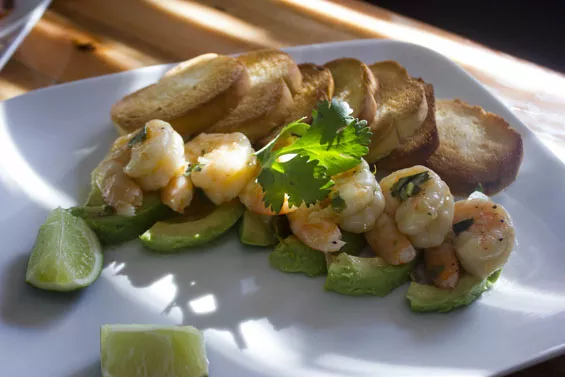 Photo by Sarah Fenske
Shrimp and avocado ceviche is tossed in a citrus vinaigrette. For a gluten-free option, get it with lettuce instead of crostini.
Indeed, while Goodman and Fuchs set out to open a bar, the menu suggests they've would up with far more than that. "I always thought we'd have a bar with food," Goodman says. "But the food ended up being a much bigger part of it than I expected." Nicole Costello, the former general manager of Benton Park Cafe who now works for St. Louis Bread Co., consulted on the menu; Amy Generally, formerly with Lucas Park Grille and the Block, serves as chef.
See also: Howards in Soulard Now Open for Food, Live Music
There are four pizzas or an option to build your own, as well as a charcuterie board. Instead of sliders, Lilly's serves "rye-ders" -- four mini sandwiches on rye bread. The Italian, which is stacked with spicy salami, roasted peppers and melted mozzarella, is deliciously piquant.
There are also a host of small plates for sharing, many of them vegetarian. Kale chips are tossed with lemon yogurt dip; stuffed baby sweet peppers are loaded with Greek yogurt and sauteed jalapeno and given a drizzle of honey. This is definitely not the heavy, fried bar food you may be used to.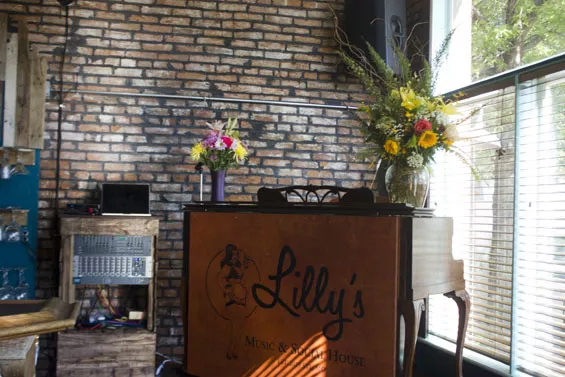 Photo by Sarah Fenske
A piano in the bar's front corner will be used for cabaret and jazz nights. The patio will also host live music during brunch hours on the weekends.
The space, too, has a light and airy feel. Big windows allow natural light to pour in from both Jefferson and Arsenal, and the old booths that gave Luvy Duvy's a classic restaurant feel have been replaced by a high banquette backing an exposed brick wall and tall tables made from gorgeous old butcher block. The bar, too, has been given a new look, with pallettes now lining its front and the bar back.
"The wood gives it a comfortable vibe without being too fancy," Goodman says.
Photo by Sarah Fenske
Goodman redid the bar herself.
All those renovations were done by the partners, along with family, friends and volunteers. Goodman and Fuchs turned to Kickstarter for their initial funding, but they kept their goal modest -- just $11,000. Even though they ultimately raised a few thousand dollars more than that, it was still a low enough sum to ensure that opening the bar was entirely a grassroots effort.
That's the sort of effort that could put stress on any relationship, but for Fuchs and Goodman, it ended up doing just the opposite. After eight and a half years together, during the months of working to open Lilly's, the pair finally got engaged.
"It was time," Goodman says, blushing. "We're making this big commitment together, so it was important to make that commitment, too." They're talking about a February 2017 wedding date -- which would be their tenth anniversary.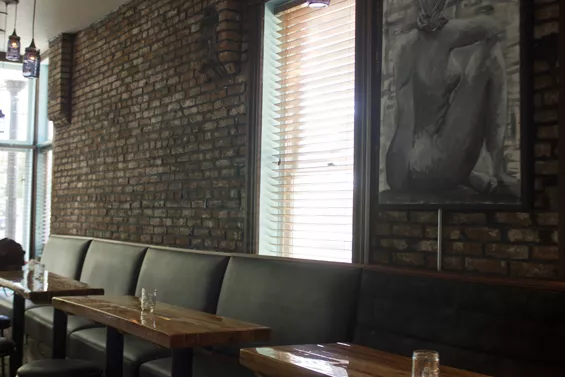 Photo by Sarah Fenske
A high banquette replaces the booths that previously lined the walls at Luvy Duvy's.
Now that Lilly's is opened, Goodman is focused on lining up live music ("I've been booking musicians for the summer, and I realized, 'Oh crap, I have to book myself!'"). She's also getting art of important women from St. Louis history to hang on the walls.
Famous lesbians get a plug on the cocktail menu, too, with drinks named after everyone from Jane Lynch ("The Jane Lynch-berg Lemonade") to kd lang ("kd takes manhattan").
Goodman wants the place to be inclusive, but women, clearly, are front and center. "It's a lesbian bar that's open to all," she says. "If you want to join us in celebrating great women, you'll fit right in."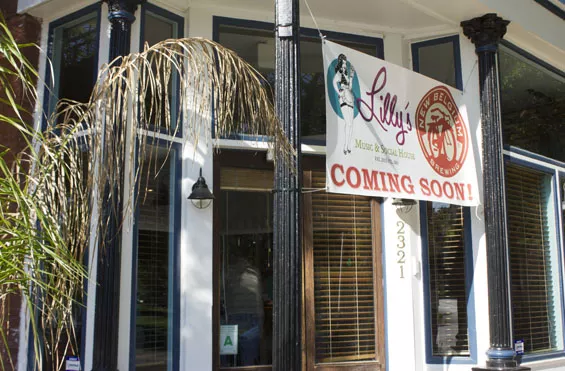 Photo by Sarah Fenske
Lilly's is located at the corner of Jefferson and Arsenal.
We welcome tips and feedback. Email the author at sarah.fenske@riverfronttimes.com