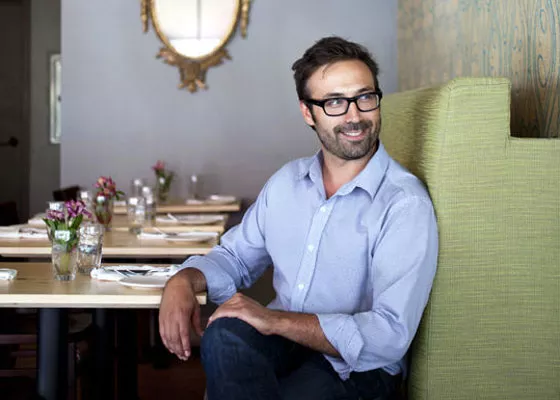 Tom Schmidt, owner of Salt + Smoke. | Jennifer Silverberg
Tom Schmidt admits that opening Salt + Smoke (6525 Delmar Boulevard, University City; 314-727-0200) was an enormous leap of faith. "My wife was pregnant with our first child, and there were about five different articles published in local papers about how there are too many barbecue spots opening up and that we were all going to fail miserably," the Salt + Smoke owner recalls. "Loyal customers of Nico were coming in every day to tell me I was making a huge mistake. I stood to lose my business, my house, my passion and reputation, and the security of my family. It was absolute insanity."
See Also: Salt + Smoke distinguishes itself in the crowd of new St. Louis barbecue
His gamble paid off. After shuttering his sophomore effort Nico last June -- a concept he "knew wasn't right" from the outset -- Schmidt reopened the space five days later as Salt + Smoke, which has become one of the city's most acclaimed barbecue restaurants.
The concept may seem like a stretch considering that Schmidt made his name at Franco, a French bistro in Soulard known more for cassoulet than baked beans. Schmidt, however, sees it as a natural extension. "Meat is the basis of what we do at Franco. We make all of our own charcuterie," he explains. "If you say 'saucisson' to someone their eyes glaze over. But if you say 'we're making jalapeño bologna,' they're like, 'OK, great.'"
Within three months of opening Nico, Schmidt wanted to rebrand as a barbecue spot, but he had to convince the restaurant's investors. "I couldn't act unilaterally," he says. "That ended up being a blessing in disguise because I had two years to conceptualize Salt + Smoke." Still, he says, "It was a difficult leap."
When he finally worked up the courage to let his cooks in on the plan, "they lit up," Schmidt recalls, and began collaborating on recipes that would be the basis of the new restaurant, including the signature brisket -- a dish that is good enough to convince any naysayers that Schmidt made the right move.
Schmidt took a break from the smoker to share his thoughts on the St. Louis restaurant scene, being brainwashed by Blueprint Coffee, and what it's like to be painfully shy in the restaurant business.
What is one thing people don't know about you that you wish they did? That I wish people knew less about me. My job is extremely social and it is a great gift to be able to interact with and learn about hundreds of people a day, and I am grateful and really love it. That being said, I'm secretly shy. I actually refused my first job [as] a waiter. I had been a busser at Paul's in Clayton, a small husband and wife restaurant, for three years when they offered me a serving position. The caveat was that I would have to "actually talk to people." I said I would prefer to stay a busser.
What daily ritual is non-negotiable for you? A pour-over coffee from Blueprint. Those jerks have made themselves indispensable to my daily life, as nothing tastes right after they brainwash your tongue.
If you could have any superpower, what would it be? I wish I could heal super fast so that evil doctors could fuse a new incredibly strong metal alloy to my bones, thus making me nearly indestructible. Metal claws optional.
What is the most positive trend in food, wine or cocktails that you've noticed in St. Louis over the past year? I don't know if its a trend or an ethos discovered, but I am thrilled that so many talented people are really pursuing their passion and finding ever-evolving ways to implement them. Traditional restaurants are not the only way to deliver food and beverage to people now, and I think guests are eager to find new avenues to enjoy consumption. Food trucks, gift horse [bags], high-low, local restaurants at Rams, Cardinals and Blues games, home delivery, CSAs, community gardens, so on and so forth. I think the best ideas are ahead of us.
Who is your St. Louis food crush? Dave Bailey [Rooster, Small Batch Whiskey & Fare, Bailey's Range]. What he's doing now and has built over the last 10 years is incredibly ambitious and outstanding, but he never rests. I always feel like I have a lot of growing/catching up to do after hanging with Dave.
Who's the one person to watch right now in the St. Louis dining scene? Mike Randolph [Half & Half, the Good Pie, Publico] has made the best dish in St. Louis with his tacos al pastor. It's the only dish I can remember in a long time having and then waking up the next day and planning my next trip to get. It's been a few months and I'm still excited about those damn tacos.
Which ingredient is most representative of your personality? Brisket. It's like the dad bod of meat. Full-flavored, a little fatty, really salty and smokey.
If someone asked you to describe the current state of St. Louis' culinary climate, what would you say? My wife and I like to travel a lot, all over. We research a ton in the food capitals of the world on where to eat. It's rare when we find a restaurant that is lauded in another city that would crack our top ten in St. Louis. Our restaurant and culinary scene is truly world class.
Name an ingredient never allowed in your kitchen. Foam. I chastised a sous chef at Franco eight years ago when he tried to put a lobster foam on a salad. I want to live my life knowing confidently that I never put a damn foam on anything. Not that there is anything inherently wrong with foam, but you need to know who you are and what your food says and represents. It's just never been my thing.
What is your after-work hangout? My kitchen. Bars after dinner service are a distant memory with a six month-old around. Leftover Bolognese and the second half of the bottle of wine my wife started before she went to bed is pretty great company these days.
What's your food or beverage guilty pleasure? Pork Buns from Wei Hong Bakery & Restaurant on South Grand. On a scale of 1-Even, I can't. I can't even.
What would be your last meal on earth? My mom's chili. Or. . . I always thought I will probably die in a shark attack at sea. I will definitely take a bite out of that fish before he brings me down.
Follow Cheryl Baehr on Twitter at @CherylABaehr. E-mail the author at Cheryl.Baehr@RiverfrontTimes.com.
---