Emily McCarter
Twin sisters Jannette Neely (right) and Penelope Ritchie (left) stand in front of the bundt cake show case inside of their Nothing Bundt Cake franchise in Town and Country, Missouri.
Jannette Neely's love for Nothing Bundt Cakes started eight years ago, when the first franchise of the Las Vegas-based bakery opened in Texas. The St. Louis native was working in the corporate world, on her way to see a client, when she spotted the store.
"I called my twin sister, and I said, 'You're never going to believe what I just saw, a Nothing Bundt Cake Bakery. Isn't that funny? Don't you remember when mom and grandma always made bundt cakes?' Everybody always remembers their mom, or grandma, or somebody making a bundt cake."
Neely had to try a cake from the shop, and when she did, she promptly fell in love. She started buying Nothing Bundt Cakes for every occasion, from birthdays to baby showers. When her sister Penelope Ritchie visited Texas, she too fell in love with the cakes.
Two years ago, Neely, who lives in Baton Rouge, started looking into opening her own franchise.
"I was very frustrated in the corporate world, and my husband kept saying, 'You need to do something that makes you happy,'" Neely explains. "And what makes me happy is Nothing Bundt Cakes. It's such a happy place. When you walk in everybody is celebrating something. All we do is smile all day. It's so much fun."
She adds, "We sat on the idea of opening a store for awhile, and then last year, January 2014, we got serious and reached out to Nothing Bundt Cakes and started the process." On April 1, Neely opened the St. Louis area's first franchise in the Lamp and Lantern Village strip mall at Clayton Road and 141 (159 Lamp and Lantern Village, 636-220-6087). She hired her sister, Ritchie, to be the bakery's manager.
Initially, Neely had looked into opening a store in either her hometown or in Baton Rouge. Ten weeks into the process, the corporate office informed Neely that someone else was also looking into the Baton Rouge territory. That persuaded her to focus on St. Louis, where the territory was wide open. After all, the nearest Nothing Bundt Cakes franchise is in Overland Park, Kansas -- making Neely's bakery the first in Missouri.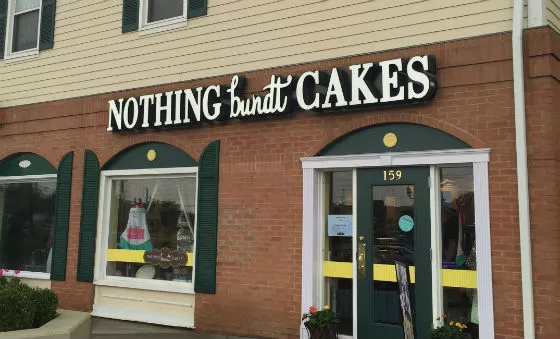 Neely was looking into a few different locations, but was immediately drawn to what she calls the "iconic site" of the Lamp and Lantern Village in Town and County.
"This area is just so cute," Neely raved. "We love this spot." So did the corporate office, which approved of the visibility from Clarkson Road and the exit ramp coming off of 141.
"There's no doubt about where it is," Neely said. "There's a short little area in Town and Country, and nobody is confused about where my bakery is."
The Nothing Bundt Cakes' corporate office is strict about decor, making sure every store looks similar for continuity. Neely's shop is nothing short of cute and welcoming. The staff greets every customer with a smile and a cheery "Welcome to Nothing Bundt Cakes, how can we help you?"
Nine classic flavors are offered at every franchise, plus a featured flavor that changes every two months. Right now the featured flavor is Strawberries and Cream. On July 1, that will change to Lemon Raspberry.
The company's top four flavors nationwide are Chocolate Chocolate Chip, Red Velvet, White Chocolate Raspberry and Lemon. Cinnamon Swirl is a top contender as well. And yes, gluten-free cakes are available.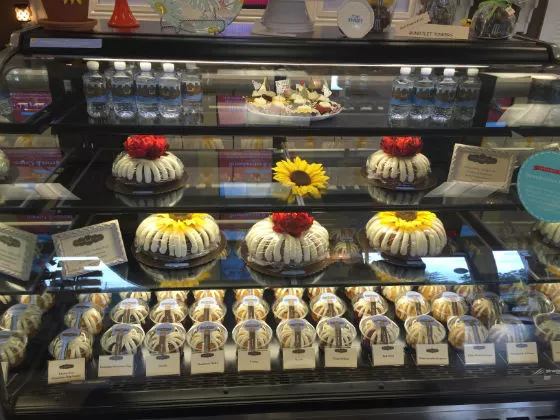 The bakery uses only premium, fresh ingredients so customers always bite into a moist cake, Neely says.
"We keep it simple," Neely says. "We build up on our cakes; all of our cakes look the same so rather than changing the appearance of the cakes, we build up on it."
Fake flowers or ribbon bows are offered as decoration for an extra fee. The store also offers cards and other special gifts such as coffee mugs and ceramic serving trays.
The bakery offers a large look-book of all the different cake options available for special events ranging from birthdays to wedding showers to a simple "get well" decoration. Almost every special occasion cake has a punny title incorporating the circle, or bundt, such as "Cele'Bundt'ing You" and "'Center' Of Attention."
Customers can also "Build A Bundt" cake by picking the cake flavor, bow or flower color, quote card and messages. The only complaint the sisters get from customers? Some wish the "bundtinis," or smallest bundt cake option, were sold in quantities less than one dozen.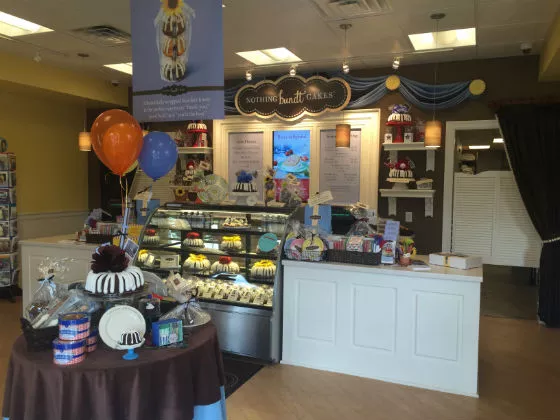 Neely and Ritchie went through a month-long training program to become certified operators and Nothing Bundt Cake bakers. The two then trained their staff of 15.
"We love what we do," Neely said. "With any job, it's very challenging sometimes to go in to, but here, it's just a happy place."
We welcome tips and feedback. Email the writer at [email protected]
Editor's note: A previous version of this story contained inaccurate information about the shop's location. It's at Clayton Road, not Clarkson. We regret the error.