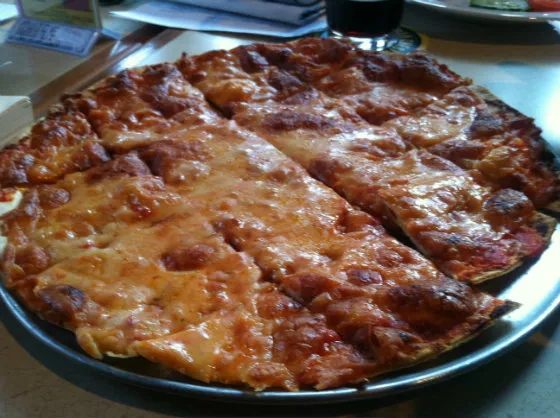 Photo by Sarah Fenske
Where I am eating this pizza, pray tell?
Update: We have a winner! As Robin guessed, we were eating at Thurman Grill & Provisions in the Shaw neighborhood. This was a hard one, so we have to give Robin total props for cracking the mystery.
Original post follows....
St. Louis-style pizza gets no respect. It's been derided as ketchup on a cracker. Deadspin called it a "war crime." Some chick in Dallas who goes under the nom de plume "Foodbitch" pronounced its signature ingredient "bullshit." Such vulgarity!
But sometimes, when you're in a certain mood, nothing else will do but thin crust, tangy sauce and hot Provel. It hits the spot, and then some.
So where are we eating this particular crime against humanity? Simply study the photo and leave your best guess in the comments. If you give us the first correct answer, we'll give you $25 to DePalm Tree (8631 Olive, University City, 314-432-5171).
Rules: To be eligible, you must leave a valid e-mail address (or Twitter handle or Facebook profile URL) in the comment-entry field. One guess per e-mail address. Employees of the restaurant in question and the Riverfront Times are not eligible.
A word of note: Some of you noticed that we didn't declare a winner for the last two weeks -- our post about eating flatbread and our post about eggs benedict were both left without resolution.
The reason for that is complicated, and aggravating. On the flatbread post, no one both came up with the winner and provided contact information, as the rules require. We were holding out hope that an accurate guess was on the way -- but before we had a victor, the next week had already rolled around.
We then posted the eggs benedict quiz, and quickly saw a winning comment -- only to have our former owners, who still own our website, switch to a new comment system that requires a log-in through Facebook. And go figure: The process of switching us over to the new system wiped out all of our old comments, including the ones on the eggs benedict quiz.
Did someone ever come up with the right answer for the flatbread quiz? We're not sure -- we hadn't checked just before the wipeout, so it's possible it was there and we just didn't see it. And what happened to the eggs benedict winner? We know they exist, but we didn't take notes on their identity or how to reach them -- remember, we didn't realize the wipeout was coming until it was too late.
So: We apologize for the weeks of chaos. Going forward, we intend to keep playing this game as long as you keep entering it. It may be that our new comment system with its Facebook logins doesn't draw much participation; only time will tell. But we can say that, shortly, we'll be getting off this awful old website and onto a new one, and then we can reexamine the comment system once again. Even if you're not thrilled with the new situation, patience may be in order.
In the mean time, we're going to mix it up a bit -- we'll no longer limit our Guess Where I'm Eating posts to Mondays. Check back frequently, let us know your best guess in the Comment section, along with a way we can follow up with you (preferably an email address), and thanks for your patience in what's been a trying few weeks.
Gut Check is always hungry for tips and feedback. E-mail the author at sarah.fenske@riverfronttimes.com
---