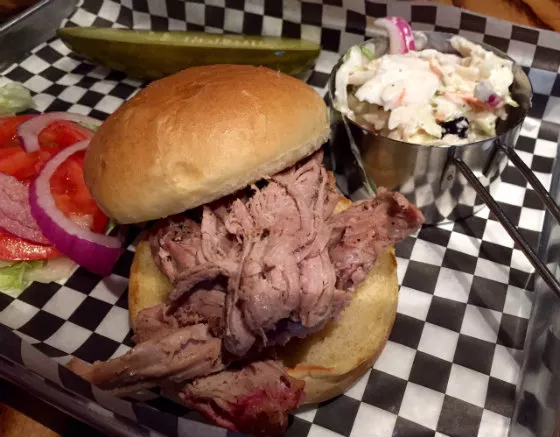 Photo by Sarah Fenske
The pulled pork sandwich comes with your choice of side for $10.
When Phil and Tracy Czarnec, owners of the Wildflower Grill, first announced they were opening a barbecue joint in the Central West End, their marketing director told the Post-Dispatch it could be open by late summer -- and by that, he meant the summer of 2014.
That didn't happen, obviously. Nor did The BBQ Saloon open in the fall, or winter, or early spring of 2015. By May, the storefront at Euclid and Laclede had taken to sporting a sign that read, "Coming Sometime Soon, LOL."
But last Thursday, the restaurant finally opened its doors -- and drew a steady drumbeat of customers all weekend long. By late Saturday night, as well as Sunday around 6 p.m., servers were apologizing for running out of various staples.
Photo by Sarah Fenske
The interior of The BBQ Saloon is barely recognizable as the former home of the Majestic.
One reason for the delay in opening is surely the complete overhaul the Czarnecs have given the space at 4900 Laclede since its days as a Greek-inflected diner. The Majestic was a neighborhood institution, a great place for a hungover brunch or a pitcher of beer -- but the look of the restaurant that's replaced it is a huge upgrade.
Exposed brick walls and hardwood floors are the backdrop to a host of stylish details, from the faux-cowhide throws on the benches to the Art Deco heads holding up shelves in the main dining room. Even the bathrooms have been given a major facelift, with striking white tiles and rosewater-scented soap.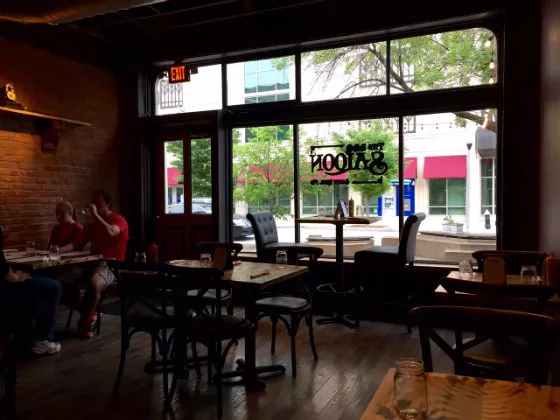 Photo by Sarah Fenske
Large windows overlook Laclede Avenue.
As befitting a place where the servers' T-shirts note that "whiskey is water with soul," the whiskey list is voluminous. Just how voluminous isn't exactly clear, however, since the restaurant is still working on a final written accounting to give to patrons.
For now, you're advised to belly up to the bar and see if something catches your fancy, or perhaps just try a Manhattan. Amanda Hammond, a Niche veteran who runs the drinks program, learned to make them for her grandfather, and the servers are properly enthusiastic in suggesting them.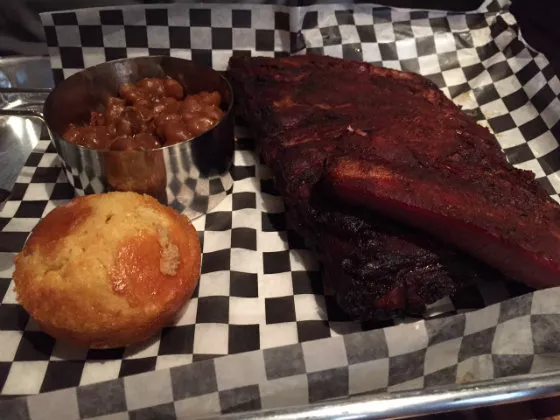 Photo by Sarah Fenske
The pork ribs come in two sizes -- a half rack, shown here, is $18, which includes two sides.
Unlike that roster of whiskeys, the menu itself is short and sweet. Try one of five barbecue plates -- St. Louis-cut pork ribs, beef ribs, salmon, BBQ pork steak or pulled pork -- or one of four sandwiches: a burger, a pulled pork sandwich, a shredded turkey or a vegetarian option made of zucchini, squash, tomatoes, pepper and onion.
Each plate comes with two sides, while sandwiches come with one. Choose between potato salad, slaw, baked beans or corn bread.
Turn the page for more photos of The BBQ Saloon.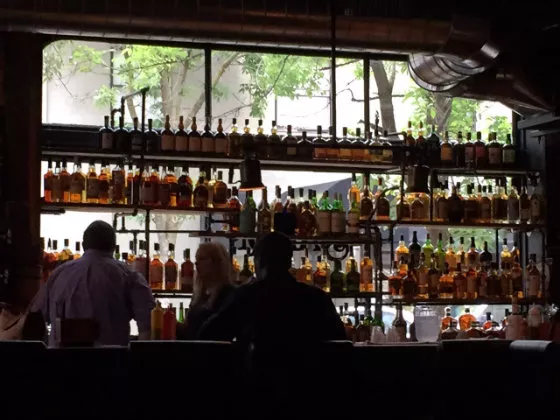 Photo by John Schoemehl
The bar at The BBQ Saloon contains an extensive selection of whiskey, including some real rarities.
But the real highlight comes in the short list of starters. The menu contains a warning about the candied bacon: "Dare you to try and eat just one."
It isn't easy. The four long strips of brown-sugar-carmelized pork are a good reminder that, even if bacon has become too trendy for its own good, it comes by its popularity honestly. This is a truly delicious rendering of an always-delicious cut of meat. Even though it made a great beginning to the meal, we found ourselves tempted also to end with it.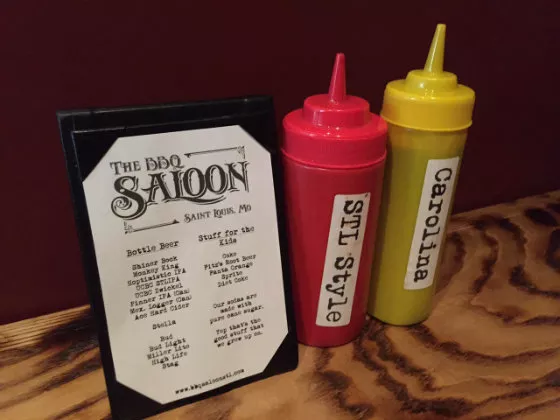 Photo by Sarah Fenske
The BBQ Saloon features two sauces, STL-style and Carolina.
The housemade crackl'ns, which come in either salt-and-vinegar or barbecue, were also delightful. But it's pretty hard to top the combination of brown sugar and bacon.
Photo by Sarah Fenske
Candied bacon and housemade crackl'ns at The BBQ Saloon.
The BBQ Saloon may have been a long time in coming, but now that it's here, the restaurateurs plan to be open seven days a week. Just make sure to get there before they run out. Even with no publicity, they were doing a damn good job of making that happen on their very first weekend.
Photo by Sarah Fenske
The BBQ Saloon faces both Laclede and Euclid avenues in the Central West End.
Gut Check is always hungry for tips and feedback. E-mail the author at sarah.fenske@riverfronttimes.com
---