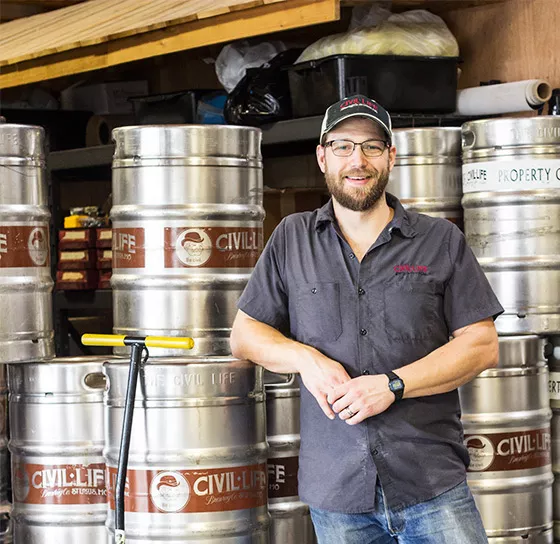 Brandon Stern of The Civil Life Brewing Company. | Mabel Suen
The Civil Life Brewing Company's (3714 Holt Avenue) Brandon Stern wasn't sure about his career path when he first got into the beer industry. In fact, he thought he was going to be a plumber -- until a part-time job delivering pizzas for a Chicago brewpub put him on an entirely different course.
"I came to this through a lot of twists and tumbles," Stern laughs. "I started out working at a brewery and pizzeria called Piece in Chicago. I had some ideas about beer before then, but not a lot. That's where my big exposure happened."
See Also: 11 Canned Craft Beers Perfect for a Float Trip
Stern was admittedly drifting along, trying to figure out what he wanted to do with his life, when an evening of shift drinks gave him some clarity. "I was sitting down talking to the guys and really got to know the brewers," Stern explains. "I started reading everything I could, researched brewing and found out it was pretty easy to do at home."
Stern attended a class at the Siebel Institute in Chicago, the prestigious brewing academy whose main campus is in Munich. Eventually, the brewers at Piece let him try out for a spot on their team. "I started out scrubbing floors and pitching in any way that I could," Stern recalls. "Eventually, I worked my way up and worked for them for a year and a half."
When his wife got into graduate school at Washington University, Stern knew he wanted to get in with one of St. Louis' craft breweries. "I've always loved The Civil Life," he says. "They were at the top of my list because I appreciated the way they are so technically sound." Fortunately for Stern, the small brewery had an opening, and he's been assisting head brewer Dylan Mosley since 2014. ("I've heard Dylan cusses a lot less since I'm there to help now," Stern laughs.)
As for his plumbing career, Stern says it helps him in his craft. "It's actually beneficial. In brewing there are all sorts of pumps and valves and such. It's not that far off."
Stern took a break from brewing to share his thoughts on St. Louis' food and beverage scene, his shameless guilty pleasure and what you'll never find in the beer he brews.
What is one thing people don't know about you that you wish they did? I'm not sure if they're things that people need to know about me, but I do a lot of bicycling, play a little guitar and enjoy checking out new restaurants and drinking establishments. That's how I spend my free time.
What daily ritual is non-negotiable for you? Coffee.
If you could have any superpower, what would it be? Flying would be cool.
What is the most positive trend in food, beer, wine or cocktails that you've noticed in St. Louis over the past year? This city is all about DIY and community. You work hard to make the things you believe in and rely on your connections and the people you know to support it. Work hard to grow your base. You see that all over the food and beverage scene here.
Who is your St. Louis food or drink crush? I was fortunate to work at Olio when I first moved to St. Louis. Chef Ben Poremba is the best. I was also able to learn a ton from John Fausz, Bess Kretsinger, Andrey Ivanov and Jennifer Epley.
Who's the one person to watch right now in the St. Louis food and beverage scene? There are a ton of great young brewers being trained by some outstanding veterans of the industry here in St. Louis. It's only a matter of time before we start to see some of them breakout on their own. I'm also excited to see Jared Saffell and Heavy Riff [Brewing Company] run full tilt.
Which ingredient is most representative of your personality? Malt...maybe? And not just because I work at The Civil Life. Malt is the soul of beer.
If someone asked you to describe the current state of St. Louis' food and beverage climate, what would you say? It's a great time to be a part of it. Whether you are an interested foodie, beer and cocktail nerd, or an industry professional, there is so much to take advantage of. Regarding beer, we all look at the final product, but we brewers rely on farmers, tank and barrel manufacturers, bottle shop/bar owners, etc. We are experiencing a boom, and it's fun.
Name an ingredient never allowed in your brewery. Nelson Sauvin. I hate that hop.
What is your after-work hangout? I tend to end up at Dressel's, iTap [International Tap House] in the Central West End, 4 Hands Brewing Company, 4 Hands Brewing Company" target="_blank">Old Standard, Craft Beer Cellar in Clayton, Taste or The Royale, but that's usually on Saturday or Sunday afternoon.
What's your edible or quaffable guilty pleasure? PBR me, ASAP. Hold the shame.
What would be your last meal on earth? Tough one. My first thought is pizza because I spent a lot of time working at Piece in Chicago. I ate it so much it became my benchmark. There are too many pizza combinations to name here, but the meal would definitely include a glass of Dysfunctionale from Piece, a Civil Life Rye Pale Ale, Parabola from Firestone Walker and a Four Roses, double neat.
Follow Cheryl Baehr on Twitter at @CherylABaehr. E-mail the author at Cheryl.Baehr@RiverfrontTimes.com.
---