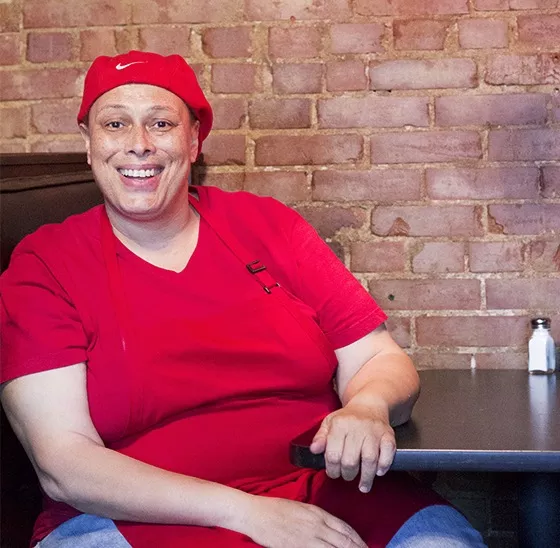 Leon Augustus Braxton Jr., a.k.a "Miss Leon." | Mabel Suen
Updated with comments from chef Leon Augustus Braxton Jr.
In some sad news coming out of Bomber's Hideaway, chef Leon Augustus Braxton Jr., aka "Miss Leon," has announced that his beloved Southern restaurant Miss Leon's (3960 Chouteau Avenue, 314-652-0011) will close this Sunday, May 31.
Tomorrow's all-you-can-eat fried chicken extravaganza, an event that put his restaurant on the map and garnered him a cult following, will be the last, at least for the foreseeable future.
Braxton announced the news on his Facebook page, citing the sale of Bomber's Hideaway as the reason for Miss Leon's closure. His restaurant was embedded inside the sprawling gay bar and nightclub in the city's Grove neighborhood -- and earned raves for its fried chicken.
See also: Miss Leon's Serves Some of the City's Best Comfort Food
Bomber's Hideaway has now been sold, Braxton said, and will become a lesbian bar called R-Bar.
But this won't be the last we see of Braxton, a mortgage banker-turned-drag-queen-turned-chef. (His alter ego? The drag queen Dieta Pepsi.) He will be returning to his roots, cooking at Rehab and taking catering jobs while he explores other options for the future of Miss Leon's.
We will update as more information becomes available. In the meantime, here is Braxton's full statement:
So by now I am sure many of you have heard the news that the building that Miss Leon's is housed in has been sold. It was sold to a very nice group of ladies who are going to open a lesbian bar called R-Bar. I fully support them, as I hope you will, and can't wait to come and have a shot of Southern Comfort. Best of Luck Ladies!! With that being said Sunday will be the last day that Miss Leon's will be open. So let's make this last AYCE Fried Chicken on hell of a party. I don't believe in going out with a whimper I want go out with a bang! I will still be cooking at Rehab Saint Louis and exploring other options. I can still cater lunches and parties. So call me or text me. You know you can't keep a big girl down!. I just want to say thank you for all the support, love, kind words, great reviews, suggestions, and your patronage. I truly do appreciate each and every one of you. I love you my LGBTQIA family, even my haters!!!
Update: Braxton tells Gut Check that he learned the news of the sale only last evening.
"I found out at 7 p.m. last night," Braxton says. "When I first heard that the group bought the building I thought they were going to have me stay. Then I found out that they wanted to do something different with the space."
Braxton explains that Bomber's Hideaway owners Chad Fox and Jim Weckmann had been leasing the space, so when the building's owners had the opportunity to sell, Fox and Weckmann didn't have a say in the matter. "They feel really bad," Braxton says.
Braxton will be re-joining the culinary team at Rehab, working the lunch shift and re-instituting the fried chicken Sundays that made him famous. His main focus, however, will be finding a space of his own in the Grove so that he can re-open Miss Leon's.
"It's a temporary setback," Braxton notes, "but it will be fine. It's a sad day, but it's going to happen."
Follow Cheryl Baehr on Twitter at @CherylABaehr. E-mail the author at Cheryl.Baehr@RiverfrontTimes.com.
---