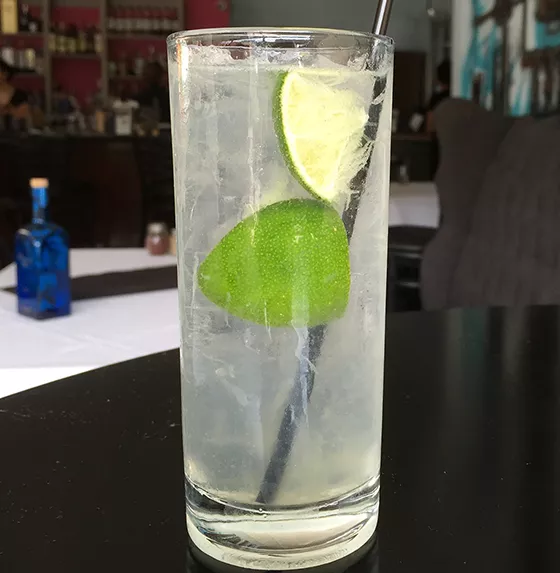 A perfect gin rickey. | Patrick J. Hurley
The rickey was born in Washington, D.C., in the late nineteenth century. The original version was bourbon-based, but it was only several years later when bartenders changed the base of the cocktail that it really took off. Gin became the rickey's liquor of choice, and rightly so -- few combinations are as alchemically perfect as gin and citrus.
See also: Resurrecting the Daiquiri: The Cocktail of Summer 2014
The gin rickey is simple and delicious. With just gin, lime and soda water, there's no sugar to weigh the drink down. It's bright and effervescent, arguably the most refreshing cocktail ever created. The botanical elements of the gin really shine through, too.
You can order (or make) this drink with any gin, but some work better than others. Natasha Bahrami lovingly curates a collection of 90-some unique gins at the Gin Room (3200 South Grand Boulevard 63118; 314-771-3411). "A light London dry with some citrus is ideal for rickeys," she says. "This is one of the most exciting drinks you can do because it's so basic. A rickey is crisp, but you don't want it too dry."
Bluecoat gin makes a great rickey. | Patrick J. Hurley
Bahrami settles on Bluecoat Gin, distilled in Philadelphia. The resulting rickey is delicious. It's bright and tart with the botanicals really coming through, especially some black pepper and soft orange citrus notes. It's light and effervescent. Bahrami uses canned soda water -- she finds soda off a gun has a slight off flavor. She also muddles the limes, rather than just squeezing them.
A simple gin rickey taken al fresco at Tick Tock. | Patrick J. Hurley
You don't have to be at the best gin bar in town to get a rickey, though. The Tick Tock Tavern (3459 Magnolia Avenue 63118) features one on its short list of house cocktails, conceived in part by Tim O'Connell, the mastermind behind the original drinks list at the Royale.
O'Connell speaks with reverence about his introduction to this summer drink. "I confess I came to the rickey late. My first was after a game of hardball doubles squash, where it was urged upon me by the young former captain of the Yale squash team, Ethan Oetter, who was taking one himself. 'Air conditioning in a glass,' he said. And he was right. I think it's so refreshing and even more cooling than a gin and tonic because there is no sugar to raise your body temperature. Its simple preparation made it just right for the Tick Tock," O'Connell says.
The "Rhubarb Rickey" at Tree House. | Patrick J. Hurley
If you're feeling like something slightly more exotic, try the unique take on the rickey at Tree House Restaurant (3177 South Grand Boulevard 63118; 314-696-2100). The "Rhubarb Rickey" combines Broker's London Dry Gin with grapefruit, lemon, rhubarb bitters and ginger beer. This cocktail is spicy, earthy and complex, with a beautiful balance of sweet and tart. It's invigorating and refreshing in equal measure.
No matter where you have it, treat yourself to a gin rickey soon. It just might be the only cocktail that can make summer in St. Louis bearable.
Follow Patrick J. Hurley on Twitter at @VeganDrunkard. E-mail the author at Patrick.J.Hurley@HurleyHouse.com.
---