"Saylor" breakfast pizza with bacon, sausage, fire-roasted potatoes, scrambled eggs and gravy sauce. | Photos by Mabel Suen
Where: Yaqui's on Cherokee (2728 Cherokee Street; 314-400-7712)
When: Sundays from 10 a.m. to 5 p.m.
We Tried: "Saylor" breakfast pizza ($16.99); "Yaqui's Slinger" savory crepe ($13.99); "Elephant Ear" snack crepe ($5.99); wood-fired biscuits and gravy.
When Yaqui's officially rolled out its food menu last summer, Gut Check learned that it specializes in two things: wine and wood-fired pizzas. The cozy Cherokee Street corner bar offers more than 30 wines by the glass to go with owner Francis Rodriguez's take on Neapolitan-style pie. In January, the restaurant also started cooking up an extensive weekly brunch.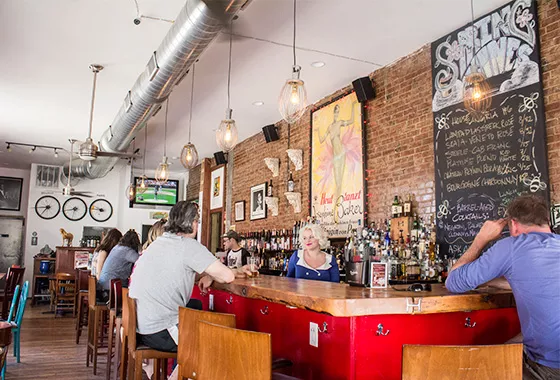 The menu begins with a selection of tantalizing drinks. Instantly kickstart any Sunday by choosing from Yaqui's brunch cocktails. Options include classics such as bottomless mimosas ($12) and the house bloody mary -- dubbed the "Pizza Cup" ($6) -- as well as some specialty concoctions.
The "Hot Foxy" ($7) for instance, combines coffee, vanilla vodka, Frangelico, Rumchata and chocolate. The "Lunchbox" ($8) features wheat beer, champagne, orange juice, amaretto and Grand Marnier.
An "Elephant Ear" snack crepe ($5.99) with cinnamon, sugar and butter.
In the kitchen, chef Hana Chung brings in refined dining experience from previous positions at Sasha's on Shaw and Juniper, utilizing Yaqui's signature custom-built oven in combination with her own personal touches.
"We knew we should offer pizzas, since that is our specialty, so Hana came up with crepes, biscuits and gravy, and other select items that show the depth of her talents," says Rodriguez. "We know we're a pizza place, but expanding our regular fare lets us reach a wider audience. And seriously, the biscuits and gravy are the most amazing thing you can get."
Wood-fired biscuits and gravy.
Chung's wood-fired biscuits are like flaky, heavenly pillows, draped in a creamy, zesty herb sauce. Additional offerings from the spring brunch menu come broken down into five different categories: breakfast pizzas, sweet and fruit crepes, savory crepes and snack crepes.
Filling fourteen-inch pizzas come in combinations including the "Saylor" ($16.99) with bacon, sausage, fire-roasted potatoes, scrambled eggs and gravy sauce as well as "Ham & Eggs" ($15.99) with prosciutto, red onions, a sunny-side-up egg and blanca sauce. A make-your-own option is also available in personal ($8.99) and fourteen-inch ($13.99) sizes.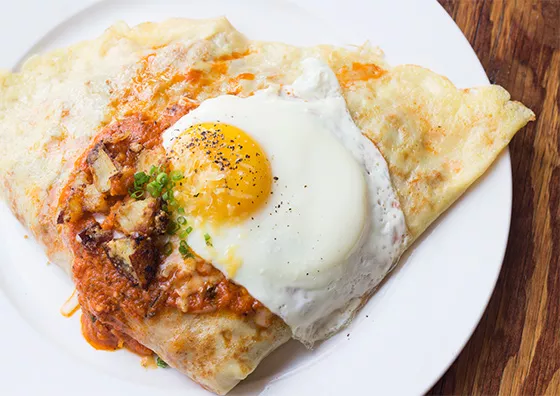 The "Yaqui's Slinger" savory crepe.
Delicate crepes come with substantial fillings. Hit the sweet spot with combinations such as "Berries & Brie" ($9.99) with brie, seasonal berries, honey, candied nuts and dried cranberries. On the savory side, try options like "Yaqui's BBQ" ($12.99) with house-smoked chicken and pork, mozzarella and pineapple.
If you have a hard time choosing between pizza and crepes, get the best of both worlds with the "Yaqui's Slinger" ($13.99), a savory crepe stuffed with pepperoni, sausage, bacon, red onions, peppers, mushrooms, garbanzo beans, fire-roasted potatoes and mozzarella, topped with a fried egg and smothered in red sauce. With so many enticing dishes to choose from, pizza for breakfast has never sounded so good.
Click through for more photos.
Another look at the "Saylor."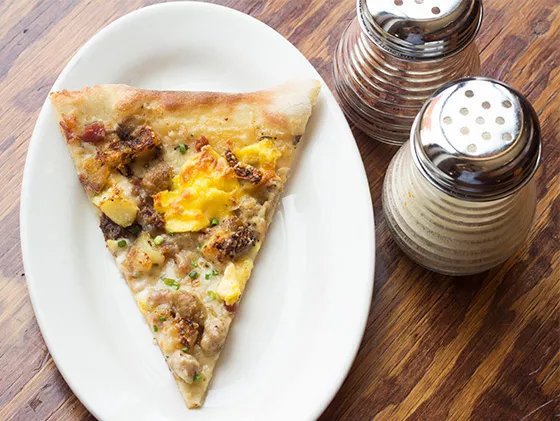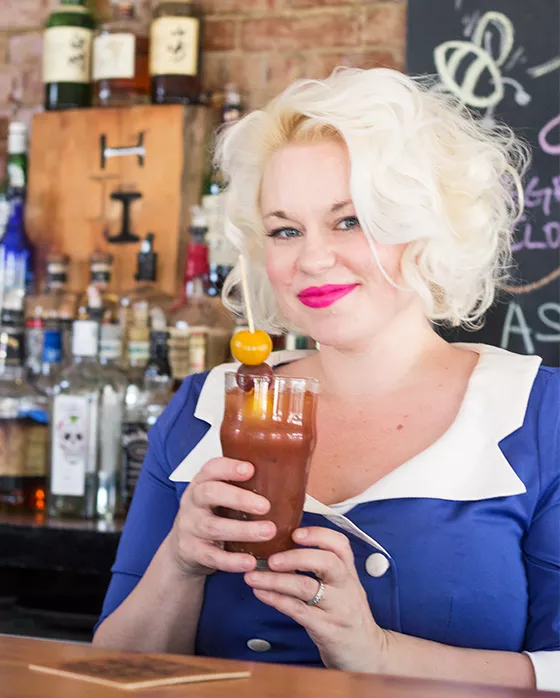 "The Pizza Cup" house bloody mary.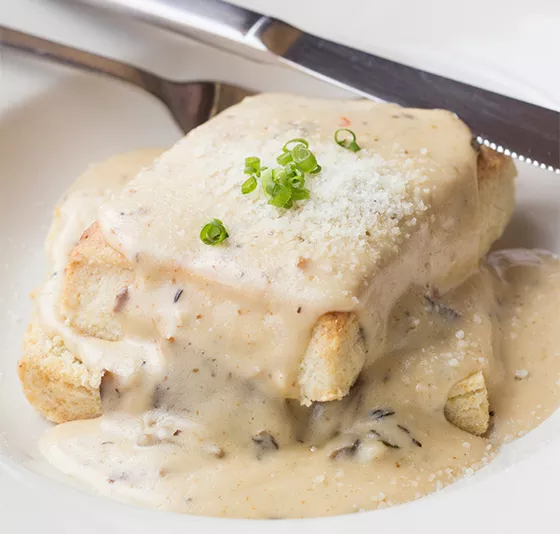 A closer look at the wood-fired biscuits and gravy.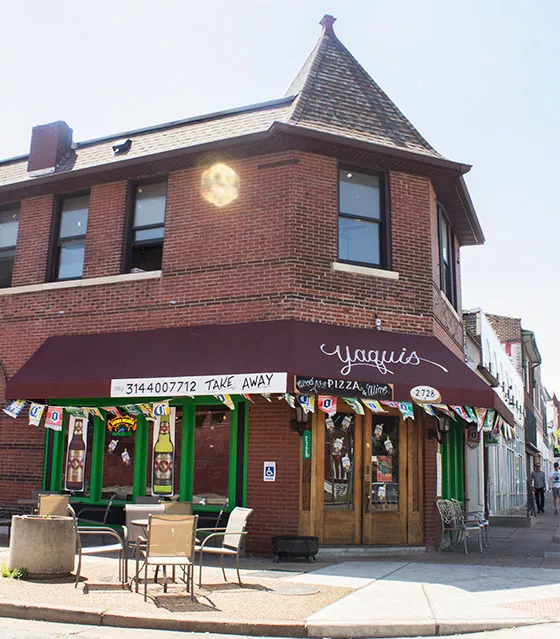 Patio seating also available.
Previously on Brunch Bucket List: - Grove East Provisions - Gooseberries - Three Flags Tavern - Tree House - Benton Park Cafe - Mangia Italiano - Magnolia Café - Melt
---