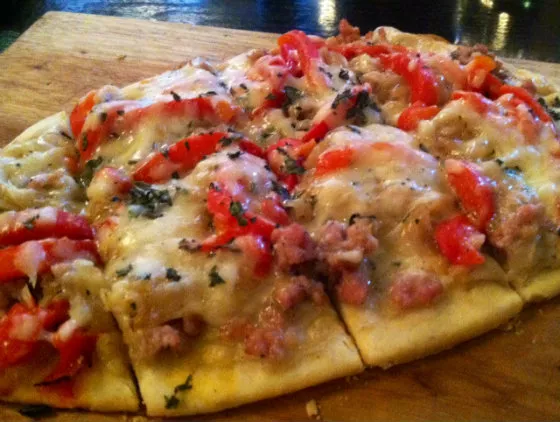 Summery weather calls for simple dishes: salads, crab cakes, avocado toast. And because man cannot live on veggies alone, summer also calls for flatbread.
While this dish comes in many sizes and variations, it's typically lighter than pizza and tastier than just pita bread -- and if you get the meaty version, it combines all four food groups in an appetizer you can scarf with your hands.
So where did we eat the flatbread in question?
Simply study the photo and leave your best guess in the comments. If you give us the first correct answer, we'll give you $20 to La Tejana Taqueria (3149 N. Lindbergh Boulevard, 314-291-8500).
Rules: To be eligible, you must leave a valid e-mail address (or Twitter handle or Facebook profile URL) in the comment-entry field. One guess per e-mail address. Employees of the restaurant in question and the Riverfront Times are not eligible.
Gut Check is always hungry for tips and feedback. E-mail the author at sarah.fenske@riverfronttimes.com
---