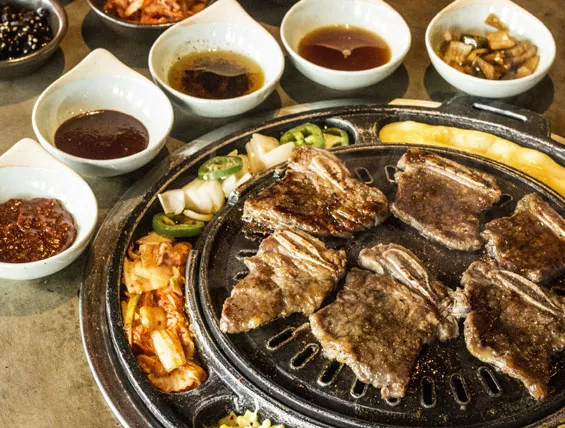 Mabel Suen
"L.A. Style" short ribs on the grill.
Seoul Q 6665-A Delmar Boulevard, University City; 314-863-1148. Mon.-Sat. 11 a.m.-10 p.m.; Sun. 11 a.m.-9 p.m.
Does St. Louis really need another barbecue restaurant? Before dining at Seoul Q I would have answered that question with a very loud and emphatic "no." This town's ribs-and-brisket market has gotten so overcrowded, you can't swing a rack of baby backs without hitting an Ole Hickory smoker. For aspiring restaurateurs looking to do something new and exciting, barbecue isn't it.
See also: Review: Winfield's Gathering Place Shows Jim Edmonds and Mark Winfield in Winning Form
Mabel Suen
David Choi or Seoul Q and Seoul Taco.
Unless, that is, you are David Choi. Leave it to the person responsible for the spectacularly successful Seoul Taco to figure out a way to distinguish himself from the rest. At Seoul Q he has accomplished that feat by giving us what he does best: a mix of the traditional Korean barbecue fare he grew up eating in his grandma's St. Louis kitchen with contemporary, LA-style updates.
Choi counted on St. Louis' appetite for grilled meat when he took over Ginger Bistro's spot on Delmar Boulevard this January. The space is large; the kitchen alone is triple the size of Seoul Taco's original tiny brick-and-mortar storefront on a side street off the Loop. Choi knew it would be too much for the fast-casual eatery alone, so he divided the room in half: One side houses his original Korean-Mexican concept; the other is a Korean barbecue restaurant — a style of dining that's relatively new to the area.
The two spaces share a hostess desk framed by a wall of brightly colored 1980s boom boxes, though that's where the similarities end. Whereas the Seoul Taco room is bright with white tables and chairs and colorful martial-arts-themed paintings, the Q side takes on a more rustic and organic feel. Chrome ventilation hoods that pull down like periscopes hover over gray concrete tables inlaid with cooktops. One wall is covered in three-dimensional dark wooden strips, while the other is woven metallic, and spherical chandeliers that look like iron-clad sweetgum balls hang from the ceiling. It's like dining in a 22nd-century tree house.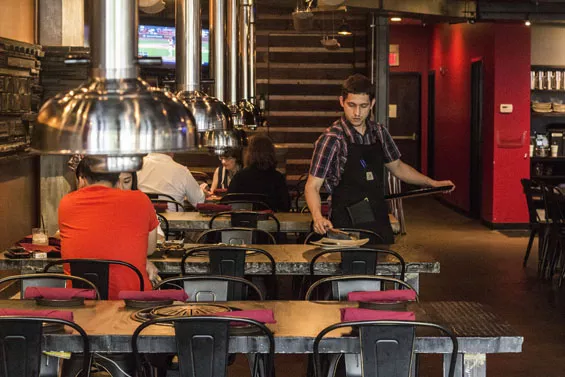 Mabel Suen
Seoul Q's rustic interior.
I must offer a disclaimer: Seoul Q's staff became aware of my identity within the first five minutes of my second visit (our server recognized me from her old job at one of my writing haunts). I would have thought this explained the royal treatment, had I not had an equally superb experience on my first visit.
As soon as we were seated, our server brought out a kaleidoscope of banchan — traditional Korean side dishes served gratis with barbecue entrées. The pungent kimchi, miniature beef croquettes, salty fish cakes and sweet black beans are good enough to make American barbecue enthusiasts jealous. The complex yet refreshing flavors lit up my palate in preparation for the parade of appetizers that followed.
Seoul Q's handmade pork potstickers are plump, rounded and upright compared to the ubiquitous flat, half-moon-shape versions. This presentation allows for more filling — the soft dumplings, perfectly caramelized on every surface, were overstuffed with peppery ground pork. The meat was so juicy that I barely needed dipping sauce, though I could not refrain from digging into the deliciously pungent soy-based accompaniment.
A traditional Korean pancake that tasted like a cross between an open-face omelet and a German fried potato cake followed. Its shredded potato base, spiced with coarse black pepper and interspersed with long strips of green onions, is crispy around the edges while remaining soft in the middle. The seafood version, filled with tender squid, shrimp and mussels, gives the dish a pleasant mild ocean flavor.
And while the pancakes dazzled with subtlety, the "Seoul Wings" wowed me with their ferocity. The large drummies and wings are fried and then coated in a thick fiery glaze that tasted like the best General Tso's chicken of my life mixed with chile and cumin. My lips were still tingling with joy as I drove home.
Dwen Jang is to Korea what chicken-noodle soup is to the United States — a simmering bowl of comfort. Seoul Q's version demonstrates why it warms the soul. The delicate soybean-paste broth, served simmering in a cast-iron bowl, teems with onions, zucchini, mushrooms and tofu. For a vegetable stew, it's shockingly hearty.
Seoul Q may be a barbecue restaurant, but its hot pots deserve attention. I tried the "Seafood Jungle," a bubbling, family-size cauldron of seafood-infused tomato broth filled with enough fruits de mer to feed three hungry diners. This bountiful stew is served with whole blue crabs, head-on shrimp, mussels, clams, squid, baby octopus and cod roe. Udon noodles, tofu and greens steep in the broth, picking up the fish's flavor. My only complaint is that the clams were quite chewy. Otherwise, this is a wonderful seafood stew.
Mabel Suen
Sides at Seoul Q include an array of kimchi, beef croquettes and sweet black beans.
Our server recommended the "Seoul Ssam Wrap," a platter of salt shrimp, lettuce leaves, sweet and spicy red chile sauce, and sous vide pork belly and shoulder. The meat was so tender it spread over the crisp lettuce like butter. It's intentionally given little seasoning — the better to pick up the tiny shrimp's salty funk. The dish is a study in balance of flavor, texture and temperature.
Seoul Q's non-grilled items offer may offer a complete experience, but it's difficult to ignore the siren song of the grill. Thankfully, we heeded the call.
We began with long strips of simple pork belly that our server placed onto the hot grill then cut for us with kitchen shears as it began to cook. Here, the servers' default is to do most of the cooking for you — a different experience than other, more DIY-style Korean barbecue spots. The smell, the sight of the searing meat and the sound of it sizzling on the grill were so exciting, I could barely allow mine to finish cooking before pulling it off the grill, dipping it in salted sesame oil and tearing into the soft-yet-crispy meat.
I was satisfied at this point, but our server insisted we try the restaurant's signature barbecue dish, the "L.A. Style" short ribs. He has my eternal gratitude. The ribs are cut across the bone and flattened so they cook quickly. It also allows the deliciously sticky soy and brown-sugar marinade to coat more surface area so that every edge caramelizes. The result is equal parts bitter char and sweet candy. Without hesitation, I can say this is the best thing I have eaten so far this year, and I will be shocked if I encounter anything better.
Seoul Q does not offer dessert, unless you count the excellent soju cocktails we had for a nightcap. A colorless, ethanol-based spirit that's akin to vodka, soju provides a neutral base for a variety of concoctions, ranging from the fruity, pomegranate-and-mint-flavored "Seoul-jito," to the "Seoul Greyhound," with grapefruit, chamomile and cardamom. After eating an army's worth of food, these refreshing liquid desserts were all I could handle.
With Seoul Q, David Choi elbows his way into the crowded barbecue field — and by giving it a Korean twist, he may have ended up at the top of the pack.
Seoul Q "Seoul Wings"...$8 "L.A.-Style" short ribs...$30 "Seafood Jungle"...$40