Courtesy of Pie Five Pizza
Pie Five's Athenian, on its artisan thin crust.
A new fast-casual pizza restaurant that promises to serve custom-made pies in less than five minutes will open its doors in Chesterfield on Friday.
Pie Five Pizza Co.'s location in the Chesterfield Commons Village, just south of I-64 at 17215 Chesterfield Airport Road, will be the company's first franchise in the St. Louis area. Pie Five began in Dallas in 2011 and has already grown to more than 30 locations, with several hundred new franchises underway. (There's already one in Kansas City.)
The menu shows a variety of options that customers tailor to their preferences a la Chipotle, each costing just $6.99. There are four crust options (one gluten free!), seven sauces, and 29 different toppings.
Courtesy of Pie Five Pizza
The interior of Pie Five Pizza.
After a customer makes their selection, the pies are loaded up and finished in the oven for just 145 seconds before being served. Too much work to figure out your own? The company offers plenty of combinations, including (specifically for the Chesterfield location) the "St. Louis Supreme": marinara sauce with "St. Louis-style cheese," Italian sausage, red onions, peppers, mushrooms and bacon slices.
St. Louis-style cheese? Sounds like we're getting some Provel!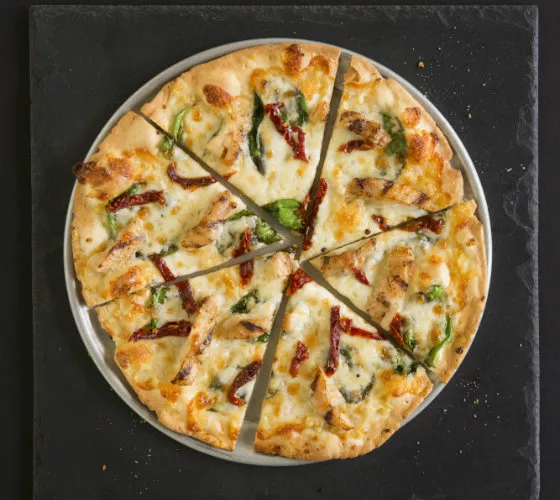 Courtesy of Pie Five Pizza
The Tuscan Chicken pizza at Pie Five.
In addition to pizza, the chain offers four signature salads (classic Italian, Greek, spinach, chicken caesar) in a pizza-crust bowl, as well as the option to create your own. Desserts are also pie-based, with options for a chocolate cookie pie, turtle brownie or ultimate brownie.
The restaurant is currently in soft opening, with visits by appointment only. It opens to the public Friday, with a grand opening scheduled for May 8. That night, from 6 to 8 p.m., pies will be going for just $5.
Gut Check is always hungry for tips and feedback. E-mail the author at sarah.fenske@riverfronttimes.com
---