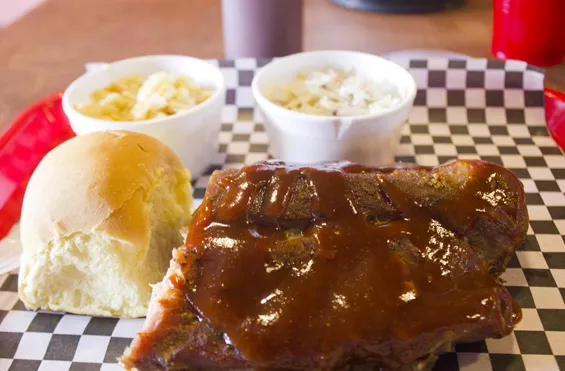 Photo by Sarah Fenske
A lunch portion of Andre's ribs is just $9.99 and comes with two sides.
Three years ago, Andre and Julie Edwards opened a barbecue joint on Kingshighway south of Chippewa. The place was tiny: just 290 square feet. But they quickly earned raves on Yelp and a band of regulars, some coming from as far as Sikeston. Their customers' only gripe? Nowhere to sit -- the shop was take-out only.
So the Edwardses closed the place in January, and on April 17, they quietly reopened in a much bigger spot at 6037 Chippewa, just across from the Target at Hampton and Chippewa. A former tanning salon in the same aging strip mall that holds Barney's Pub, the space is still distinctly no frills -- but there are now five tables inside and a few more out front, plus some stools along a counter. And there are still those ribs -- dear God, those ribs!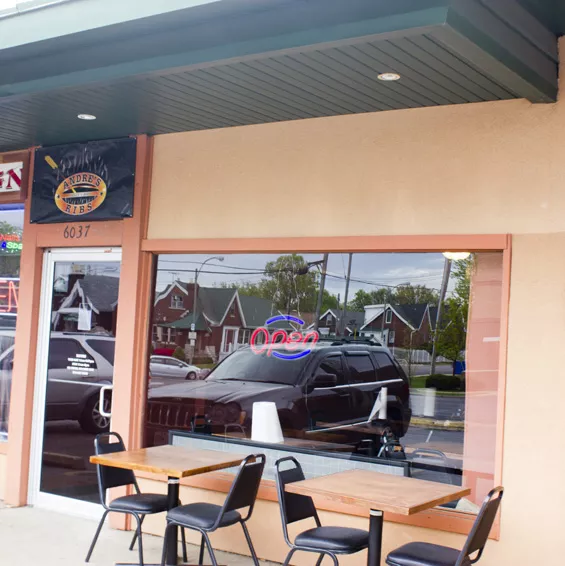 Photo by Sarah Fenske
Andre's physical space, while a big 600 square feet bigger than its old one, is still decidedly no frills.
The ribs have their origin in a version that Andre Edwards first tried in western New York, where Julie is from. "They blew my mind," he says.
Julie Edwards told him that's how everyone did barbecue in those parts -- and offered to show him how. Many test runs later, they decided to open a place of their own.
The restaurant is a second career for the couple; he's retired after 40 years at UPS, where he ran the southwest center for Missouri, while she's still a real estate agent. The secret to their insanely good barbecue is in its cooking method: The meat is grilled, not smoked. It takes longer, Andre Edwards says, but the pay-off is worth it. "Our slogan is that if it doesn't fall off the bone, you don't pay," he says. "We haven't had to pay anyone yet."
But opening the restaurant wasn't as easy as perfecting the barbecue. "If we're going to do this, we have to do it right," Julie Edwards announced. ("Me and my big mouth," she says now, laughing.) That meant her mother's potato salad, her father's baked beans. It meant experimenting over and over with the sauce, trying out various versions on Andre's UPS colleagues, until they found just the right one. The soft yellow rolls come from Fazio's; just about everything else, including the deliciously moist lemon cake, is homemade.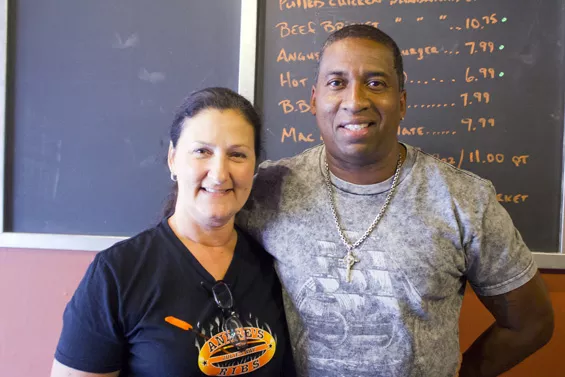 Photo by Sarah Fenske
They may be Andre's ribs, but per the restaurant's slogan, they're done "Julie's way" -- wife Julie Edwards developed the barbecue based on the style she knew from western New York.
"I'm not a chef," Julie says. "I'm a real estate agent. I only know how to do what you see on this menu." But she's proud of every single thing that's on it.
The couple is also proud of the restaurant's growth. Three years ago, it was just the two of them, working six days a week. Now, in addition to the two young women who help in the kitchen, Julie's son Dean Johnson has come on as the manager. They're moving nearly 30 to 40 racks of ribs every day.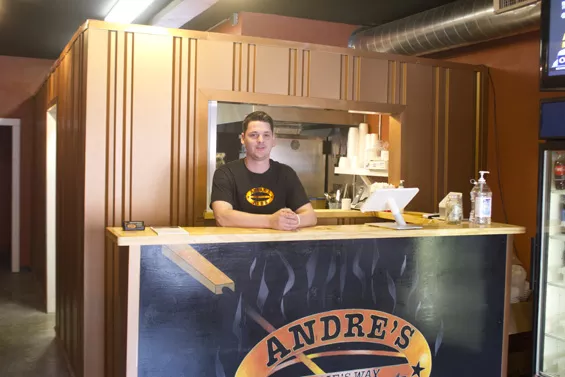 Photo by Sarah Fenske
Dean Johnson, shown here manning the counter at Andre's Ribs, is the restaurant's manager -- and Julie Edwards' son.
It's a nice change from those four months of being closed, laboring to transform the tanning salon into a restaurant. The hardest part about relocating, Andre says, was listening to the regulars gripe: "When's your new place going to open again?"
And now, finally, they can offer the seating their hungry customers long craved. Over lunch Friday, a steady flow of customers made their way in. Some had sought out the new storefront after loving the place's previous iteration; others were brand-new.
"We get so much great chatter," Andre Edwards says. "We had someone here from Memphis yesterday, just to see what we were all about."
Andre's Ribs is open Wednesday through Saturday, 11 a.m. through 8:30 p.m. and Sunday from 11 a.m. to 6 p.m. -- or until it runs out.
Gut Check is always hungry for tips and feedback. E-mail the author at sarah.fenske@riverfronttimes.com
---