Photo by Mabel Suen
The Kitchen Sink's crab-cake beanie.
The Kitchen Sink is expanding.
The two-and-a-half-year-old Cajun/Creole restaurant will open a second location in downtown St. Louis this summer, "hopefully by the end of July, early August," says chef/owner Anthony Ellerson Jr. Befitting the location at 555 Washington Avenue across the street from the National Blues Museum, which is currently under construction, the second iteration of The Kitchen Sink will have a bluesy feeling. Live music will be on offer every night of the week, along with an amateur night on Tuesday. There will be a stage to accommodate performers and a small dance floor for people who feel like dancing.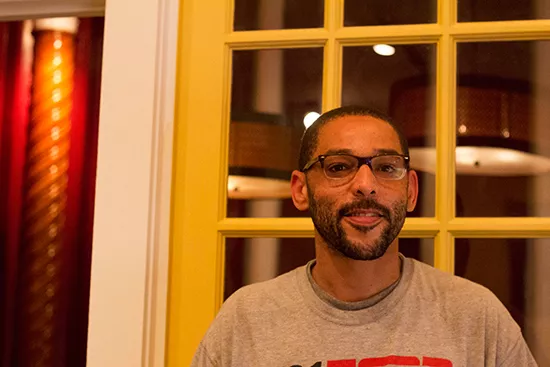 Photo by Mabel Suen
Anthony Ellerson Jr. of the Kitchen Sink
The food will be the same 'Nawlins-style classics that made the restaurant's name, Ellerson says, but with a few twists. "It'll be the core of what makes the Kitchen Sink what it is, but we'll also try to do something different. We're going to freshen up a bit."
Ellerson first opened The Kitchen Sink in September 2012, and earned a rave review from the Riverfront Times a few months later.
See also: The Kitchen Sink's 2013 RFT review
But the original space, on DeBaliviere, was both small and no frills, and within a little more than a year, Ellerson had moved to a spacious, light-filled area on Union overlooking Forest Park. At 7,395 square feet, it seats 100 diners.
And Ellerson says that the downtown location will be even bigger, with 150 to 120 seats. That will allow the restaurant to also hold charity events -- he foresees as many as one a month. Renovations are adding a new bathroom, new entrance and a sizable bar area.
The new location has other benefits, too. He'll be in close proximity to two high-profile restaurants opening this year -- Gerard Craft's new fast-casual pasta joint, Porano Pasta & Gelato, and the new location of Sugarfire Smokehouse.
"We can help bring back downtown," he says.
Ellerson's plans were first reported by ALIVE.
Gut Check is always hungry for tips and feedback. E-mail the author at [email protected]
---