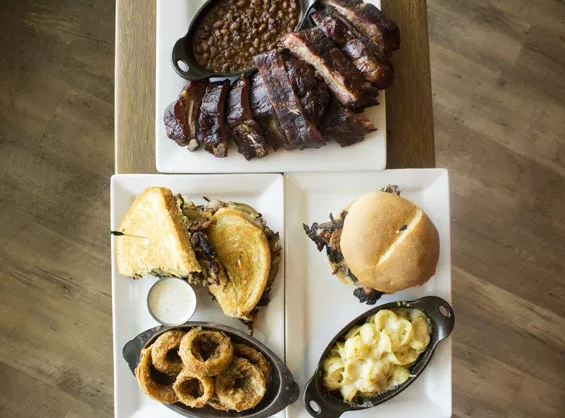 Mabel Suen
Ribs and baked bean platter, burnt ends sourdough melt and the "BBQ Carolina Steak Burger."
Winfield's Gathering Place 10312 Manchester Road, Kirkwood; 314-394-2200 Mon.-Sat. 11-1 a.m.; Sun. 11 a.m.-10 p.m.
After a good first inning with their successful 15 Steakhouse, the team of Jim Edmonds and Mark Winfield got into a jam. First came the city's temporary closure of the sleek midtown steak house following assaults and other criminal incidents both on its premises and in the surrounding neighborhood, then the botched rebranding of the space in 2013 as the Precinct. From the delayed relocation of the neighboring St. Louis Metropolitan Police headquarters to a series of negative reviews, it was clear that the game wasn't going their way.
See also: Review: Miss Leon's Serves Some of St. Louis' Best Comfort Food
A call to the bullpen brought in a new chef, Ben Welch, who crafted a menu focused on upscale bar food and some serious barbecue. Welch once boldly laughed that the venerable Mike Johnson of Sugarfire Smoke House was his competition. And while few people would put the Precinct in Sugarfire's league, the overhaul proved a winning concept.
Now the team has brought a similar concept to Kirkwood via Edmonds' and Winfield's three-month-old Winfield's Gathering Place.
From the street, Winfield's looks like a smallish, nondescript sports bar in the corner of a Kirkwood strip mall -- the space that formerly housed the original St. Louis Bread Company location. This façade proves deceiving, however, as soon as you walk through the front doors. Soaring ceilings with exposed ductwork create the look of a downtown loft, while a wall of windows overlooking an interior courtyard give the space unexpected natural light.
The bar area is what you'd expect from an elevated sports lounge in a nice suburb: several large flat-screen televisions, a huge, polished horseshoe-shaped bar and plentiful long hightop tables. The dining room has a Restoration Hardware-meets-bar-and-grill aesthetic with faux reclaimed wooden tables on metal wheels, gray-hued beams on the floor and walls, a rustic metal chandelier and a large open kitchen.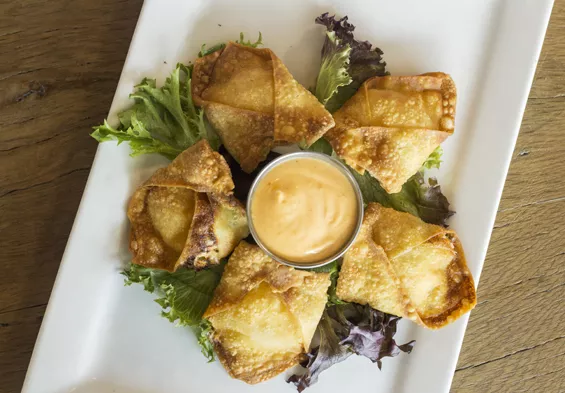 Mabel Suen
Wontons
If the Precinct represented a low point in the game, Edmonds and Winfield have changed the momentum with Winfield's. The restaurant leads off strongly with its lobster wontons. Layers of paper-thin wonton wrappers are stuffed with a generous portion of lobster meat and cream cheese for an upscale take on crab Rangoon. The accompanying sriracha-lemon-aioli dipping sauce had a slight bright heat, though I would have preferred something less creamy to counteract the deep-fried cheese.
The Cajun barbecue shrimp won't win over NOLA transplants for its authenticity, but is tasty nevertheless. Creamy cheddar grits act like a sponge, soaking up the buttery, Cajun-spiced shrimp jus. Unfortunately, the dish was smothered in a tomato-y Creole sauce that masked the other flavors.
I was less impressed with the duo of housemade guacamole and charred tomato salsa. The former was pleasantly chunky but had little flavor, while lemongrass overwhelmed the latter. I should have skipped it and gone straight for the chicken wings. The plump drummies and wings are fried and tossed in a tangy glaze that tastes like a honey-mustard-buffalo hybrid. A few minutes on the grill caramelizes the wing sauce and imbues the dish with subtle smokiness.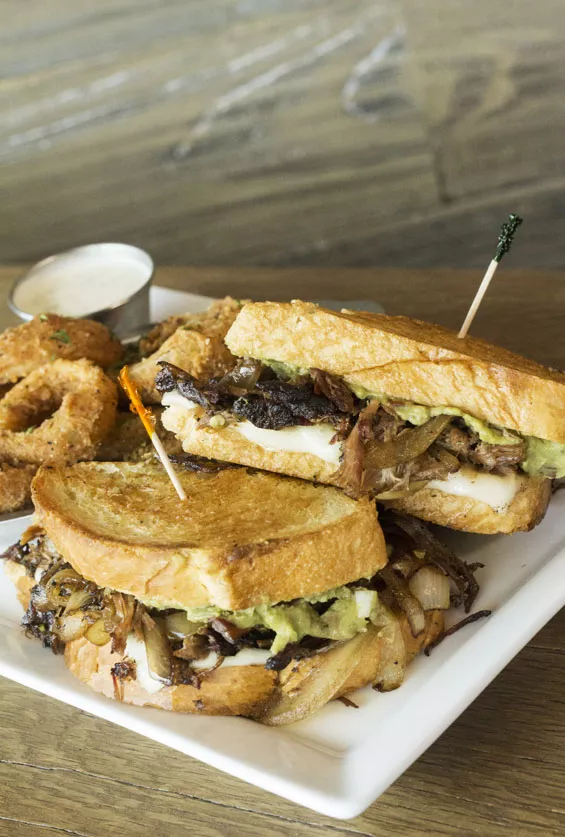 Mabel Suen
The burnt ends sourdough melt.
Winfield's is at its best when it sticks to its ribs -- or, more precisely, the entire barbecue side of the menu. Baby-back ribs, treated with a dry rub, have the ideal balance of tenderness and chew. Pulled pork is gently smoked so that the meat's natural sweetness shines through. My favorite, the brisket, is as good as any in town: fork tender, appropriately fatty and deliciously charred on the outer edges. Winfield's offers traditional tomato-based and a zesty white sauces, but the meat was so good on its own, I wasn't tempted.
The smokehouse success carries over to the sandwich offerings with the "BBQ Burnt Ends Sourdough Melt." Fork-tender hunks of the deliciously charred brisket end are heaped between slices of Texas toast-thick sourdough. Roasted jalapeño slices cut through the richness of the beef, melted Havarti cheese and caramelized onions. I could have skipped the guacamole in favor of some of Winfield's white barbecue sauce, but that's a minor point -- this sandwich is outstanding.
Many non-barbecue items, however, proved lackluster. I was intrigued by the cauliflower grilled cheese, having just watched a viral video about substituting the vegetable for sandwich bread. Unfortunately, it raised my expectations further than Winfield's sandwich delivered. The dish consisted of thickly sliced roasted cauliflower, bland béchamel, spinach and goat cheese on toasted sourdough. The dish was missing the goo factor expected from a gourmet grilled cheese and was in desperate need of seasoning.
The hero flatbread was also underwhelming. The thin, golden-brown crust was a nice base, but the soppressata and capicola were chewy. Pepperoni and Italian sausage rounded out a mini pizza that tasted like a meat lover's pie out of the frozen aisle. The baked rigatoni was equally mediocre -- just a blend of sausage and garlic tomato sauce topped with melted fontina. It wasn't bad, per se, but so-so isn't good enough when the menu is filled with tasty barbecue options. Though not billed as part of the smokehouse fare, the wined and brined chicken benefits from Winfield's barbecue prowess. The half-chicken marinates overnight in a red wine and herb brine. It's then rubbed with barbecue spices and smoked for four hours. The result is juicy, flavorful meat and crisp skin that slides off the bone with barely any coaxing. Red wine demi-glace drizzled over the top mingles with the cooking jus to form a rich, slightly sweet sauce.
Side dishes at Winfield's include savory baked beans flavored with chunks of rib meat and garlic; creamy whipped potatoes, heavy with black pepper; and green beans sautéed with bacon and onions. The signature accompaniment, the jalapeño cheddar au gratin potatoes, is a meal unto itself. Layers of cheese, peppers and thinly sliced potatoes are stacked, covered with sour cream and served in a searing hot cast-iron skillet. There's enough grease pooled at the bottom to make BP blush -- I still can't decide if this is a decadent plus or an overkill minus. It depends if I listen to the angel or the devil on the shoulder. A short dessert menu proves adequate, but not impressive enough to save room for. After blindly eating the housemade chocolate brownie, served á la mode and smothered with whipped cream, I wish I would have ordered the full rather than the half slab of ribs.
Team Edmonds-Winfield has changed its fortunes with Winfield's Gathering Place. It's more of a game-winning single than a bases-clearing grand slam, but it gives them a win nonetheless.
Winfield's Gathering Place

Lobster wontons $10 "BBQ Burnt Ends Sourdough Melt" $11.75 "Dad's Ribs," full slab $21.50