Grove East Provisions' eggs benedict made with Red Foxing Baking's bread and Salume Beddu's prosciutto cotto. | Photos by Mabel Suen
Where: Grove East Provisions (3101 Arsenal Street; 314-802-7090)
When: Every Sunday from 11 a.m. until supplies run out.
We Tried: Eggs benedict ($8), turkey club ($8), beef stew ($8.50).
See also: Review: A Drummer Finds a New Calling with a Charming Neighborhood Bodega at Grove East Provisions
Red Fox Baking scones are on offer.
Grove East Provisions regulars already know all about the bodega's bodacious offerings. From wholesome pressed sandwiches and comforting chicken-noodle soup to freshly baked bread and flaky artisan pastries, there are plenty of reasons to stop by the south-city corner store. With the addition of some new Sunday brunch specials that started last month, the list just keeps on growing.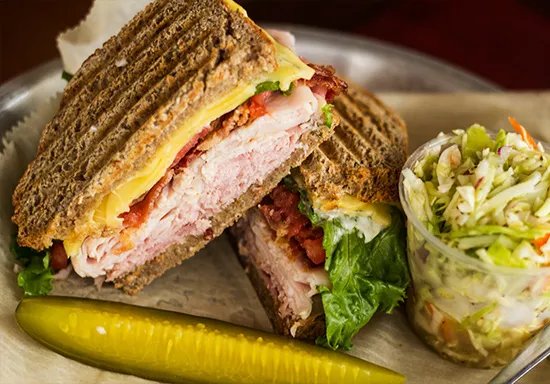 A full menu of sandwiches, including this turkey club, are also available at Grove East Provisions.
For owner Barry Kinder, brunch seems like a natural addition to the shop's steadily developing menu. The from-scratch cook got his kitchen chops while living in London and working at a French-style bistro in the 1990s.
Between mastering classic preparations of stocks, soups and sauces, he spent his Sundays preparing elaborate brunches featuring traditional English pub grub including beef and chicken roasts, Yorkshire pudding, and bangers and mash. While these dishes haven't quite made it onto the mini-menu of brunch specials yet, Kinder hopes to incorporate them gradually as the list of offerings expands.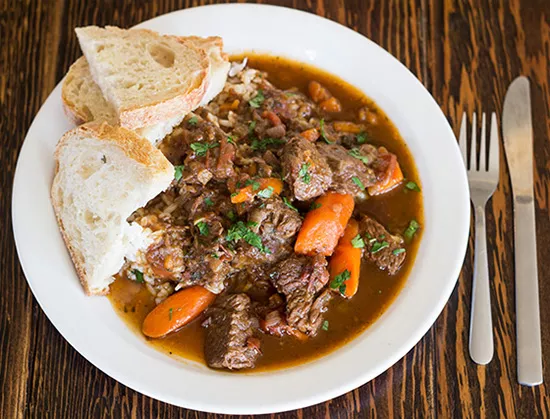 Beef stew special with rice and Red Fox Baking bread.
For now, choose from a few items that have become weekend mainstays, including biscuits and gravy, French toast casserole, quiche prepared by Red Fox Baking and eggs benedict. The latter features Red Fox's brioche topped with Salume Beddu's prosciutto cotto, poached egg and hollandaise. Additional specials vary weekly based on Kinder's whims and can include dishes such as slow-cooked, comforting beef stew. Try these selections or choose from regular menu offerings.
In addition to its ongoing brunch specials, Grove East Provisions also now offers new nightly dinner specials featuring dishes such as lasagna and meatloaf. Like the rest of Kinder's offerings, the simple comfort foods are cooked with skill and care. Paired with Red Fox Baking's equally exceptional breads, visitors can't go wrong -- no matter when they decide to drop in.
Located in Tower Grove East.
Previously on Brunch Bucket List: - Gooseberries - Three Flags Tavern - Tree House - Benton Park Cafe - Mangia Italiano - Magnolia Café - Melt
E-mail the author at mabel.suen@riverfronttimes.com.
---