Welcome to Sugar High, a series devoted solely to spotlighting the best ways to sate a sweet tooth in St. Louis. We'll sample the best the city has to offer at restaurants, bakeries and holes-in-the-wall, and provide some insight on how these confections are made along the way.
An assortment of petit fours from Pastries of Denmark. | Photos by Mabel Suen
Since 1988, Pastries of Denmark (12613 Olive Boulevard; 314-469-7879) has offered residents of Creve Coeur a variety of eats and sweets in its European-style cafe. Chef-owner Kristian Vesth -- a fourth-generation baker -- whips up everything from authentic Danish pastries and breads to cheesecakes, pies and cupcakes. The dessert most true to his roots, however, is the petit four, a miniature confection he brought with him all the way from Copenhagen's landmark Hotel D'Angleterre.
See also: The Ten Best Dessert Spots in St. Louis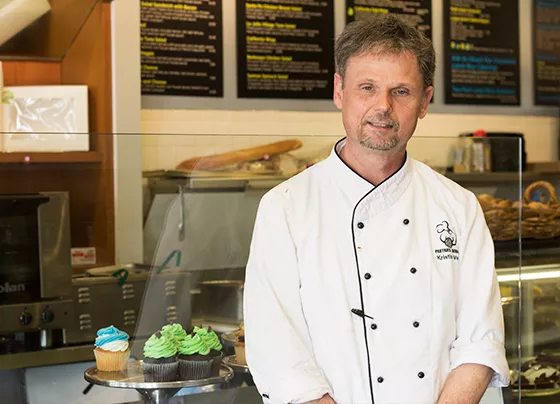 Chef-owner Kristian Vesth.
Vesth grew up living above and apprenticing at his great-grandfather's bakery in his home country. Further studies later led him to the pastry kitchen at D'Angleterre. A corporate research-and-development position landed him in St. Louis, where he served as a senior experimental baker at an Anheuser-Busch subsidiary.
"I did that for five years and needed to get back to what I was really trained for -- creating high-quality pastries," says Vesth. "The petit fours are basically the same as what we did at the hotel with new additions, and I'm very proud of them."
Individual servings available for $1.29 each.
Pastries of Denmark offers petit fours in more than ten different flavors. Each is a bite-size work of art, carefully assembled, glazed and decorated. Some of them take on the characteristics of bonbons or truffles, with surprise fillings inside -- lush chocolate mousse, spiced carrot cake or creamy cheesecake, for instance. Others utilize a chewy almond or cookie base topped or filled with fruity jam.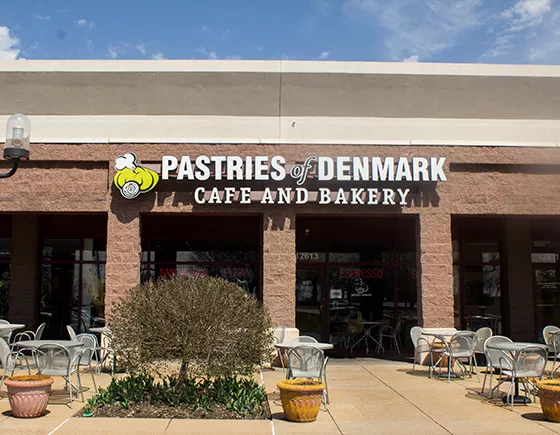 Of note is the "Budapest" petit four, a small sugar crust with frangipane and almonds roasted with honey on top. Dipped in chocolate, as nearly all of these miniature treats are, the delicate dessert explodes with flavor and pleasing textures, yet doesn't overwhelm thanks to its small size. At a mere $1.29 a pop, Vesth makes it easy for visitors to get a taste of his sweet heritage. It may seem tiny, but there's a bit of Denmark behind each bite.
Previously on Sugar High: - Lucky Buddha's Five-Spice Crème Brûlée - Amy's Corner Bakeshop's Scones - Vincent Van Doughnut's "Mini Vinnies" - Piccione Pastry's Sfogliatella Riccia - The Feasting Fox's Warm Apple Strudel - I Scream Cake's "I Scream Sammys" - LuciAnna's Pastries' Chocolate-Mousse Cheesecake - Spoon Baking Company's Spoon Cookie - Insomnia Cookies' S'mores Deluxe Cookie - Living Room's Peanut-Butter Chocolate-Chip Cookie - Stimulus Baking Company's Pad-Thai Cupcake - La Bonne Bouchée's Strawberry-Mousseline Cake - Pie Oh My's Pumpkin-Maple Pecan Pie - Annie Moons' Banana-Split Muffins - Cyrano's Carrot Cake - Whitebox Eatery's Cheese Pastry - Comet Coffee's Mousse Cakes - Whisk's Apple-Cinnamon "Pop Tartlets" - The London Tea Room's Blueberry-Lemon Cake - Corner 17's Fluffy Ice - The Fountain on Locust's "Banana Bourbon" Sundae - Vinnie's Pinwheel Baklava - Red Fox Baking & Catering's Lemon Tart - Sugarfire Smokehouse's Crack Pie - Russell on Macklind's Coconut Cake - The Kitchen Sink's Sweet Potato Fries - Giovanni's Kitchen's Panna Cotta Trio - Crepes Etc.'s Crepe Cake - Cafe Ventana's Beignets - Frida's Raspberry-Chocolate Avocado Mousse - India Palace's Gulab Jamun - Melt's "Violet Beauregarde" Waffle - Brevan's Patisserie's "Brendan" - Winslow's Home's Chocolate Cake with Espresso Meringue - La Patisserie Chouquette's Eclair - Black Bear Bakery's Raspberry Oat Bar - Gelateria's London Fog Gelato - 4 Seasons Bakery's German Cheesecake - Libertine's "Candy Bar" - Cleveland-Heath's Old Fashioned Cherry Pie - Schlafly Tap Room and Bottleworks' Sticky Toffee Pudding
We're always looking for some sweet ideas. E-mail the author at mabel.suen@riverfronttimes.com