Photo by Sarah Fenske
Kingside Diner will have its grand opening April 27 in the heart of the Central West End, near Maryland and Euclid avenues.
The grand opening isn't until next week -- and you can't get dinner there just yet -- but the newest restaurant in the Central West End quietly opened its doors yesterday for breakfast and lunch service.
Kingside Diner fills the space at 4651 Maryland just east of Euclid, which was previously home to high-end sports bar Lester's. The new restaurant, a diner by day and a neighborhood cafe for grabbing bar snacks and a drink by night, is owned by Aaron Teitelbaum, who is also the chef/owner of Herbie's Vintage 72.
The space has a much different look than Lester's, which closed in November. For one thing, the giant bar that dominated the space has been removed. In its place? A much smaller bar to the side, a walk-up counter for grab-and-go items, and significantly more tables for dining, as well as a few soft brown couches for lounging or maybe a game of chess.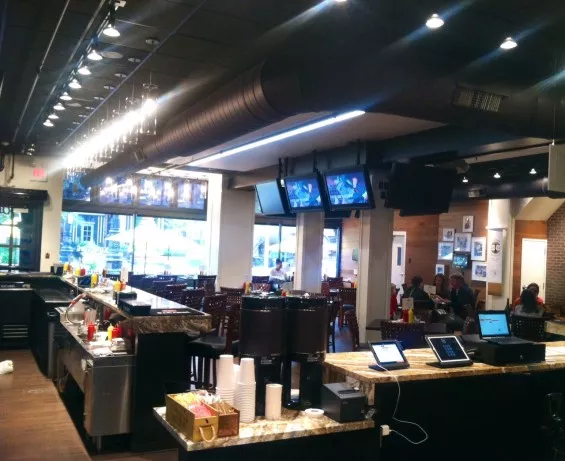 Photo by Sarah Fenske
Kingside Diner has a cool, contemporary look, with exposed brick walls on two sides and a small lounge area in addition to numerous tables for dining.
Like Lester's, though, Kingside has a sleek look. It takes its color palette (and motif) from its landlord, the St. Louis Chess Club next door, with the same neutrals accented with sage green. Exposed brick walls flank two sides of the space, with large windows overlooking Euclid and the bright yellow umbrellas set up outside to shade sidewalk diners. "Eat," "Drink" and "Play" are the words over the bar, each in a striking modern font.
Photo by Sarah Fenske
Kingside Diner has a full bar, but the focus here is on food and a place to chill out. There's also free WiFi for morning telecommuters.
The menu is simple, but even on first taste during this soft open, it clearly benefits from Teitelbaum's expertise. Ingredients are fresh and occasionally a step far above what you might consider diner food: One omelet features romesco. There are also quinoa pancakes and the option to consider such cheeses as brie, blue, goat or ricotta on your griddle burger.
The chef himself was there this morning, which may be one reason our omelet was so perfectly cooked. We tried the "No. 5," a delicious mix of bacon, sausage, cheddar, mushrooms and arugula. Like the other omelets on the menu, it can also be ordered as a burrito or a flatbread. Get it as an omelet and your $9 charge includes your choice of toast and hash browns.
Photo by Sarah Fenske
The "No. 5" omelet at Kingside Diner is stuffed with bacon, sausage, cheddar, mushrooms and arugula.
A staffer tells us that Kingside plans to be open from 6 a.m. to 3 p.m. for the next two weeks. On April 23, it will celebrate its grand opening and, soon after, add evening hours -- until 10 p.m. on weeknights, with weekend hours still be determined.
At that point, hungry diners won't just have the option to try the omelet or the flatbread or the burrito; they can try Teitelbaum's blue-plate specials, which will include meatloaf on Sunday and pot roast on Wednesday. At $15 each, they're a good price point for a neighborhood that sometimes feels a bit expensive. You don't have to love chess to appreciate the merits of Kingside Diner; loving good food or a bargain may prove to be enough.
---