Courtesy of Weber Grill Restaurant
Weber Grill hopes to open its new location at the Galleria, its fifth, by fall.
The new restaurant planning to open at the St. Louis Galleria this fall is going to be huge.
And that's not a commentary on its prospects for popularity. We're talking sheer size: 9,000 square feet, with seating for 330 people if you count the expansive convertible patio. The company behind it plans to hire 100 new employees.
The concept is called Weber Grill Restaurant, and it comes out of Chicago. There are three locations in that area, and one more in Indianapolis. This will be the first in Missouri.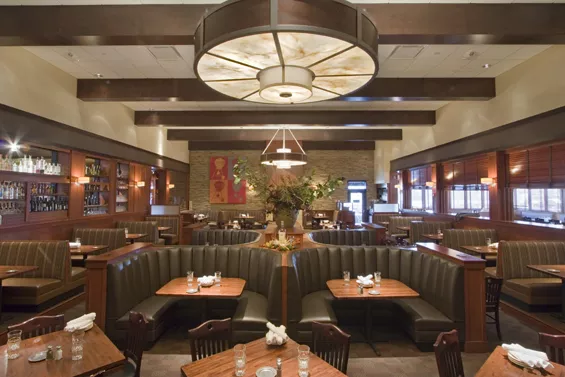 Courtesy of Weber Grill Restaurant
The space is nearly 9,000 square feet, and includes a convertible patio that seats 130.
The growing chain will be taking over the Black Finn space at the Galleria, as St. Louis Magazine first reported Friday.
The company's menus feature a host of fresh-off-the-grill appetizers, entrees and barbecue plates. The half-pound Prime KettleBurger purports to be the "summit of burgers," topped with bourbon-grilled onions, sharp cheddar and crispy pickles on a toasted ciabatta roll, served with fries for $16. You can also get a surf and turf, though it'll set you back $39.
But that's not all. The space will also include "a Grill Academy, a state-of-the-art interactive grilling facility and cooking school devoted solely to teaching how to cook on an outdoor grill," according to the company's press release.
Courtesy of Weber Grill Restaurant
Weber Grill Restaurant also features a full bar with hand-crafted cocktails.
Those additions are unique to the St. Louis location, according to the company, offering "hands-on grilling classes, interactive dining, private events and an opportunity for guests to experience first-hand the quality of the Weber product line."
"We expect the Grill Academy to become an entertaining and educational home-away-from-home for grilling enthusiasts of all levels," the company's Corporate Chef Larry Donahue said in the release.
The restaurant is expected to open this fall.
---