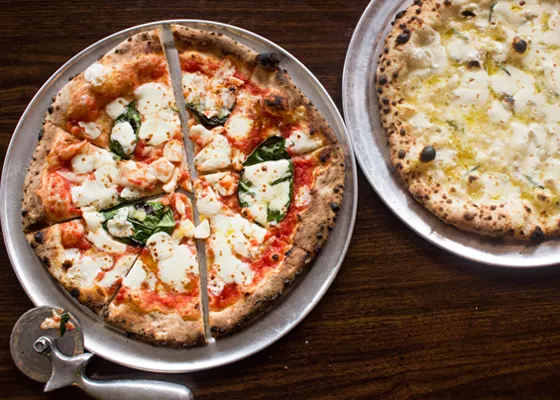 Photo by Mabel Suen
Pies at Pizzeoli.
Pizzeoli, the Soulard pizzeria that's earned raves since opening last fall, has been one of the toughest places in town to snag a table -- no small feat considering it's a vegetarian restaurant in a town where meat is king.
But things should be a lot easier going forward: Owner Scott Sandler was able to lease the adjoining space next door, formerly the dining room of a Mexican restaurant. That nearly doubles the restaurant's capacity. "It's going to be a lot more comfortable for folks," Sandler promises. "If people want privacy, they can go into the second room. If they want to be in the room with the bar, they can do that. Choices."
The grand-opening celebration for the new space -- a beer dinner with New Holland Brewing -- is tonight. Patrons can enjoy New Holland drafts paired with Pizzeoli's Neapolitan pies for $35, or order a la carte off the restaurant's usual menu.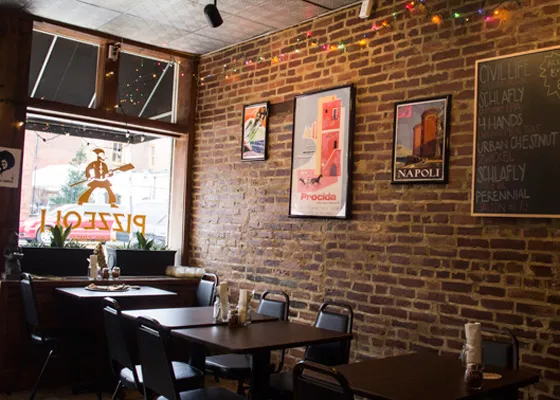 Photography by Mabel Suen
Pizzeoli's original dining room. The space originally had just 18 seats at tables; now it has 40.
And that's not all.
The pizzeria is also adding lunch hours on Saturdays, beginning tomorrow at 11 a.m.
"We've been opening for dinner, and I've noticed a lot of people walking around outside," says Sandler. "I was opening some weeks at 3 p.m., or 3:30 p.m., even though I'd said 4 p.m." Opening even earlier ought to take advantage of Soulard's popularity with pedestrians and partiers in the spring and summer.
Sandler said he's committed to giving Saturday lunch a go throughout the summer; if it falls flat, he may pull the plug once the days get shorter. "I'm just going to see how it goes," he says.
See also: Our review of Pizzeoli
---