Balducci Winery | Sara Graham
Spring has arrived in the Midwest -- the roads are ice-free, the sun is shining and blue skies stretch forever. OK, not counting all that April rain. Still, it's the perfect time for a day trip to some much-touted restaurants guaranteed to make the drive worth your while. Check out our second guide to foodie jaunts just outside the city in Augusta, Clarksville, Hermann and Ste Genevieve in Missouri and Ava, Effingham and Waterloo in Illinois.
See also: The Best Destination Restaurants Within Driving Distance of St. Louis
Firefly Grill (1810 Avenue of Mid-America, Effingham, Illinois; 217-342-2002)
Much of the food at the Firefly Grill is grown right on site, in the restaurant's chemical- and pesticide-free garden. The remainder is sourced from farmers and producers who apply the same level of care. Even the building itself was constructed in a thoughtful manner: Its frame is recycled steel, and the exterior is reclaimed barn wood. All food waste is composted and used to nourish the garden. The fresh and inventive menu includes such treats as morel mushrooms with chile-lime aioli, Southern fried chicken and waffles, a steak burger topped with an over-easy egg, Alaskan king crab cakes and seared scallops with an English pea risotto. Don't forget to peruse the "Farmacy" list of cocktails!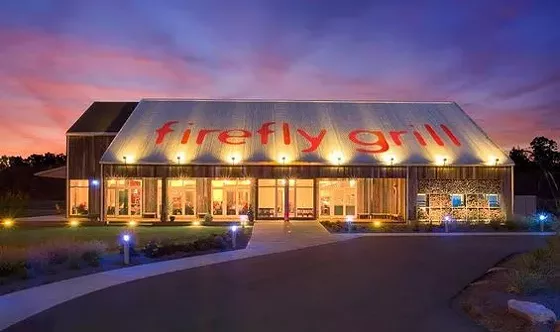 Firefly Grill | Greg + Hook
Overlook Farm (901 South Highway 79, Clarksville; 573-242-3838)
The fields of Overlook Farm supply almost everything on its kitchen's menu, from fruits, vegetables and herbs grown year-round in 26 hoop houses and five greenhouses to organically raised, grass-fed chicken, hogs, cattle and sustainably fished tilapia (anything else that is needed is sourced by like-minded local farmers). More than 60 people work on the farmstead and tend to the animals and gardens in the rolling hills along the Mississippi River. The outdoor restaurant serves breakfast, lunch and dinner with a Southern-inspired menu befitting the gorgeous scenery -- grilled chicken with salsa verde and housemade barbecue sauce, grilled tilapia, a cumin pulled-pork sandwich, grass-fed hamburgers, fried chicken livers, fried shiitake mushrooms and more. Also on the property are several luxurious inns, including Cedarcrest Manor, the oldest inn in Missouri.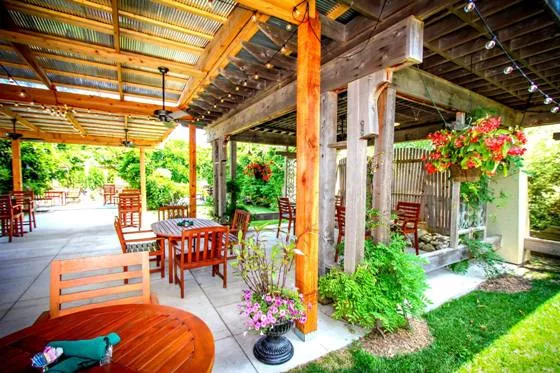 Overlook Farm | Three Ring Zing Photography
Audubon's (9 North Main Street, Ste Genevieve; 573-883-2479)
Audobon's offers exquisite fine dining just one hour south of St. Louis in the state's oldest settlement west of the Mississippi River. Two talented chefs helm the kitchen -- Alex Naeger, who previously studied under Thomas Keller at the French Laundry, and Andy Gegg, formerly with Crown Valley. The kitchen, housed in the former historic Hotel Ste Genevieve, takes advantage of the bounty of culinary resources just outside its doors by serving locally raised, grass-fed beef and local Berkshire pork, and it works with a local organic farm producing vegetables and herbs exclusively for the restaurant. Pictured is chicken Baetje, a dish of chicken breast stuffed with local Baetje Farms goat cheese, house-smoked ham, sun-dried tomatoes and spinach.
Scratch Microbrewery and Farm (264 Thompson Road, Ava, Illinois; 618-426-1415)
Scratch Microbrewery and Farm is a farmhouse-cum-brewery located just outside Shawnee National Forest. Its founders have combined their expertise in chemistry, brewing and beer tasting to produce a unique, truly regional drink. The farmhouse-style beer is flavored by locally foraged, seasonal ingredients such as nettle, dandelion, beet, elderberry, ginger, arugula, hickory leaves, local honey, maple sap and a variety of woods. A small food menu features local cheese, salame, prosciutto and wood-fired seasonal pizzas. The large outdoor patio was named one of the best places to drink beer outside in the world last year by All About Beer magazine.
Scratch Microbrewery and Farm | Kendall Karmanian
Hermann Wurst House (234 East First Street, Hermann; 573-486-2266)
While visiting Missouri's wine country along Highway 100, be sure to stop by Hermann Wurst Haus in historic Hermann and sample more than 40 varieties of fresh and smoked sausages, bratwursts and bacon. Owner and wurstmeister Mike Sloan has been in the meat-processing industry for over 40 years and has won more than 350 national, state and regional awards. The shop's restaurant and deli showcases the day's fresh sausages along with hickory-smoked pulled pork, deli meat sandwiches and the restaurant's own line of German-style beer and locally crafted sodas.
Hermann Wurst Haus | Courtesy of Hermann Wurst Haus
Dreamland Palace (3043 State Road 156, Waterloo, Illinois; 618-939-9922)
Germany is just an hour away from St. Louis. Dreamland Palace was built by and for the large population of Waterloo's German immigrants in 1875 and was originally a tavern, general store, dance hall and stage-coach stop. The building has undergone significant renovation since it was purchased by Mike and Joan Lang in 1999, who have worked hard to save most of its historical elements. The traditional German menu remembers its roots with specialties such as sauerbraten, beef roulade (rolled and stuffed beef), schweinebraten (roast pork), hasenpfeffer (braised rabbit), gekochte schweinshaxe (pork hocks), gefüllte paprika (stuffed peppers), kasseler rippchen (smoked pork chops) and a variety of schnitzels.
Balducci Vineyards (6601 South Missouri 94, Augusta; 636-482-8466)
Amid bucolic scenery along Highway 94 sits Balducci Winery, 76 acres that include a winery, tasting room and restaurant. The award-winning wine selection features Missouri red, white and port that is perfectly paired with a rustic Italian lunch and dinner menu. The thin-crust pizza -- "saucy, spicy, sensational" -- and the deep-pan pizza are worth the drive alone. Dishes like garlic cheese bread, baked brie, toasted ravioli and pasta con broccoli are also hard to resist.
Follow Sara Graham on Instagram at @EngageTaste and Twitter at @EngageTaste. E-mail the author at sara@engagetaste.com.
---