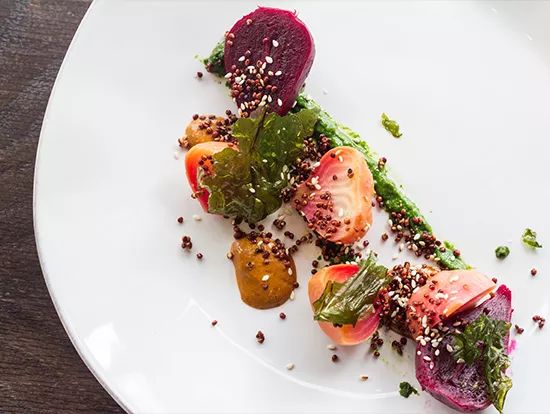 Roasted, pickled and raw beets with quinoa and white-chocolate mole at Público. | Mabel Suen
The buzziest opening this month was definitely Público in University City, the new Latin American-inspired place from restaurateur Mike Randolph. Unfortunately, Delmar also lost two places. Continue on for our full list of March openings and closings, and as always, let us know in the comments anything we missed.
See also: A Look Inside Público, Mike Randolph's Newest Concept Featuring Latin-Inspired Cuisine
Openings:
Antonio's Bistro & Market (5005-07 South Kingshighway Boulevard; 314-899-9885) J&C BBQ and Blues (304 S. Florissant Road, Ferguson; 314-738-9222) Lucky Buddha (3701 South Jefferson Avenue; 314-833-4568) Público (6679 Delmar Boulevard; 314-833-5780) Taco Circus (4258 Schiller Place; 314-808-2050) Tom + Chee (1280 Highway K, O'Fallon; 636-294-9800) Tony's A.M. (10 South Broadway) Vincent Van Doughnut (40 North Central Avenue, Clayton; 314-899-9500)
Closings:
Cheese-ology (6602 Delmar Boulevard, University City) Chubbies (6227 Delmar Boulevard) Jennifer's Pharmacy & Soda Shoppe (30 North Central Avenue, Clayton) Luvy Duvy Cafe (2321 Arsenal Street)
Gut Check is always hungry for tips and feedback. E-mail the author at [email protected].
Follow Nancy Stiles on Twitter:
---