Four vegan wines available in St. Louis. | Patrick J. Hurley
Vegan wine sounds obvious -- wine's just grapes, right? Nope. After wine is fermented, it is often filtered and fined to improve its clarity, guard against "off" flavors and scents, and, sometimes, to get it to market more quickly. Common fining agents include milk, egg whites, shellfish, gelatin, beef blood and isinglass (that is, fish bladders).
See also: Planter's House Debuts New Spring Cocktail Menu
These fining compounds don't end up in the finished product, at least not beyond trace amounts, but ethical vegans and vegetarians would object to their use. Because the compounds aren't technically ingredients, there isn't a requirement to indicate their use on the label.
It's an inconvenience for vegans, but as a tiny fraction of wine consumers, there's little incentive to advertise wines fined with non-animal-derived compounds. But vegans aren't the only consumers who're affected by the process. A recent study published in the Clinical and Translational Allergy Journal found that even though these fining compounds could not be detected in wine samples, people with food allergies who consumed samples containing these allergens still had a reaction to them. Given the fact that milk, eggs and shellfish are three of the most common food allergens, this is a real issue for many people.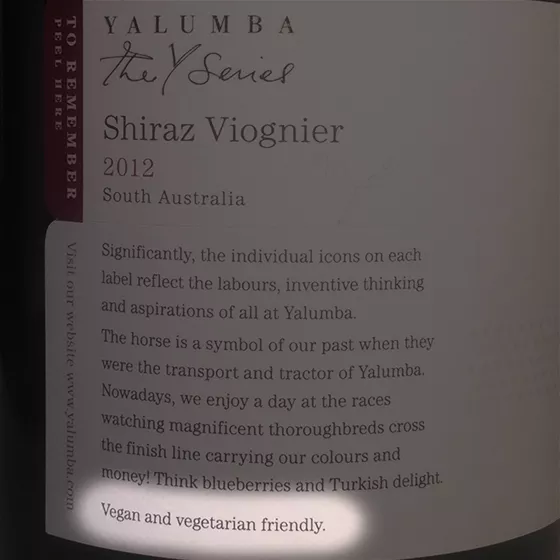 Clear labels make it easy. | Patrick J. Hurley
The good news is that some wineries do use non-animal fining agents and are even starting to note this on the wine labels. "Winemakers love to say, 'We're unfiltered and unfined,'" says Denise Mueller, sommelier and bar manager at the Dark Room Wine Bar and Photo Gallery (615 North Grand Boulevard; 314-531-3416). Mueller is a Certified Sommelier/Certified Specialist of Wine and co-founder and educator at the Mid-American School of Wine.
"With all the progress we've made at bars and restaurants in St. Louis -- food is labeled GF, or V, or with a carrot, or whatever -- I can't think of one [local] somm who's written a menu identifying these wines, and I plan to change that," Mueller says. She admits she has never been asked for vegan wines, but many people are unaware that animal products are often used in producing wine.
Here's the good news: Vegan-friendly wines are getting easier to find. Stores such as Whole Foods and even Trader Joe's usually have lists of them if you ask. There's also a great online resource for making sure your favorite bottle is vegan (or allergen free). Barnivore, which lists more than 20,000 bottles, is easily searchable and has direct quotes from winemakers verifying that products were not fined with animal products.
Continue for some vegan-friendly wine recommendations.
Two glasses of bubbles...hold the eggs. | Patrick J. Hurley
Barnivore identifies Jaume Serra Cristalino Brut as vegan-friendly, and who doesn't love a little bubbly? It's a great cava (Spanish sparkling wine) that retails for less than $10 -- we found it at World Market for $8.99. It's bright and crisp with a medium body, some beautiful green apple and lemon citrus notes, and a hint of toast.
The website also says Kung Fu Girl Riesling 2013 ($11.99 at World Market) is vegan friendly. Though the company doesn't exclusively make vegan wine, this particular one is fined only with bentonite, a type of clay. The wine is slightly sweet with stone fruit; it's got good minerality and acidity, and it's a natural when paired with Asian cuisine or any spicy food.
Yalumba, a winery in Australia, recently announced that as of its 2011 vintage, all of its wines would be vegan and labeled as such. Try the Y Series Viognier ($11.99 at World Market). It's rich and luscious with an intensely floral nose and hints of stone fruit. It has a lush mouthfeel and a layered flavor that features jasmine, lychee, spice, vanilla and pear.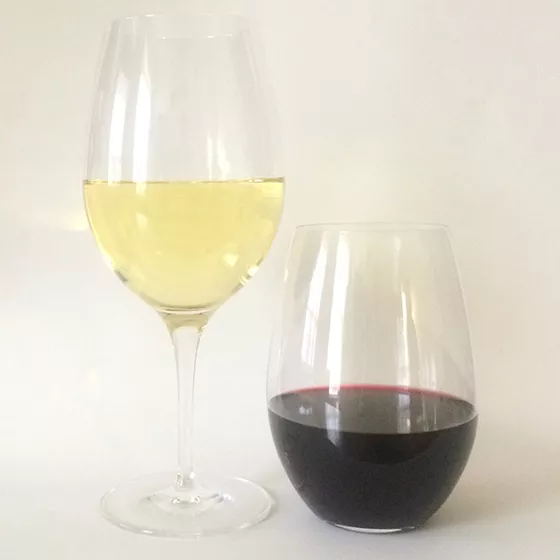 A red and a white from Yalumba's all-vegan lineup. | Patrick J. Hurley
Yalumba's Shiraz-Viognier blend ($11.99 at World Market) is another winner. It's deep and dark, with an earthy nose that is redolent of violets and spice. The flavor combines dark cherry and some deeper herbaceous notes.
Wineries such as Yalumba and websites like Barnivore are making things a lot easier for vegans and drinkers with severe food allergies. They also provide much-needed information to restaurants, distributors and even dinner-party hosts who have to cater to a wide variety of diets. Use these helpful resources to ensure that the next time you raise your glass for a toast, no one is left out.
Follow Patrick J. Hurley on Twitter at @VeganDrunkard. E-mail the author at Patrick.J.Hurley@HurleyHouse.com.
---