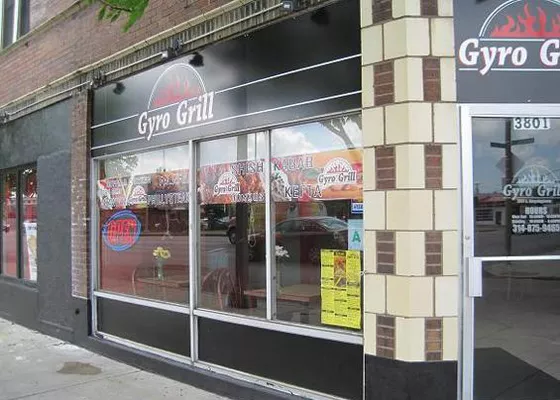 The original Gyro Grill. | Ian Froeb
As we reported earlier this week, our beloved Chubbies (6227 Delmar Boulevard) is no more. There is some good news, though: The burger joint will be replaced by a second location of south city's popular Gyro Grill (3801 South Kingshighway Boulevard; 314-875-9465). We talked to owner Morad Jaber about his new digs and joining the Loop.
See also: Chubbies Is Closed for Good This Time
Jaber says everything will pretty much be the same at the new location, though he's thinking of cooking up some Loop-only menu items. Due to landlord issues, the original Gyro Grill, which opened on Kingshighway in 2010, may end up closing, but Jaber sees Delmar as the natural next step either way.
"I love south city in the sense that it's pretty much a gem for locally owned family businesses, but in the Delmar Loop, there's room for family owned and operated businesses, too," Jaber says. "It's pretty much the fact that there's more disposable income -- people who go down to the Loop, they know what they're looking for and getting. It's more of an educated consumer than I deal with here in south city. People are familiar culturally."
Jaber says the new Gyro Grill will open in a month and a half at the earliest -- construction is ongoing -- due to inspections, permits and what he calls "city politics at its finest." Suzanne Schoomer, owner of Eastgate Investments, which owns the building, says she is looking forward to her new tenant.
"I'm really pleased. I think it will augment [the neighborhood]," Schoomer says. "It'll be something we don't quite have in the Loop now -- I think it'll be fun to have."
Gyro Grill serves up some of the biggest gyros in town, plus falafel, hummus, schawarma and the like. Jaber says he thinks he can offer an authenticity in Middle Eastern cuisine that is missing from the Loop.
"I've pulled people from west county and surrounding areas like Jefferson County, and they specifically drive this far to grab food for the family for like a week," he says. "Delmar is going to be awesome for both parties, us and the consumer."
You can check out the full menu at Gyro Grill online here or follow on Facebook.
Where can you get the best of two worlds? Just because they started out as street food, doesn't take away from yummy factor... a cheesesteak and a falafel pita.

Posted by Gyro Grill on Friday, May 9, 2014