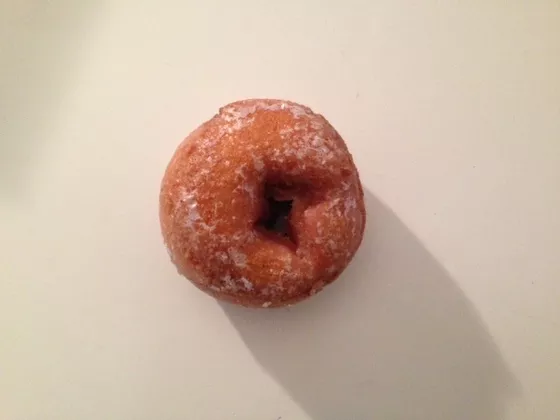 O'Fashion's buttermilk cake doughnut.| Cheryl Baehr
Like most patrons, I'd been going to O'Fashion Donuts (1904 South Vandeventer Avenue; 314-776-9975) for years without realizing I didn't know it's name. "You know -- that little place on Southwest" is how people typically refer to this tiny doughnut shack. What it lacks in name recognition it makes up for in taste, and nowhere is this more evident than in its buttermilk cake doughnut.
See Also: Game of Dones: A Blind Taste Test of 6 Doughnuts Including Reigning Champ Pharaoh
O'Fashion's buttermilk cake doughnut is its calling card: a pudgy, deep fried pillow of dough encrusted with a thin layer of vanilla-flavored glaze. The exterior is crisp from the sugary coating, but inside it's fluffy and light with a slightly lemony taste that brightens the rich treat. This piece of doughnut nirvana is so good you're likely to forget your own name, let alone O'Fashion's.
Previously: #81: Cantina Laredo's "Torta De Carnitas" #82: The Chicken Schwarma Sandwich from Al-Tarboush Deli #83: Provel Cheese Sticks at Biggie's Restaurant & Bar #84: The Kale, Artichoke & Smoked Bacon Dip at the Restaurant at the Cheshire #84: Crispy Pig Tails at the Libertine #85: The Meatball Sandwich at Leonardo's Kitchen and Wine Bar #86: The Bone-In Strip Steak at 801 Chophouse #87: The Roasted Chicken Spinach Flatbread at Cooper's Legendary American Pub #88: Ramen at Death in the Afternoon #89: Spare No Rib's Pulled Pork Sandwich #90: The Baklava at Vinnie's Italian Beef and Gyros #91: The "Bianca" Pizza at Pizzeoli #92: Dumplings at Lona's Lil Eats #93: A St. Louis-Style Pizza from Frank & Helen's Pizzeria #94: Singapore Mei Fun at Bek-Hee #95: The Monte Cristo at Three Flags Tavern #96: The Meatloaf Blue Plate Lunch at Farmhaus #97: Comet Coffee's Chocolate Chip Cookie #98: Canestri Cacio e Pepe at Pastaria #99: The Granola Pancakes at Whitebox Eatery #100: Chicken Noodle Soup at Grove East Provisions
Follow Cheryl Baehr on Twitter at @CherylABaehr. E-mail the author at Cheryl.Baehr@RiverfrontTimes.com.
---