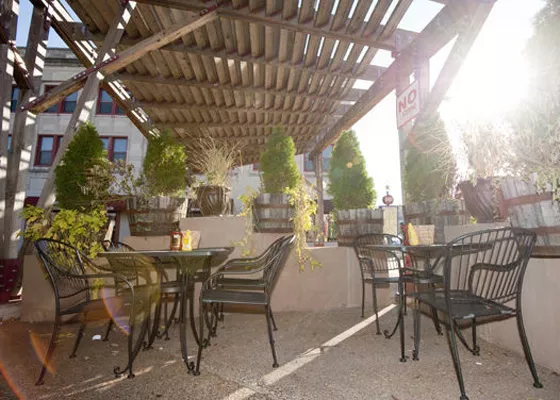 The sun-filled patio at Market Pub House is a great place to stop with your pooch while exploring the Delmar Loop. | Kholood Eid
Our list of dog-friendly restaurant patios was one of our most popular last spring. When the weather gets nice, it's not just you who wants to get some fresh air -- your dog does, too. Unfortunately, one of the restaurants on our original list is now closed, so we decided to update and add seven more great dog-friendly restaurant patios, with some help from our readers. Let us know if we missed any of your favorites!
See also: The Best Dog-Friendly Restaurant Patios in St. Louis
Market Pub House (6655 Delmar Boulevard, University City; 314-727-8880)
Market Pub House is a great place for anyone to take a seat after an afternoon exploring the Delmar Loop. The expansive patio has plenty of shade on a hot day and a great selection of beers awaits. Let your pup refresh with water bowls while you try a new brew.
MoKaBe's Coffeehouse (3606 Arsenal Street; 314-865-2009)
MoKaBe's patio wasn't an ideal place to be during the Ferguson protests -- offered as a "safe space," it ended up getting tear-gassed -- but it continues to be a great place to exchange ideas, initiate conversation and maybe get a few doggie kisses. MoKaBe's puts out water bowls, plus free dog treats.
Macklind Avenue Deli
(4721 Macklind Avenue; 314-481-2435)
This Southampton neighborhood mainstay is a great place to spend a lunch in the sun. Your dog can lay down and rest with a bowl of water. Bowls are also offered to dogs just taking a walk around the block with their owners.
Hartford Coffee Company (3974 Hartford Street; 314-771-5282)
Hartford Coffee has not one but two delightful patios for outdoor dining, and both are dog-friendly. For humans, Hartford has topnotch fair-trade coffee and local music on the weekends. On the patios, you'll find water bowls and maybe even a new friend.
Cafe Provençal (427 South Kirkwood Road, Kirkwood; 314-822-5440)
Cafe Provençal has the requisite dog bowls on its patio, but twice a year, it kicks things up a notch and hosts a five-course doggie meal with Three Dog Bakery. Look for the first one this spring or early summer and another and the end of the season. Follow on Facebook for updates about the collaboration.
Coffee Cartel (2 Maryland Plaza; 314-454-0000)
Coffee Cartel is one of the best places for people-watching, day or night. The prime Central West End corner also has plenty of space for dogs to chill as their owners grab a bite, work using the free wifi or refuel with a morning cup of coffee. Coffee Cartel puts out water bowls and has free dog treats, too.
Civil Life Brewing Company (3714 Holt Avenue)
The Civil Life has four dog water bowls out on its delightful patio -- it can get pretty busy though during peak times, so make sure your dog is comfortable in that sort of environment. There is also a second side patio that owner Jake Hafner says tends to attract pups and their owners.
Gut Check is always hungry for tips and feedback. E-mail the author at [email protected].
Follow Nancy Stiles on Twitter:
---