Farmer's cheese pancakes at Scape | Marvin Brown
Whether breakfasting or brunching (or maybe indulging a little brinner) it's hard to beat a hot stack of melt-in-your mouth, light, fluffy, made-from-scratch pancakes topped with melting butter and drenched with real maple syrup. These nine pancake spots have perfected the art of pancakes.
See also: 10 Best Places for a Boozy Brunch in St. Louis
Scape (48 Maryland Plaza; 314-361-7227)
Sunday brunch at Scape is a tradition. Lox and bagels, eggs Benedict, omelets, French toast — it's all there. The pancakes, however, depart from tradition in the most delicious way. "Apple Pie Pancakes" feature sautéed green apples baked inside a buttermilk pancake and topped with caramel cream. And the "Farmer's Cheese Pancakes" use ricotta cheese in lieu of buttermilk for a creamy taste and fluffy texture.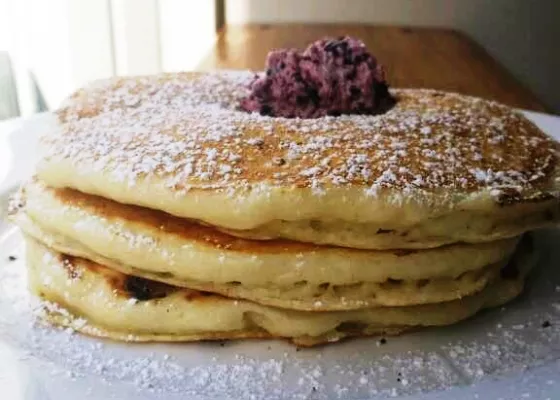 Pancakes at Half & Half | image courtesy of Half & Half
Half & Half (8135 Maryland Avenue, Clayton; 314-725-0719)
Breakfast, lunch and brunch destination Half & Half keeps things simple. After months of tinkering with intricate and decadent recipes, it decided simpler was better. The goal was always a light, fluffy cake that would absorb butter and syrup. Its house recipe of flour, buttermilk, leavening agents and touch of oil is heavenly.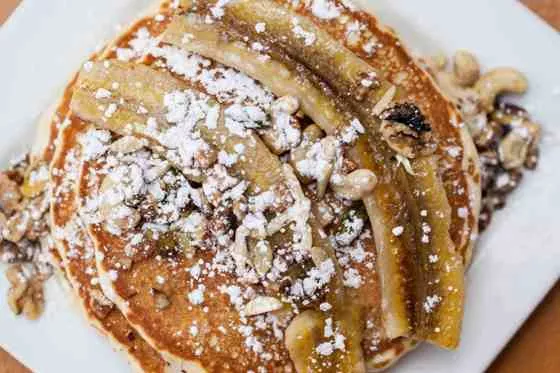 Pancakes with caramelized bananas and nuts at Rooster | David Bailey
Rooster (3150 South Grand Boulevard; 314-772-3447)
It's all about the toppings at Rooster. The kitchen's secret recipe results in fluffy, moist pancakes that are then topped with an indulgent array of toppings: Nutella, chocolate chips, cinnamon and raisins, berries and crème fraîche, caramelized bananas and nuts or bacon, cheddar and asiago cheeses. There's even an alternate butter choice, citrus maple butter.
Pancakes at Benton Park Cafe | Nicole Costello
Benton Park Café (1900 Arsenal Street; 314-771-7200)
The secret to perfect pancakes at Benton Park Café is a dollop of butter placed right on top of a hot stack fresh off the stove that melts as you dig in. Griddle-cooked in butter, they also get a delicious crispy edge. The menu offers regular buttermilk pancakes along with blueberry, strawberry and chocolate chip.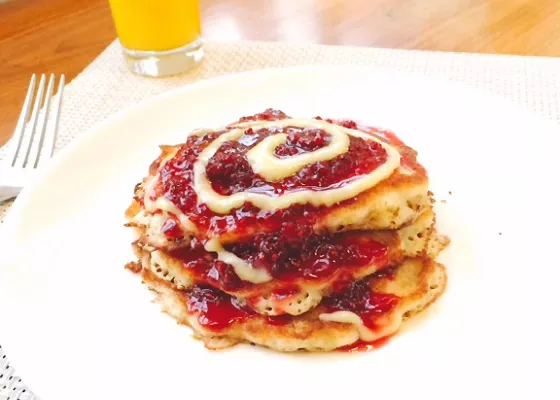 Buttermilk pancakes with raspberry sauce and lemon curd at Cafe Osage | David Kirkland
Café Osage (4605 Olive Street; 314-454-6868)
Each month, a new house-made compote or syrup tops the pancakes at Café Osage. This month features raspberry sauce with lemon curd. Next month, orange marmalade and candied pecans will be the stars. The house pancake is made in the Eiderdown style — the eggs and yolks are separated and folded into the batter. The buttermilk multigrain pancakes are made with organic grains, flour, rolled oats, toasted buckwheat groats and a not-to-be-revealed secret ingredient.
Buttermilk pancakes at Winslow's Home | Ann Sheehan Lipton
Winslow's Home (7213 Delmar Boulevard, University City; 314-725-7559)
It's all in the turn of the wrist at Winslow's Home. Buttermilk and baking soda are mixed thoroughly into the flower so that no pockets remain and the pancakes leavened into perfectly fluffy stacks. Cage-free eggs and lots of melted butter don't hurt, either. The pancakes are then fried to a golden brown and topped with fresh fruit from the on-site farm when in season.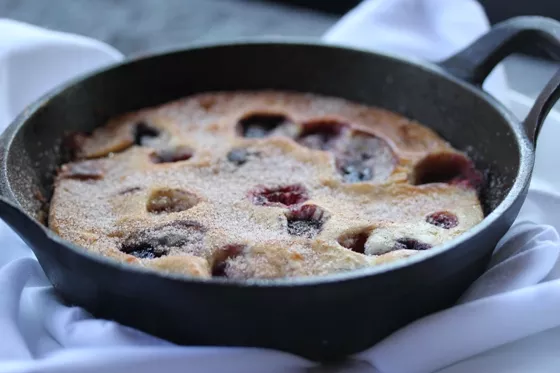 French pancake du jour at Herbies | Heidi Newmyer
Herbies (405 North Euclid Avenue; 314-769-9595)
Herbies brings the distinctive taste of France to the breakfast table. The French pancake features classic pancake batter baked and served in a cast iron skilled with clarified butter and maple syrup. This month's French pancake du jour is a mixed berry pancake topped with cinnamon and sugar.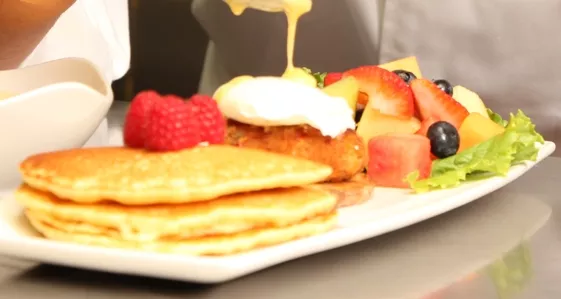 Pancakes at Wild Flower | image courtesy of Wild Flower
Wild Flower (4590 Laclede Avenue; 314-367-9888)
Pancakes at Wild Flower are extra special when served on the patio on a beautiful spring day. Choose between apple and walnut pancakes, country-style pancakes with bacon and sausage or classic pancakes made with the chef's secret of extra vanilla and melted butter.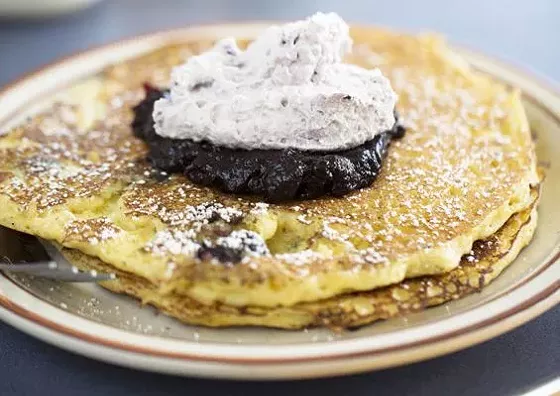 Triple blueberry pancakes at Southwest Diner | Jennifer Silverberg
Southwest Diner (6803 Southwest Avenue; 314-260-7244)
In the tradition of the southwest, pancakes at Southwest are made with a blend of cornmeal and flour, giving the pancakes a slightly dense, cornbread-like texture. This month's special is triple blueberry pancakes topped with blueberry compote and blueberry whipped cream.
Follow Sara Graham on Instagram at @EngageTaste and Twitter at @EngageTaste. E-mail the author at sara@engagetaste.com.
---