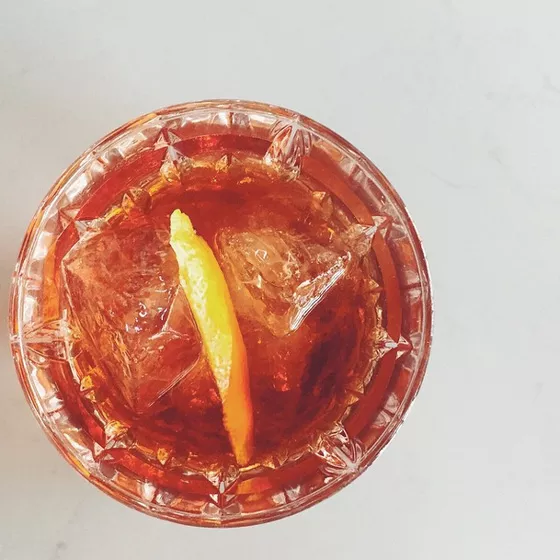 A locally twinged Boulevardier from Small Batch's spring cocktail menu. | Instagram/@smallbatchstl
We've said it before, and we'll say it again: Instagram was practically made for pictures of food. Gut Check has rounded up our favorite foodie accounts in St. Louis, but there are so many cool photos every week, we wanted to share what St. Louis' best chefs, bartenders and eaters are Instagramming. If you see a good one, send it to us!
See also: The Ten Best Food Instagrams in St. Louis This Week: March 11 to 17
1. Chicken Wings at Hiro Asian Kitchen
OK, technically it's a video, but damn.
2. Boulevardier at Small Batch
Drinks are even better with local spirits.
3. Pizza and Toasted Ravioli at Vito's in the Valley
Pretty much our perfect meal.
4. Brownie Batter at Companion Bakery
Too bad we can't just eat that.
A photo posted by Companion (@companionbaker) on
5. Goat Cheese Crepe and Coffee at Rooster
Yogis love crepes, too.
6. Biscuits-and-Gravy Brat at Brasserie
We didn't even know this was possible.
7. Bread Pudding at Evangeline's
And on the patio, no less!
8. R&D for Rick Lewis' Southern
As if we weren't excited enough for this upcoming restaurant.
9. Brunch at Scape
If a chef likes it, you know it's good.
10. Smoked Scottish Salmon at Elaia & Olio
Holy moly.
Gut Check is always hungry for tips and feedback. E-mail the author at Nancy.Stiles@RiverfrontTimes.com.
Follow Nancy Stiles on Twitter:
---