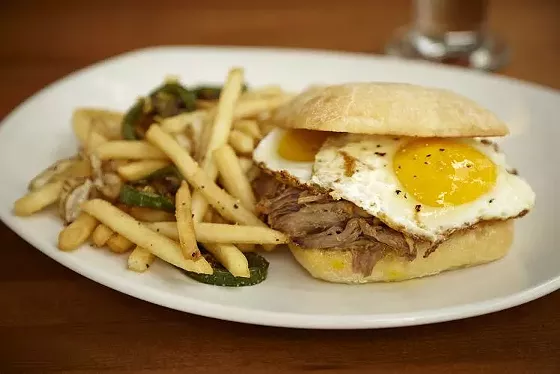 The "Torta de Carnitas" sandwich from Cantina Laredo. | Courtesy Cantina Laredo
Cantina Laredo (7710 Forsyth Boulevard, Clayton; 314-725-2447) looks less like a Cantina in Laredo and more like a polished golf resort in Scottsdale. Naturally, one questions whether this trendy Dallas-based chain is capable of producing food with substance. The "Torta De Carnitas" erases any doubts.
See Also: Review: Cantina Laredo Shows the Sleeker Side of Tex-Mex
Cantina Laredo's twist on this classic Mexican sandwich begins with buttery, griddled ciabatta bread that is spread with apricot jam. Slow-roasted pork is piled on, topped with a generous sprinkle of creamy goat cheese and an over-easy egg. The sweet and earthy interplay of the jam and cheese, seasoned meat and the rich egg yolk are a satisfying mix of flavors. This is haute couture Mexican street food.
Previously: #82: The Chicken Schwarma Sandwich from Al-Tarboush Deli #83: Provel Cheese Sticks at Biggie's Restaurant & Bar #84: The Kale, Artichoke & Smoked Bacon Dip at the Restaurant at the Cheshire #84: Crispy Pig Tails at the Libertine #85: The Meatball Sandwich at Leonardo's Kitchen and Wine Bar #86: The Bone-In Strip Steak at 801 Chophouse #87: The Roasted Chicken Spinach Flatbread at Cooper's Legendary American Pub #88: Ramen at Death in the Afternoon #89: Spare No Rib's Pulled Pork Sandwich #90: The Baklava at Vinnie's Italian Beef and Gyros #91: The "Bianca" Pizza at Pizzeoli #92: Dumplings at Lona's Lil Eats #93: A St. Louis-Style Pizza from Frank & Helen's Pizzeria #94: Singapore Mei Fun at Bek-Hee #95: The Monte Cristo at Three Flags Tavern #96: The Meatloaf Blue Plate Lunch at Farmhaus #97: Comet Coffee's Chocolate Chip Cookie #98: Canestri Cacio e Pepe at Pastaria #99: The Granola Pancakes at Whitebox Eatery #100: Chicken Noodle Soup at Grove East Provisions
Follow Cheryl Baehr on Twitter at @CherylABaehr. E-mail the author at Cheryl.Baehr@RiverfrontTimes.com.
---