Roast beef and tuna sandwiches, kebobs and blue cheese and tomato bruschetta from the catering menu. | Nancy Stiles
Whitebox Eastery (176 Carondelet Plaza, Clayton; 314-862-2802) is a sleek breakfast and lunch spot by day, but co-owner Brendan Marsden hopes to utilize it as an event space by night.
See also: Whitebox Eatery Brings Sleek Style to A.M. Dining: Review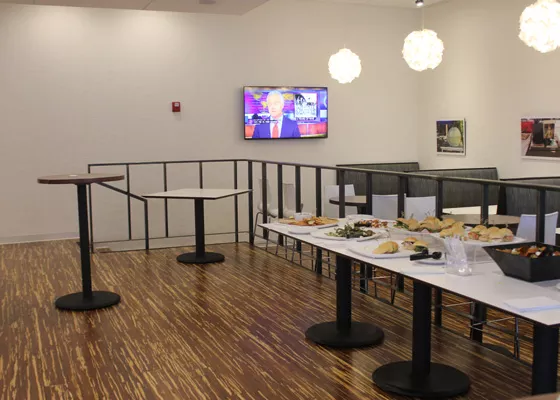 The dining room can be converted to a private event space after hours. | Nancy Stiles
Whitebox played with the idea a bit with its Super Bowl contest -- unfortunately the winner had a conflict so there wasn't a football party (he's rescheduling). Whitebox has an expansive catering menu, which includes new neighbor Vincent Van Doughnuts, goat cheese skewers, a variety of sandwiches, salads and pastries.
You can check out the full catering menu here. To place a catering order, call 314-862-2802 or email catering@whiteboxeatery.com.
Pastries from the catering menu. | Nancy Stiles
Boxed lunches are available for catering. | Nancy Stiles
Gut Check is always hungry for tips and feedback. E-mail the author at Nancy.Stiles@RiverfrontTimes.com.
Follow Nancy Stiles on Twitter:
---