Welcome to Sugar High, a series devoted solely to spotlighting the best ways to sate a sweet tooth in St. Louis. We'll sample the best the city has to offer at restaurants, bakeries and holes-in-the-wall, and provide some insight on how these confections are made along the way.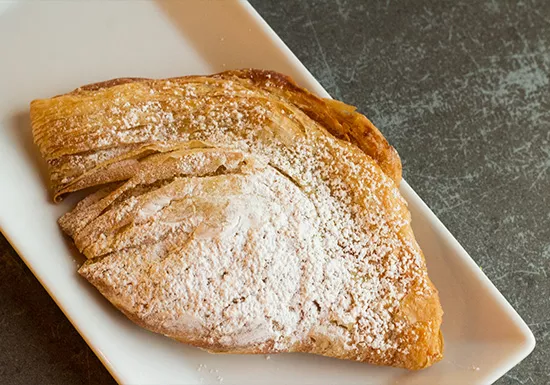 The sfogliatella riccia at Piccione Pastry. | Photos by Mabel Suen
Since opening in 2013, Piccione Pastry (6197 Delmar Boulevard; 314-932-1355) has offered some of the best desserts in town. Six days a week, choose from a variety of Italian-style confections available at its Delmar Loop storefront including ten different kinds of cannolis, cookies by the pound, rum-infused cakes and perhaps most notably, its signature treats made fresh each morning: the sfogliatella riccia.
See also: First Look: Piccione Pastry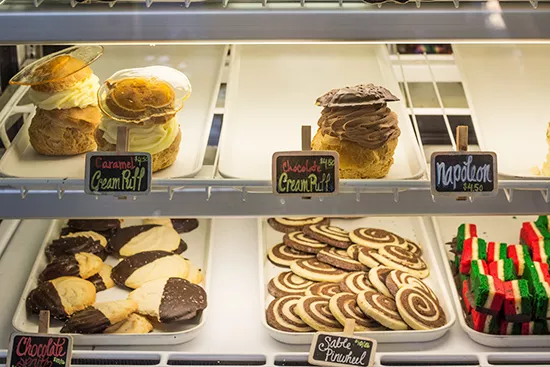 Plenty more options available at the pastry counter -- get 'em before they're gone.
The flaky, shell-shaped pastry begins with a from-scratch dough made up of flour, water and honey. The dough is stretched to a paper-thin consistency by hand and rolled with butter to create a series of delicate layers; it's a lamination process that takes around a half hour to complete, says pastry chef Sandia Hoormann.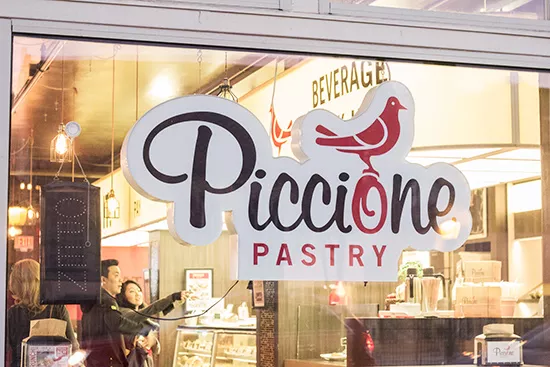 Located in the Delmar Loop.
After chilling in the fridge, slices are cut from the resulting log, and each piece is filled with a mixture of semolina, candied orange and ricotta, then baked until its layers separate into characteristic ridges. The crispy, buttery texture of the unique golden-brown pastry resembles something between phyllo and croissant dough, topped with a light dusting of powdered sugar.
The sfogliatella riccia's subtle sweetness pairs well with some strong espresso. Get some Lavazza Italian coffee to sip alongside this treat, and maybe a box of sweets to go. After one bite of the "sfog," you'll be dreaming of Piccione's carefully handcrafted treats all day long.
Cassata cake, a traditional cannoli, a tri-color cookie and more.
Previously on Sugar High: - The Feasting Fox's Warm Apple Strudel - I Scream Cake's "I Scream Sammys" - LuciAnna's Pastries' Chocolate-Mousse Cheesecake - Spoon Baking Company's Spoon Cookie - Insomnia Cookies' S'mores Deluxe Cookie - Living Room's Peanut-Butter Chocolate-Chip Cookie - Stimulus Baking Company's Pad-Thai Cupcake - La Bonne Bouchée's Strawberry-Mousseline Cake - Pie Oh My's Pumpkin-Maple Pecan Pie - Annie Moons' Banana-Split Muffins - Cyrano's Carrot Cake - Whitebox Eatery's Cheese Pastry - Comet Coffee's Mousse Cakes - Whisk's Apple-Cinnamon "Pop Tartlets" - The London Tea Room's Blueberry-Lemon Cake - Corner 17's Fluffy Ice - The Fountain on Locust's "Banana Bourbon" Sundae - Vinnie's Pinwheel Baklava - Red Fox Baking & Catering's Lemon Tart - Sugarfire Smokehouse's Crack Pie - Russell on Macklind's Coconut Cake - The Kitchen Sink's Sweet Potato Fries - Giovanni's Kitchen's Panna Cotta Trio - Crepes Etc.'s Crepe Cake - Cafe Ventana's Beignets - Frida's Raspberry-Chocolate Avocado Mousse - India Palace's Gulab Jamun - Melt's "Violet Beauregarde" Waffle - Brevan's Patisserie's "Brendan" - Winslow's Home's Chocolate Cake with Espresso Meringue - La Patisserie Chouquette's Eclair - Black Bear Bakery's Raspberry Oat Bar - Gelateria's London Fog Gelato - 4 Seasons Bakery's German Cheesecake - Libertine's "Candy Bar" - Cleveland-Heath's Old Fashioned Cherry Pie - Schlafly Tap Room and Bottleworks' Sticky Toffee Pudding
We're always looking for some sweet ideas. E-mail the author at mabel.suen@riverfronttimes.com