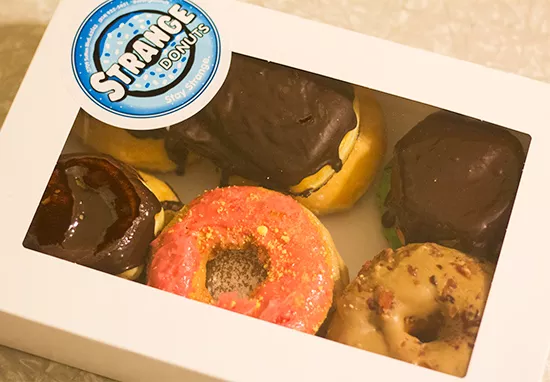 A Strange Donuts dozen. | Mabel Suen
Comedian Chris Hardwick, perhaps better known to you as Nerdist, did a show last night at the Pageant. And what is a Walking Dead fanatic to do after a night of telling jokes? Head to the Done Zone, of course.
See also: Hugh Jackman Fed the Beast at Pappy's
Hardwick tweeted before the show that he'd be hitting up Strange Donuts (2709 Sutton Boulevard, Maplewood; 314-932-5851) -- those tasty treats do tend to sell out.
Stay strange, my friends.
Gut Check is always hungry for tips and feedback. E-mail the author at Nancy.Stiles@RiverfrontTimes.com.
Follow Nancy Stiles on Twitter:
---