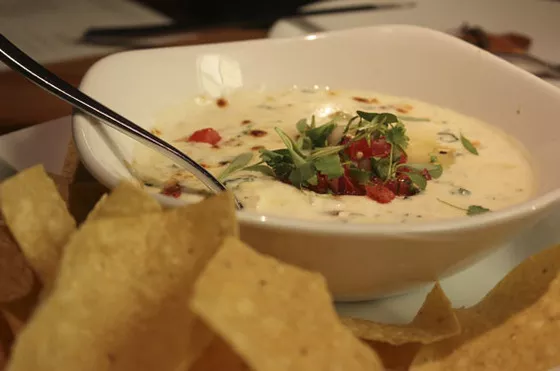 The kale, artichoke and smoked bacon dip at the Restaurant at the Cheshire. | Nancy Stiles
When our server at the Restaurant at the Cheshire (6300 Clayton Road; 314-647-7300) placed the dish of molten kale and bacon-flecked dip before us, she made a bold claim: "This is going to change your life." She wasn't joking.
See Also: Country Chef, City Chef Highlights Farm-to-Table at the Restaurant at the Cheshire
The Restaurant at the Cheshire's kale, artichoke and smoked bacon dip is like the world's best spinach artichoke dip made even better -- sweet, smoky bacon pairs perfectly with the rustic green, giving it a hearty, savory taste that cuts through the creamy cheese. A dash of spicy salsa adds a slight kick to this sumptuously rich dish. Thankfully, it's served with crispy, paper-thin tortilla chips -- this allows diners to maintain a level of decency by preventing them from drinking straight from the bowl.
Previously: #84: Crispy Pig Tails at the Libertine #85: The Meatball Sandwich at Leonardo's Kitchen and Wine Bar #86: The Bone-In Strip Steak at 801 Chophouse #87: The Roasted Chicken Spinach Flatbread at Cooper's Legendary American Pub #88: Ramen at Death in the Afternoon #89: Spare No Rib's Pulled Pork Sandwich #90: The Baklava at Vinnie's Italian Beef and Gyros #91: The "Bianca" Pizza at Pizzeoli #92: Dumplings at Lona's Lil Eats #93: A St. Louis-Style Pizza from Frank & Helen's Pizzeria #94: Singapore Mei Fun at Bek-Hee #95: The Monte Cristo at Three Flags Tavern #96: The Meatloaf Blue Plate Lunch at Farmhaus #97: Comet Coffee's Chocolate Chip Cookie #98: Canestri Cacio e Pepe at Pastaria #99: The Granola Pancakes at Whitebox Eatery #100: Chicken Noodle Soup at Grove East Provisions
Follow Cheryl Baehr on Twitter at @CherylABaehr. E-mail the author at Cheryl.Baehr@RiverfrontTimes.com.
---