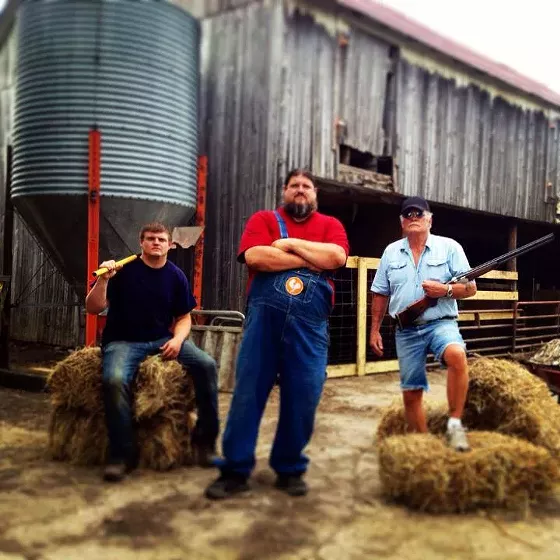 Carl Blake on the farm. | Courtesy Carl Blake
Carl Blake named them the Iowa Swabian Halls, but as of last October, his sought-after pigs are residents of the Show-Me State. A budding reality-television and documentary-film star -- his show for the National Geographic Channel is called Little Pig Man -- Blake moved his mission to revolutionize the pork industry to Missouri last October in response to industry pressures. "States across the country are losing small farmers," Blake explains. "In Iowa, it's especially bad because they have the most pigs, and small farmers are getting squeezed out by large operations."
See Also: 10 Local Urban Farms We Love
The problem, Blake notes, is on the processing side of the industry. "I couldn't get my pigs processed because the plants would only work with the big guys. I was driving six hours down to Swiss Meat [& Sausage Company in Hermann] to get my pigs processed, so I decided I needed to move closer."
Blake, who got his first pig when he was four years old, first gained notoriety when he developed a special breed of pig, the Iowa Swabian Hall, a heritage breed inspired by a German pig Kaiser Wilhelm created in 1821. Blake wanted a counter to the conventional pork being raised in the Unites States, which he says is inferior-tasting and bad for consumers.
"U.S pork is awful," Blake says unapologetically. "There's no such thing as 'the other white meat.' Pork is supposed to be red and fatty. Confinement pigs are awful. They are sick, propped up with antibiotics, filled with parasites and worms. It's not only awful-tasting, it's awful for you."
In addition to heritage breed pigs, Blake and his partner, Courtney See, are developing a sustainable way of rotational farming that they hope will revolutionize the industry. "Our pigs live outside in the dirt. They are fed goat's milk and hydroponic barley," he explains. "Our feeder pigs get acorns, walnuts, hickory nuts and flax so they are high in Omega-3s. It's the healthiest pig in the U.S." Blake notes that his hydroponically grown feed reduces input cost. He can grow a ton of hydroponic barley for $95, while conventional feed costs $1,400 per ton. He's hoping that this alone can encourage farmers to adopt his method.
Some of the biggest names in the St. Louis culinary scene have taken notice of Blake's pork -- another reason for the farmer's move to Missouri. "The chefs in St. Louis are huge supporters -- Mike Emerson [Pappy's Smokehouse], Skip Steele [Bogart's Smokehouse], Jim Fiala [the Crossing], Lou Rook [Annie Gunn's], Kevin Nashan [Sidney Street Café] -- they all are huge supporters," Blake notes. "I wanted to get closer to them so I could give them a consistent supply."
Blake is impressed with what he sees as an explosive restaurant community. "It's a much bigger market than anything they have in Iowa. "Moving here, and looking at all the restaurants, I was like, 'Wow, which cool restaurant do I want to eat at first?' There are just so many to choose from."
Follow Cheryl Baehr on Twitter at @CherylABaehr. E-mail the author at Cheryl.Baehr@RiverfrontTimes.com.
---