Chaparritos on Cherokee Street. | Photos by Mabel Suen
Chaparritos Mexican Restaurant (2812 Cherokee Street; 314-240-5990) opened on February 7 in south city. The concept comes from chef-owner Rafael Marcelino, who cooks up his own blend of authentic Mexican cuisine and Tex-Mex every day from scratch.
"I'm always trying to combine the best of both [Mexican and American] cultures," says Marcelino, who hails from Mexico City and has cooked and managed at a local Mexican restaurant for the past eleven years. Chaparritos -- Spanish for his nickname, "Shorty" -- specializes in these hybrid dishes as well as a substantial offering of fish and shrimp. The latter is a nod at family recipes from years of selling seafood in his hometown.
See also: First Look: Tarahumara Mexican Restaurant
"Steak Ranchero" with onions, chorizo, bacon, rice and beans.
"One of my secrets is marinades. The steak, chicken -- everything has its own sauce," he says. "Everything from the vegetables and rice to beans has its own taste, but when you put it together, it's going to be glory in your mouth."
One of his most popular dishes, the "Steak Ranchero," ($11.50) features marinated steak cooked with onion, chorizo and bacon served with rice and beans or sautéed vegetables with sour cream and tomatoes. Additional entrées include everything from fajitas ($11.99-$12.99) and carne asada ($10.50) to pork carnitas in green sauce ($9.99) and pollo adobado ($8.99), spiced chicken breast with chipotle sauce.
Owner Rafael Marcelino with a Chaparritos employee.
From the seafood side, opt for ceviche ($3.99-$9.99), mojarras ($12.99) whole-fried tilapia, shrimp prepared in a variety of ways, and fish tacos ($9.50 for three) with a light, crispy breading. Look for posole and menudo on the weekends as well as $5.99 daily lunch specials. Additional menu items include some standards including tacos, tortas and agua frescas, with horchata and tamarind flavors available.
Chaparritos' liquor license is pending, but stay tuned for margaritas as well as the house-specialty "Mangonata," which combines mango with liquor of your choice, spice and lime. Its current operating hours are Sunday through Thursday from 10 a.m. to 9 p.m., plus Friday through Saturday from 10 a.m. to 10 p.m. For the full menu and additional information, visit the Chaparritos website and follow it on Facebook.
Click through for more photos.
Mojarras: whole tilapia marinated, then fried.
Grilled tilapia topped with mango salsa -- one of the many seafood specials available for Lent.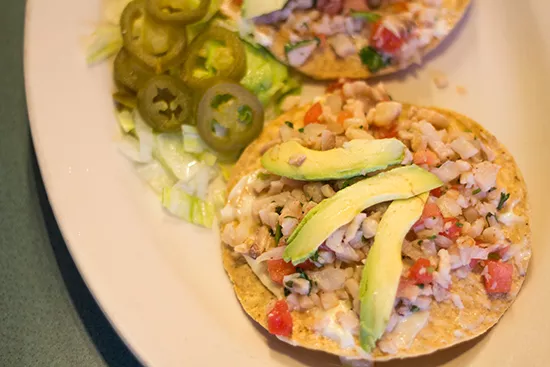 Booths available on either side.
Marcelino in the kitchen.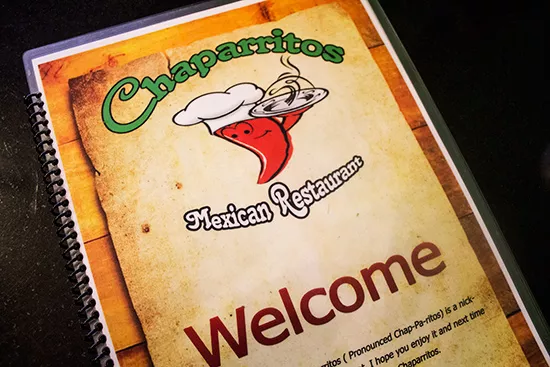 Now open on Cherokee Street.
See also: - First Look: Tarahumara Mexican Restaurant - First Look: Hot Box Cookies - First Look: The Little Dipper
E-mail the author at [email protected].
---