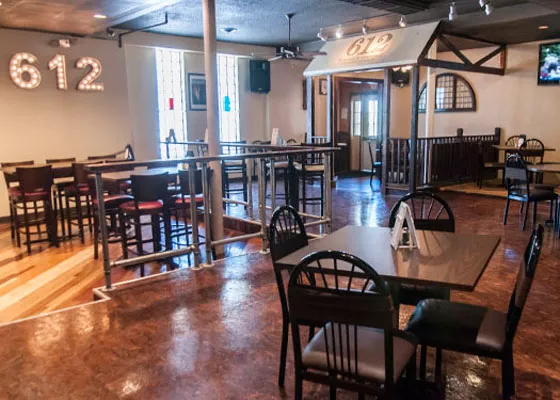 Inside 612 Kitchen & Cocktails. | Caroline Yoo
About seven months after opening in Kirkwood, 612 Kitchen & Cocktails (612 West Woodbine, Kirkwood; 314-965-2003) has launched a new, expanded menu. The change was apparently made in response to customer demand for a "more expansive" entrée selection.
See also: Review: 612 Kitchen & Cocktails, Former Kirkwood Institution, Attempts an Old-Timey Update
Siblings Devin and Alison Graham opened 612 last year when their parents decided to shutter their restaurant, Graham's Grill, after seventeen years. The next generation of Grahams reopened with a new name and a new concept, though the speakeasy atmosphere didn't quiet come across.
"Our guests have asked for more comprehensive entrées for their dining experience at 612. We have enjoyed all the feedback we get from each and every person that comes in," Allison Graham said in a statement. "With that being said, we listened to everyone and are excited to bring this fresh new menu to 612 and to Kirkwood."
The new menu launched Thursday, March 5, though it's unclear exactly what the new menu items are.
"612 Kitchen & Cocktails believes the new menu will be catered to our customers' wants more than previous menus," the Grahams said. "Our customers have asked for more entrée-type items, and we have listened. This menu will incorporate several items unique to 612 and unique to Kirkwood."
Gut Check is always hungry for tips and feedback. E-mail the author at Nancy.Stiles@RiverfrontTimes.com.
Follow Nancy Stiles on Twitter:
---