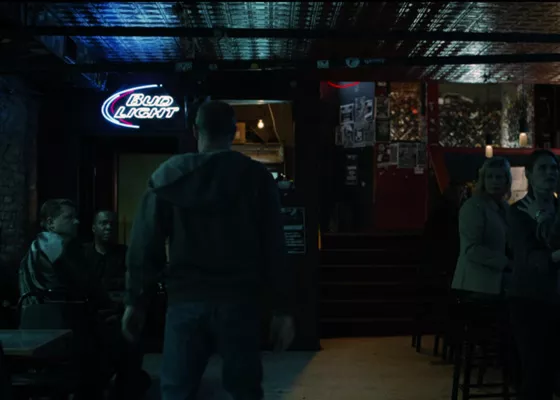 OK, sort of. If you've been watching the latest season of House of Cards on Netflix, which came out last Friday, you may have noticed a few choice Anheuser-Busch products. A-B InBev has signed a deal with Netflix, making it the "exclusive beer marketer" on the award-winning drama.
See also: House of Cards Producers Tap Local Firm to Film Scenes of Downtown St. Louis for Season 2
Although A-B doesn't have a lock on Doug Stamper's whiskey-in-a-syringe routine (Old Darby, anyone?) you'll see Budweiser, Shock Top and Stella Artois in several episodes of season three. However, the beer giant didn't pay for product placement -- surely Windows did, because those phones are ridiculous -- instead providing stock props.
Anheuser-Busch's director of entertainment marketing, Jim Holleran, spoke to AdAge about the partnership:
When House of Cards season one came along, we got some copies of the scripts early on. So we're like, "Hey, let's just send them some beer. This has an opportunity to probably be a pretty good digital series." And we were kind of lucky on that, just noticing that this potentially could be something big. We read it. We liked the storyline. And we liked the way it aligned with one of our higher-end brands such as Stella Artois. A sophisticated show for a sophisticated, beautiful beer. So we put the two together and sent it to them. Then season two we got a little bit more proactive, and we asked for scripts upfront to make sure we get them in the right spot. But most of the time it's just doing our due diligence within the actual material and timing the right brand for the right scene, for the right character, for the right episode.
He also said you'll be seeing mostly Stella in season three, but there will be a few choice Budweiser scenes. "This year Stella Artois is our main brand because of our past alliance, but we put in Budweiser, the king of beers, in a few scenes as well that we appropriate," he said. "They were authentic type of scenes, genuine, about friendship. So we figured that Budweiser was a better fit for those particular scenes."
This isn't the first time St. Louis has made an appearance on House of Cards: a prominent plot line in season two featured fictional St. Louis businessman Raymond Tusk, and Frank Underwood, a.k.a. Kevin Spacey, even visited the Gateway to the West. Creator Beau Willimon also grew up in St. Louis.
Gut Check is always hungry for tips and feedback. E-mail the author at Nancy.Stiles@RiverfrontTimes.com.
Follow Nancy Stiles on Twitter:
---