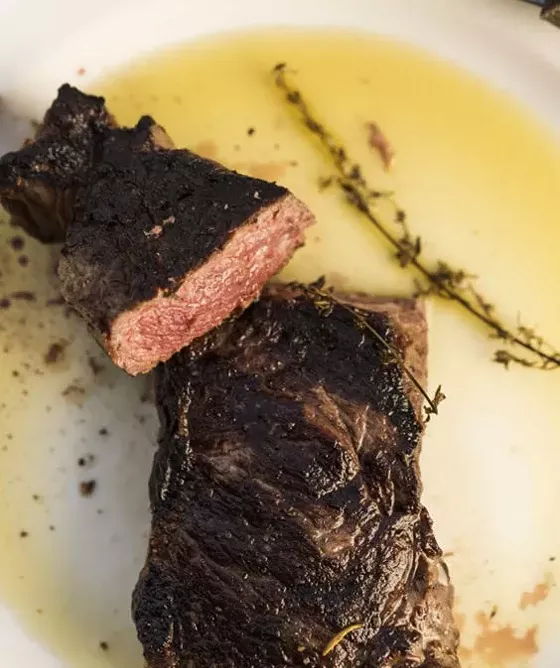 A perfectly cooked strip steak at 801 Chophouse. | Jennifer Silverberg
801 Chophouse (137 Carondelet Plaza, Clayton; 314-875-9900) may be the city's most luxe dining experience, and that opulence comes at a price. If one is going to fork over a week's hard-earned salary for dinner, the steaks had better deliver. They do.
See Also: Why Are the Urinals at 801 Chophouse Filled with Ice?
The sixteen-ounce strip steak at 801 Chophouse is the quintessential cut of meat: a robust beefy flavor, a hint of marbling for for richness, dripping with juices and -- if you're lucky enough to dine there when it's on special -- still on the bone to satisfy one's inner caveman. Paired with a glass of Cabernet, this high-end meal is well worth its price tag.
Previously: #87: The Roasted Chicken Spinach Flatbread at Cooper's Legendary American Pub #88: Ramen at Death in the Afternoon #89: Spare No Rib's Pulled Pork Sandwich #90: The Baklava at Vinnie's Italian Beef and Gyros #91: The "Bianca" Pizza at Pizzeoli #92: Dumplings at Lona's Lil Eats #93: A St. Louis-Style Pizza from Frank & Helen's Pizzeria #94: Singapore Mei Fun at Bek-Hee #95: The Monte Cristo at Three Flags Tavern #96: The Meatloaf Blue Plate Lunch at Farmhaus #97: Comet Coffee's Chocolate Chip Cookie #98: Canestri Cacio e Pepe at Pastaria #99: The Granola Pancakes at Whitebox Eatery #100: Chicken Noodle Soup at Grove East Provisions
Follow Cheryl Baehr on Twitter at @CherylABaehr. E-mail the author at Cheryl.Baehr@RiverfrontTimes.com.
---