Welcome to Sugar High, a series devoted solely to spotlighting the best ways to sate a sweet tooth in St. Louis. We'll sample the best the city has to offer at restaurants, bakeries and holes-in-the-wall, and provide some insight on how these confections are made along the way.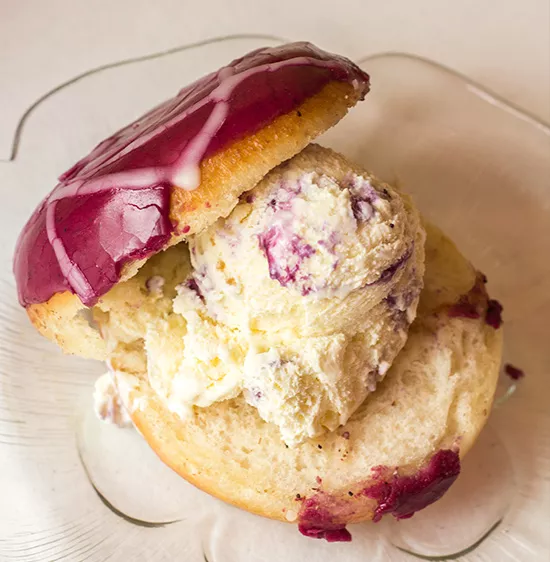 I Scream Cakes' blueberry-cheesecake ice cream paired with Vincent Van Doughnut's blueberry-cheesecake doughnut. | Photos by Mabel Suen
Since opening in 2011, I Scream Cakes (2641 Cherokee Street; 314-932-5758) has offered picture-perfect ice cream cakes using its own from-scratch, all-natural ice cream. Chef and owner Kerry Soraci, who moonlights as a tattoo artist at Iron Age Tattoo, makes one-of-a-kind, award-winning treats including everything from intricate, fully edible sculptures to gluten-free drumsticks, garlic ice cream, beer floats and even frozen treats for pups.
Her latest novelty creation features a collaboration with artisan pastry makers Vincent Van Doughnut: the "I Scream Sammy." Every Saturday morning starting at 11 a.m., you can create your own ice-cream sandwich by pairing a doughnut with a scoop of your choice.
See also: I Scream Cakes Gets a Second Wind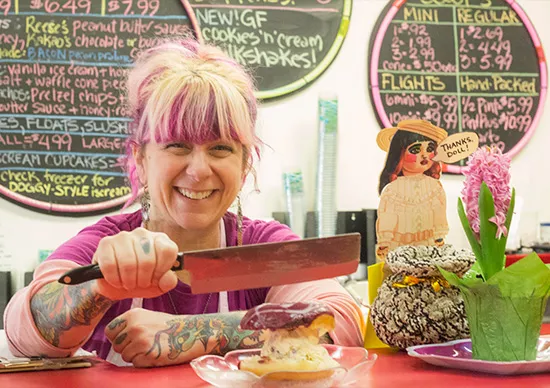 Owner Kerry Soraci will happily cut your sammich in half.
Soraci's ice cream eschews the standard premade base and instead takes a hands-on approach, ensuring that only natural ingredients -- free of chemicals, stabilizers, emulsifiers and artificial flavors -- are used. Organic dairy, eggs and sugar make up the foundation for her small-batch products, which rotate often and include everything from blueberry-cheesecake and pistachio-caramel flavors to fruity sorbets and beer-infused concoctions -- the "Figasus" made with 4 Hands Brewing Company's smoked-maple porter, for instance.
Additional doughnut options can include maple pecan and maple flavors.
The selection of pastries to pair with I Scream's frozen treats will vary weekly and can include options such as blueberry-cheesecake and maple-pecan. Typically, only a dozen doughnuts are on hand, so get them before they're gone. A full "I Scream Sammy" costs $6, while a half-size portion costs $4. Sump Coffee is also available to complete the ice-cream-for-breakfast experience.
For more from I Scream Cakes, be on the lookout for its eye-catching "trucklet" at the Schlafly Farmers' Market, local bar tastings, specials events and more.
Click through for more photos.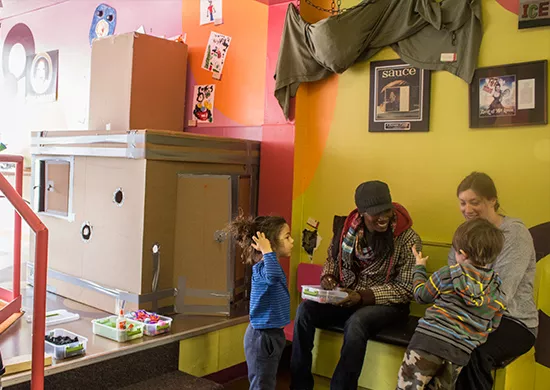 A recent addition to the colorful storefront is this cardboard play fort.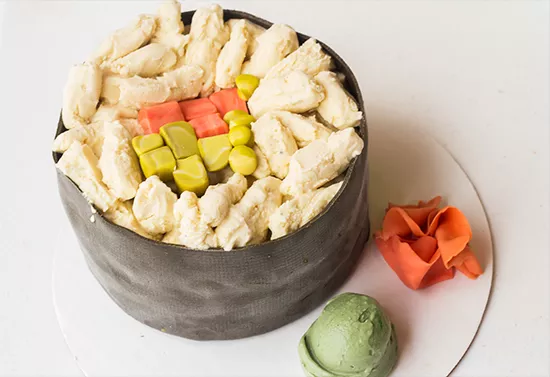 One of Soraci's signature cakes in the shape of sushi.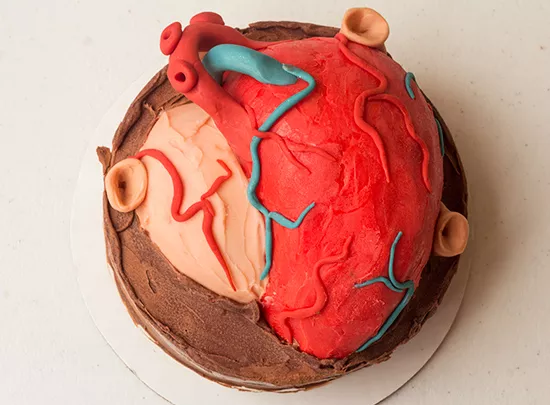 Heart-shaped ice-cream cake.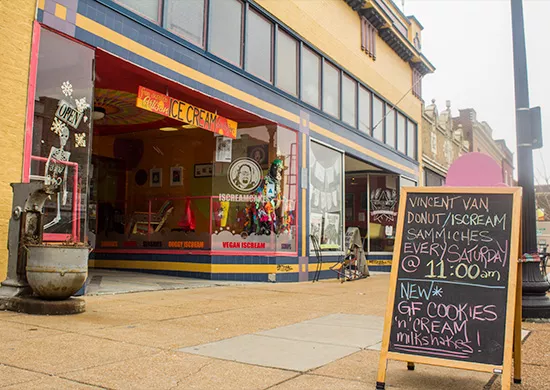 Ice-cream sandwiches available every Saturday on Cherokee Street.
All following photos courtesy of Kerry Soraci.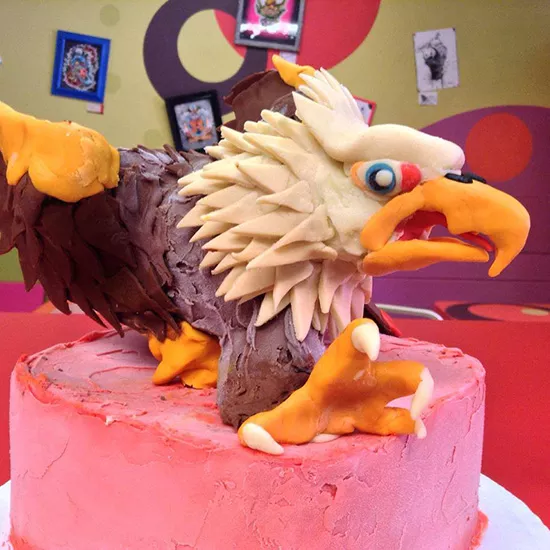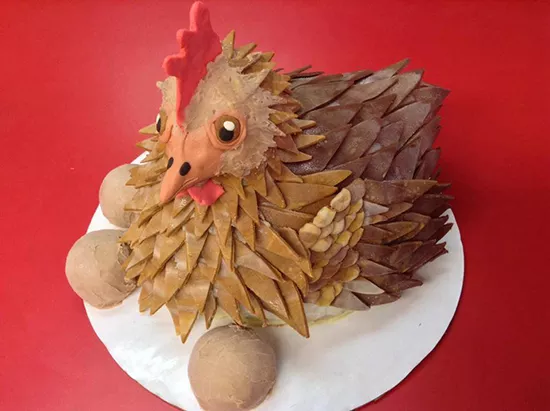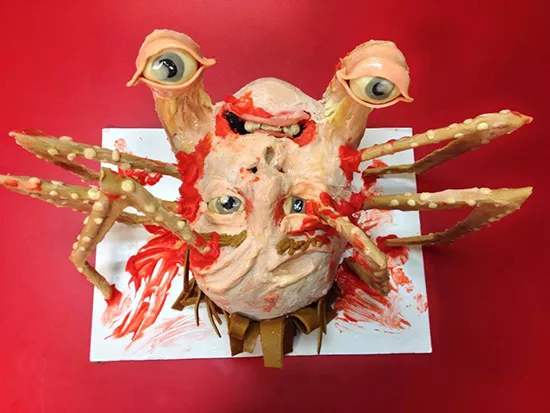 Previously on Sugar High: - LuciAnna's Pastries' Chocolate-Mousse Cheesecake - Spoon Baking Company's Spoon Cookie - Insomnia Cookies' S'mores Deluxe Cookie - Living Room's Peanut-Butter Chocolate-Chip Cookie - Stimulus Baking Company's Pad-Thai Cupcake - La Bonne Bouchée's Strawberry-Mousseline Cake - Pie Oh My's Pumpkin-Maple Pecan Pie - Annie Moons' Banana-Split Muffins - Cyrano's Carrot Cake - Whitebox Eatery's Cheese Pastry - Comet Coffee's Mousse Cakes - Whisk's Apple-Cinnamon "Pop Tartlets" - The London Tea Room's Blueberry-Lemon Cake - Corner 17's Fluffy Ice - The Fountain on Locust's "Banana Bourbon" Sundae - Vinnie's Pinwheel Baklava - Red Fox Baking & Catering's Lemon Tart - Sugarfire Smokehouse's Crack Pie - Russell on Macklind's Coconut Cake - The Kitchen Sink's Sweet Potato Fries - Giovanni's Kitchen's Panna Cotta Trio - Crepes Etc.'s Crepe Cake - Cafe Ventana's Beignets - Frida's Raspberry-Chocolate Avocado Mousse - India Palace's Gulab Jamun - Melt's "Violet Beauregarde" Waffle - Brevan's Patisserie's "Brendan" - Winslow's Home's Chocolate Cake with Espresso Meringue - La Patisserie Chouquette's Eclair - Black Bear Bakery's Raspberry Oat Bar - Gelateria's London Fog Gelato - 4 Seasons Bakery's German Cheesecake - Libertine's "Candy Bar" - Cleveland-Heath's Old Fashioned Cherry Pie - Schlafly Tap Room and Bottleworks' Sticky Toffee Pudding
We're always looking for some sweet ideas. E-mail the author at mabel.suen@riverfronttimes.com.