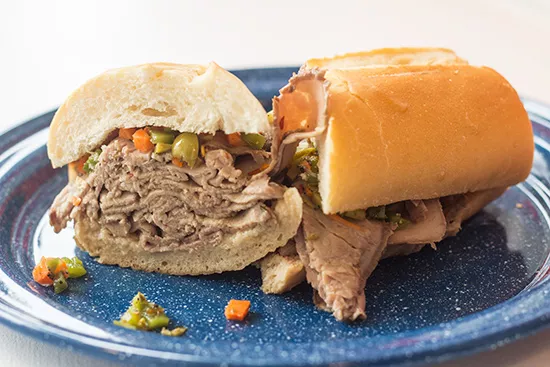 "The Little Dipper" sandwich: Italian beef with giardiniera. | Photos by Mabel Suen
Jason Paul wanted to open a food truck but settled for something a little different, albeit roughly the same size. His new brick-and-mortar sandwich shop, the Little Dipper, (2619 1/2 Cherokee Street; 314-625-3530) opened in south city on February 20 in the 300-square-foot space previously filled by Smalls Tea & Coffee. The menu features made-to-order dishes geared primarily for carryout -- Italian beef, salads and more.
"The inspiration was borderline healthy food. There's a little decadence in there, but we're sticking to real ingredients," Paul says. "All our stuff is humble and simple. We make most everything we serve here, including the sauces and dressings."
See also: First Look: Gooseberries
Co-owners Jason Paul and Thomas Eversmann.
The concept is a collaboration between Paul and childhood friend/bandmate Thomas Eversmann, who manages the business side of the Little Dipper and moonlights as a bartender at Hammerstones. Collectively, the partners have played countless roles in the restaurant industry over the years -- everything from busboy and server to cook and manager. For the past decade, Paul worked behind the scenes selling ware-washing machines and chemicals.
"I just spent all my time in kitchens watching other people do what looked super fun," he says. "I've always liked cooking at home and for friends and family. The food is here is what I like to eat."
From the menu, choose from snacks including hummus ($5) with veggies and locally made Cham pita bread; chips and house salsa ($3); and bagna cauda ($5) dip made up of olive oil, butter, garlic and anchovy. Salads include the "Division Street Salad" ($7) with romaine, goat cheese, walnuts, apple, veggies and balsamic or tahini-maple dressing as well as Paul's grandmother's recipe for Waldorf salad ($5) with apple, celery, walnuts and mayonnaise.
The "Division Street Salad" with romaine, goat cheese, walnuts, apples, veggies and balsamic or tahini-maple dressing.
Sandwiches come served on local bread from Fazio's and Companion. The namesake "Little Dipper" ($6) features Italian beef with hot or mild giardiniera. Get it served standard or dipped in a housemade gravy. Other options include a "Wheatburger" ($7), falafel pita ($6) and hot tuna ($6) with melted Swiss cheese.
The shop retains some of the reclaimed wood shelving installed by Smalls with tables assembled from excess parts. Currently, the Little Dipper can seat six or seven people, with potential for patio seating in warmer seasons. Its current hours are Tuesday through Thursday from 11 a.m. to 8 p.m., Friday through Saturday from 11 a.m. to 1:30 a.m. and Sunday from 11 a.m. to 5 p.m. For more information, visit the Little Dipper's Facebook page.
Click through for more photos.
Roasted corn and pepper orzo salad; waldorf salad with apple, celery, walnuts, mayonnaise.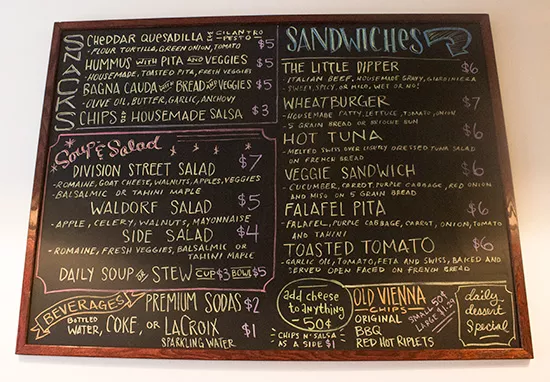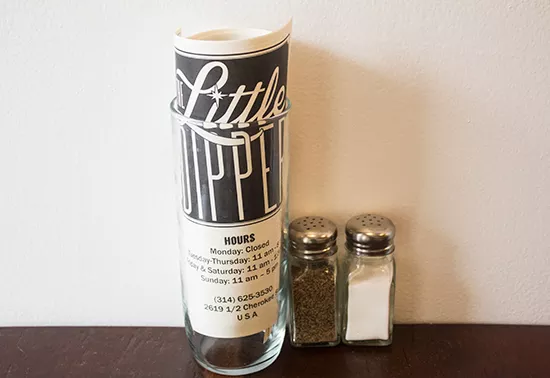 Smaller takeout menus also available on each table.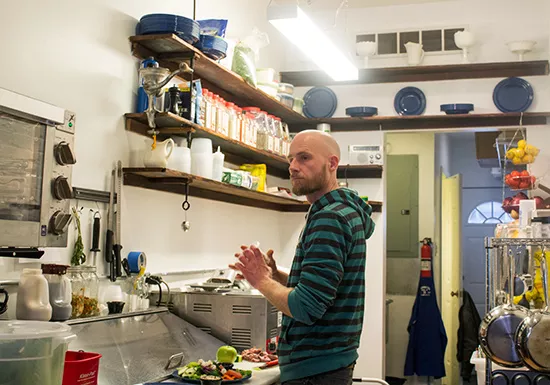 Chef Jason Paul in the kitchen.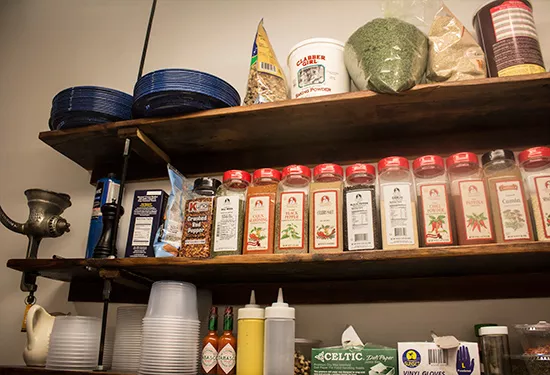 Spices and more in the kitchen.
Old Vienna chips available.
The Little Dipper also offers Excel Bottling Company sodas, Fitz's and more.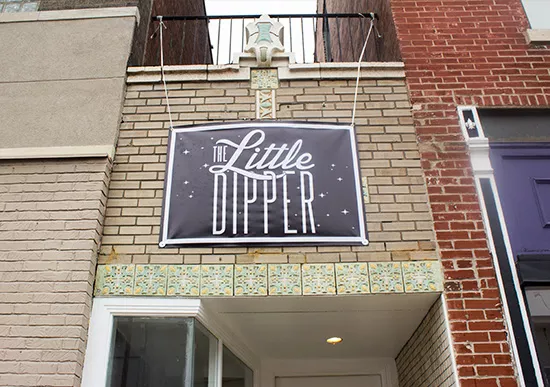 Now open on Cherokee Street.
See also: - First Look: The Gramophone - First Look: The Old Bakery Beer Company - First Look: Norton's Cajun Corner
Gut Check is always hungry for tips. E-mail us!
---