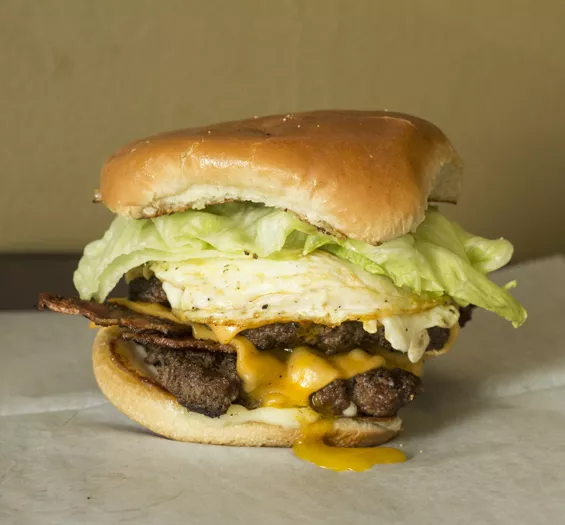 The "Garbage Burger" with lettuce, bacon, egg, onion, cheese and mayo. | Mabel Suen
Ferguson Burger Bar & More (9120 West Florissant Avenue, Ferguson; 314-388-0424) Mon.-Sat. 9 a.m.-10 p.m. Sun. 9 a.m.-5 p.m.
"My friend was on vacation -- I think it was the Bahamas -- and the owners of a restaurant she stopped in knew all about us. She was like, 'Kizzie, you've gone worldwide!'" It might seem unthinkable that a humble burger joint in a St. Louis county strip mall has international name recognition, but Ferguson Burger Bar & More is not just any restaurant. Since opening its doors on August 7, 2014 -- two days before the shooting death of unarmed black teenager Michael Brown by then-Ferguson police officer Darren Wilson -- the restaurant has become the face of a community stricken with grief, unrelenting in the face of violence and committed to moving forward.
See also: Review: Leonardo's Kitchen Serves Delicious St. Louis-Style Italian in Generous Quantities
At the helm of the ship are Kizzie and Charles Davis, whose foray into the restaurant business is almost as unlikely as Ferguson Burger Bar's celebrity. The husband and wife team are not restaurateurs. (Charles says he opened the place to make money.) Kizzie had been in the health-care industry since she was a teenager, and Charles was an entrepreneur with past businesses from real estate to car sales to selling hair.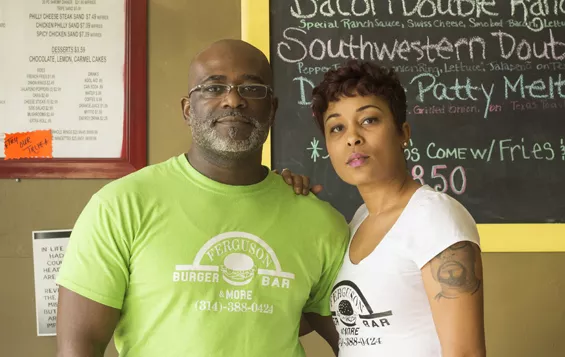 Husband-and-wife team Charles and Kizzie Davis, owners of Ferguson Burger Bar & More. | Mabel Suen
The Davises stumbled into their fate a little over six months ago when they bought the turnkey Ferguson Burger Bar. Kizzie had just quit her job working for Tenet Healthcare and was planning to open her own home health-care agency, but getting it off the ground proved slow going. In the meantime, Charles had been looking for a business that they could run together. He wasn't set on that being a restaurant, but when he saw the ad for Ferguson Burger Bar, he floated the idea to his wife. After checking out the kitchen, Kizzie gave Charles the go-ahead: "I think we can work with this."
For the Davises, the past six months have been nothing short of exhausting -- both emotionally and physically. They've seen tanks roll past their front doors, neighboring businesses burned to the ground, tear gas, rubber bullets and a media circus. They've told their tale hundreds of times to press from all over the world and can finish each other's sentences. There are persistent rumors that they'll soon close their doors, a fact Charles vehemently denies. Their story cannot be unwound from the story of Ferguson, but one gets the sense that they are eager to talk about something else, something that doesn't typically come up in interviews: the food.
Ferguson Burger Bar & More's menu consists of classic diner fare sprinkled with soul food. The restaurant came with an established menu, but Kizzie knew she needed to make some tweaks. Though she had never cooked professionally, she was a home cook, drawing from her background in Southern-style cooking handed down by her grandmother and mother who grew up in Mississippi.
Two-piece tilapia dinner. | Mabel Suen
The house's signature dish is the double "Garbage Burger": two ground beef patties, laden with Kizzie's secret seasoning and smashed thin on a flattop so they develop crispy edges. The burger is topped with lettuce, thick-sliced white onions, bacon, a slice of American cheese, mayonnaise and a fried egg. It's juicy and messy -- exactly what one wants in a diner burger -- though I would suggest adding a few pickle slices to cut through the richness.
The Davises serve three types of fried-fish dinners: tilapia, whole jack and catfish. I opted for the tilapia and was treated to a generous portion of mild, flour-dusted whitefish served in a basket of seasoned, crinkle-cut fries. The exterior of the fish was crisp and golden brown without being at all greasy. Inside, the tilapia was moist and flaky, rivaling anything served at the city's famous fish fries.
Ferguson Burger Bar offers eight varieties of its "wingettes," which are smaller versions of whole chicken wings (including the drummy). The peach-glazed is sticky sweet with just a hint of cinnamon and comes topped with hunks of whole peaches. I preferred the heat of the "Sweetnspicy." The secret to this style is the generous amount of brown sugar added to vinegary hot sauce. It caramelizes on the chicken, resulting in a candied Buffalo wing. A glass of the house's signature "Muddy Water" -- citrus-infused sweet tea -- is the way to wash them down.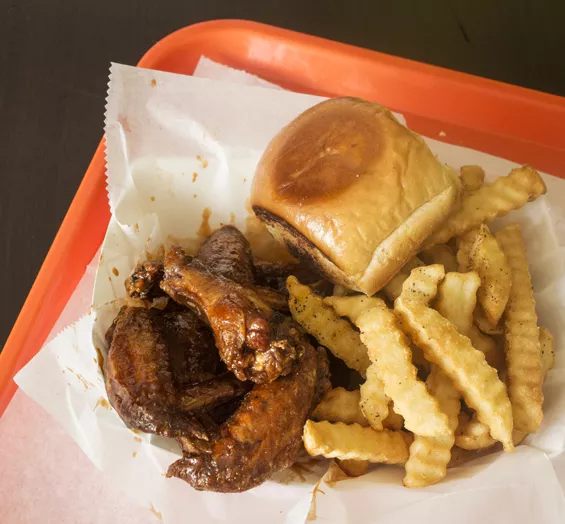 "Sweetnspicy" chicken wings with fries and a roll. | Mabel Suen
The spicy chicken sandwich is a simple fried-chicken patty dipped in hot sauce and served on a bun. Lettuce, tomato and mayonnaise provide a cooling effect. The Philly cheesesteak is everything one wants in the classic East Coast sandwich: a soft hoagie roll overstuffed with seasoned chopped beef, green peppers, onions, gooey cheese then slathered with mayonnaise. This debaucherous dish is perhaps the perfect meal after a night of revelry.
Ferguson Burger Bar serves breakfast all day, including soft, cinnamon-kissed French toast made from thick slices of Texas toast. The restaurant pairs this with its fried chicken wings for a take on chicken and waffles, or serves it as part of the "Hearty Man's Breakfast." The title is an understatement. In addition to the French toast, this platter is served with a choice of meat (I opted for spicy sausage patties), three pepper-fried eggs and shredded hash browns smothered in onions, green peppers and American cheese.
Ferguson Burger Bar & More is a simple soul-food joint thrust into the spotlight by a complex situation. Kizzie and Charles Davis may be unlikely restaurateurs, but they are rising to the occasion with grace.
Ferguson Burger Bar and More. | Mabel Suen
Follow Cheryl Baehr on Twitter at @CherylABaehr. E-mail the author at Cheryl.Baehr@RiverfrontTimes.com.
---