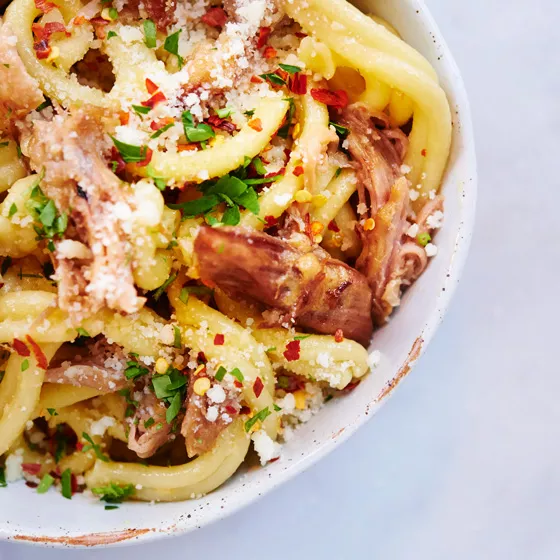 One of many combinations that will be available at Porano. | Greg Rannells
As the man behind some of St. Louis' top restaurants, Gerard Craft has long been an advocate of the slow-food movement and an opponent of fast food. However, he's hoping to find a way to combine the two in his latest venture, Porano Pasta & Gelato. The fast-casual restaurant is projected to open this summer in the former Takaya space at 634 Washington Avenue at the Mercantile Exchange. We talked to Craft about maintaining quality, the allure of fast-casual and what Italian food is really all about.
See also: At Pastaria in Clayton, Gerard Craft and crew use their noodles - Slideshow: Pastaria in Clayton Photos
"I had been to Italy multiple times, but it never really connected. I had been brought up on French food and cooked in France," Craft explains. "Until not long after we opened Niche, we went out to Porano [Italy] to stay with some family friends of ours, and that's when we really got the sense of Italian hospitality." While staying at a friend's house, Craft was invited to the houses, restaurants and inns of their friends. "And I finally got it. I got what the Italians were all about, especially as it related to food and wine and family -- this notion that at the dinner table, everybody's equal."
That feeling was part of the initial idea at Pastaria, too, and Craft says Porano takes the key elements from that restaurant -- fresh ingredients, quality sauces, inviting atmosphere -- and boils it down into what he calls a "choose your own adventure" meal. You begin with a base (organic or gluten-free pasta, farro, foccacia, lettuce), add a protein (naturally raised braised beef brisket, slow roasted pork shoulder, pork meatballs, grilled free-range chicken, MOFU tofu, roasted seasonal vegetables) then a variety of sauces (including olive oil, garlic oil, pomodoro, roasted sweet red pepper, nut-free pesto) and toppings (mozzarella, anchovies, pickled raisins and more). "Imagine the way you can combine those -- you could eat there for months and not repeat the same meal," Craft says.
He also thinks fast-casual is serving a shift in the needs of the American family, in St. Louis and elsewhere. People are busy, the cost of living is up, but pay hasn't necessarily increased. Meanwhile, Americans have better taste than ever. That, he says, is why fast-food chains are seeing their stocks plummet while Chipotle rules the roost.
Prices at Porano will be in the $10 range, which is possible through the simplified, streamlined menu, no table service and a management structure that eliminates the distinction between front-of-house and back-of-house staff. Craft also says it's important to him to open a place downtown.
"We really love that corner across from Robust, the US Bank building and the convention center. It's the right time and the right place," he says. "We have high hopes for this concept and we felt it was really, really important, now maybe more than ever, to launch that concept downtown."
There are no immediate plans for additional locations, but Craft says that is the long-term goal. For now, Pastaria executive chef Michael Petres will oversee the kitchen. Follow Porano on Facebook for updates.
"It's this personal expression of me, and where better to leave that mark on the world than on fast food?" Craft says. "We plan on bringing the same level of attention and detail and commitment as we do all of our other restaurants."
Gut Check is always hungry for tips and feedback. E-mail the author at Nancy.Stiles@RiverfrontTimes.com.
Follow Nancy Stiles on Twitter:
---