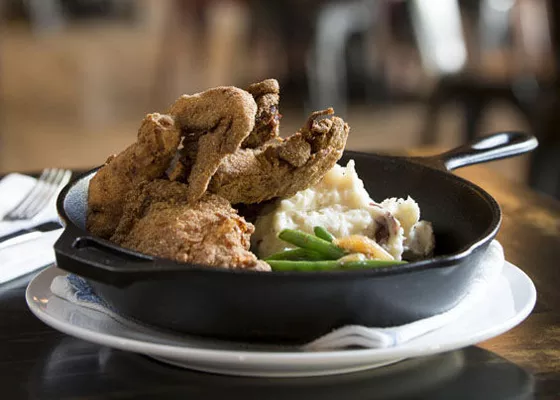 Fried chicken was one of the better dishes. | Jennifer Silverberg
The Salted Pig (731 South Lindbergh Boulevard, Frontenac; 314-738-9373), which more recently was just known as "The Pig," shut it down after service on Saturday night. The Michael del Pietro-helmed upscale barbecue joint opened in March 2014 to reviews that were mixed at best.
See also: The Salted Pig serves sad, smokeless barbecue in Frontenac
George Mahe at St. Louis Magazine reports that in a few months, it will become a new location for the Shack, which recently moved to new digs in Valley Park. The Pig's closing came unannounced until the day of, but del Pietro had changed the name and overhauled the menu in recent months. As a restaurateur, del Pietro is better known for his Italian ventures (Sugo's Spaghetteria, Babbo's Spaghetteria, Tavolo V, Via Vino Enoteca).
In our original review, we found few bright spots -- the fried chicken dish was one -- and it was mostly forgettable.
I won't beat around the bush: My biggest problem was with the entreés. The St. Louis-style barbecue ribs were fair, but they don't come close to rivaling those of the city's other smokehouses. The sauce was plain, the meat had zero caramelization and I could only discern the faintest hint of smoke. The ribs were leaps and bounds better than the brisket, however, which tasted like it came from a heat-and-go container at the grocery store. Again, the smoke component was lacking, but the meat's biggest offense was how tough and chewy it was, as if it had been taken out of the smoker about six hours too early.
That location in particular has been especially plagued. It's been Coco's Bakery, a hair salon, then Mike Faille's (of Talayna's fame) ill-fated Frontenac Grill. Hopefully the Shack will be able to make it stick. We were unable to reach del Pietro or OG Hospitality Group for immediate comment.
Since Saturday, the Pig's Facebook page has been deleted.
Gut Check is always hungry for tips and feedback. E-mail the author at [email protected].
Follow Nancy Stiles on Twitter:
---