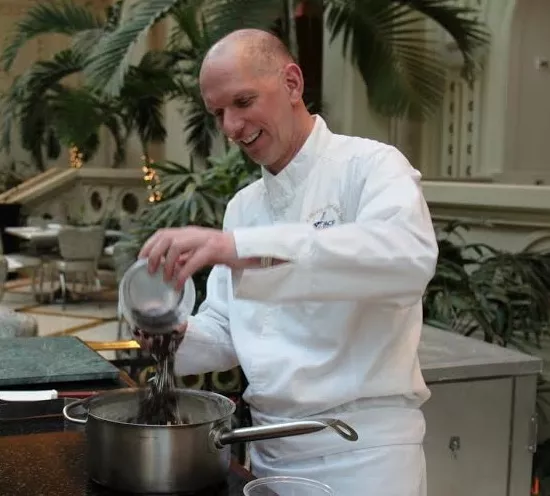 Stephan Schubert of River City Casino. | Courtesy Pinnacle Entertainment
All Stephan Schubert wanted to do was be an airplane mechanic. "In Germany, at the age of fifteen, you have to make a decision on your career track," the acclaimed River City Casino (777 River City Casino Boulevard; 314-388-7777) executive pastry chef explains. "At that age, you're not exactly free thinking. I told my parents I wanted to work on airplanes, and they told me no. I had to go into pastry."
See Also: Chef Chat: River City Casino's John Johnson Knows How to Rock a Bacon Hat
It may sound odd that Schubert's parents would scoff at such practical, engineering-oriented dreams -- if they weren't established pastry chefs themselves. The elder Schuberts came to the United States to work in the hotel industry; his father was a pastry chef and his mother was the front-of-house manager. The pair moved back to Germany when Schubert was a teenager, right before he was set to make his career plans. It turns out that mother and father know best: After graduating from culinary school, Schubert found himself working around the world -- from Kenya to Switzerland to Caesar's Palace -- eventually ending up at River City Casino. During his tenure at the property, Schubert has earned the prestigious title of "Pastry Chef of the Year" from the American Culinary Federation, his winning desserts centering around a self-described "dark interpretation" of a The Wizard of Oz theme.
Schubert took a break from making his famous fudge (he insisted on providing the recipe) to share his thoughts on the St. Louis culinary scene, his rituals and a not-so-secret love of Krispy Kreme doughnuts.
What is one thing people don't know about you that you wish they did? Don't let the German accent fool you. I was actually born in Georgia, USA. My dad was the pastry chef of the Cloister Hotel on Sea Island. When I was three years old my parents decided to move back to Germany. I lived in Hamburg for fifteen years until I started traveling around the world through my job.
What daily ritual is non-negotiable for you? I really can't live without my morning routine; this gets me ready for the entire day. I get up early and start jogging a couple of miles before I make my fresh pot of coffee. I grind the beans fresh for each cup and cook the water in an old pot that my grandma gave me. It is like a ritual for me -- this sets the tone for the entire day.
If you could have any superpower, what would it be? I do have a special super power: reading my wife's mind. However sometimes that power fails when she gives me that look.
What is the most positive trend in food, wine or cocktails that you've noticed in St. Louis over the past year? People are starting to appreciate food made from natural ingredients and without preservatives. I notice more and more that neighborhood bakeries and butcher shops are coming back into popularity. People are moving towards small-town living.
Who is your St. Louis food crush? Ricky Jordan [Rick Jordan Chocolatier], I love his approach to chocolate and his innovative techniques. He is not only a great professional, he is also a good friend of mine. I might spend too much time with him if you ask my wife. We can talk about food and desserts for hours -- we feed from each other's ideas. When I practiced for my National Pastry Chef of the Year competition I practiced at his shop. On one day we spent eight hours working on the showpiece -- then my wife walked in, took one look at the piece and asked us what we had accomplished. We had nothing to show for our eight hours besides a great time and the beginning of the piece.
Who's the one person to watch right now in the St. Louis dining scene? This is a hard question because I don't know everybody in St. Louis, but Carl McConnell at Stone Soup Cottage is someone I see as the next big thing. I love his vision and food style -- it is an experience going for dinner at Stone Soup Cottage.
Which ingredient is most representative of your personality? Candy cap mushrooms are underrated and misunderstood. If you ask people about a candy cap mushroom, most people could not tell you the taste or how you would use it. Using candy cap mushroom puree as a filling for chocolate truffles is awesome.
If someone asked you to describe the current state of St. Louis' culinary climate, what would you say? The St. Louis culinary climate is underappreciated by St. Louisans and the nation. Too often I hear people say they are going to Chicago or other major cities for their culinary experiences. St. Louis is loaded with talented chefs and fantastic restaurants that are often overlooked.
Name an ingredient never allowed in your kitchen. Flavor enhancements. I believe that you change the integrity of the food once you add artificial color and flavoring.
What is your after-work hangout? I love relaxing in the new recliner that my wife bought for me. It sits right next to my mini fridge stocked with a variety of specialty beers that my wife allows me to sample once the "honey do" list is finished.
What's your food or beverage guilty pleasure? Krispy Kreme doughnuts, Kit Kats, hot wings and beer. After working twelve-plus hours in a kitchen, simple items taste the best. My office drawers are loaded with Kit Kats, and once a week I pick up Krispy Kreme donuts before I get to work.
What would be your last meal on earth? Steak (medium rare) with garlic butter, pommes frites, hollandaise sauce and a cold Heineken.
Stephan's Fudge Recipe
2 teaspoons plus 1 cup butter, divided 4 cups sugar 1 cup milk 25 large marshmallows 12 ounces milk chocolate 12 ounces semisweet chocolate 2 ounces unsweetened chocolate 1 teaspoon vanilla extract Yield: 3 pounds (117 pieces)
Directions 1. Grease a 13x9 inch pan with 2 teaspoons butter. 2. In a large heavy saucepan, combine the sugar, milk and remaining butter. Bring to a rapid boil over medium heat, stirring constantly. Cook to 234 degrees F. Remove from the heat. 3. Stir in marshmallows until melted. Add all chocolate; stir until melted. Stir in vanilla. Immediately spread into prepared pan; cool for one hour. 4. Score into 1 inch. squares. Refrigerate, covered, for three hours or until firm. Using foil, lift out fudge. Remove foil; cut fudge. Store between layers of waxed paper in airtight containers. Decorate as desired.
Follow Cheryl Baehr on Twitter at @CherylABaehr. E-mail the author at Cheryl.Baehr@RiverfrontTimes.com.
---