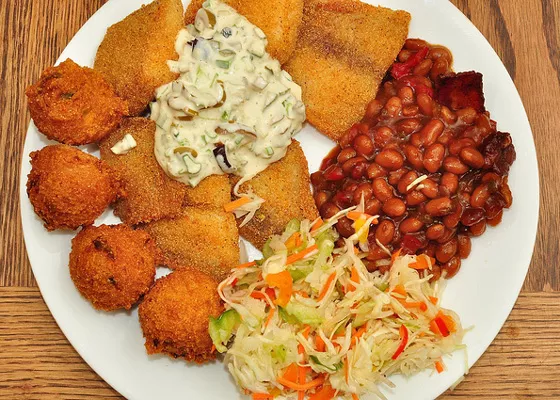 Did you survive the cold this week? Then you deserve to celebrate this weekend. Yes, Mardi Gras is over, but that doesn't mean the good times are. Head out of the city to Hermann, or go to the first fish fry of the season. Continue on for our food-related recommendations.
See also: Anheuser-Busch Resurrects Faust, the 130-Year-Old Beer Named for a St. Louis Legend
Friday (Feb. 20):
God's Cod Fish Fry @ St. Mary Magdalen Parish School
St. Mary Magdalen hosts one of the most popular fish fries every year -- it even has a drive through. Choose from several entree options, like the titular fried cod platter, baked sole, fish tacos, baked salmon, fried shrimp and fish and chips, plus cheese pizza for the kids. Sides include green beans almondine, Parmesan potato chips, cole slaw, three bean salad, mac & cheese and spiced apples. Beer, wine, soda and iced tea are available for purchase, with complimentary water and coffee. From 4:30 to 7:30 p.m. Admission is free.
4 Hands will be taking over the taps at the New Moon Room at the Eclipse. Come get your hands on some of its most-desired brews, like 2013 Bonafide, 2014 Bonafide, Madagascar, the Woodsman and Volume No. 1. Kegs will be tapped at 5 p.m. Admission is free, beer available for purchase.
Saturday (Feb. 21):
Date Night: Salsa the Night Away @ Dierbergs Des Peres
Bring your significant other and salsa the night away in this hands-on class. You'll make fruity citrus sangria, salsa fresca, fried plantain chips with homemade ketchup, empanaditas with picadillo, chicken enchiladas and honey-drizzled sopaipillas with cinnamon ice cream. From 7 to 9 p.m. The class is $80 for two seats; it's currently sold out, but you can join the wait list here.
Hermann Chocolate Wine Trail @ Hermann
"Chocolate treats paired with specials wines await at seven stops along the Hermann Wine Trail, including Stone Hill, Hermannhof, OakGlenn and more. Saturday from 10 a.m. to 5 p.m. and Sunday from 11 a.m. to 5 p.m." Tickets are $30 per person, available here.
World of Pinot Noir @ Cedar Lake Wine Cellars
Cedar Lake's monthly wine dinners feature pinot noir this week. Start with Maryland crab mousse with black sea salt lahvosh paired with Trimbach Pinot Blanc, then a brie wedge with jicama slaw and a blackberry vinaigrette paired with Dom de Prieuré Savigny-lès-Beaune, a French Pinot Noir. Next, it's honey- and chile-rubbed lamp chops with house pickled sweet peppers on a bed of pecorino and cornbread pancakes paired with Animal Pinot Noir from Romania. Dessert is a dulce de leche crème brûlée shooters paired with Charles de Cazanove Blanc de Noirs. From 7 to 10 p.m. Tickets are $70 per person, available here.
Sunday (Feb. 20):
Novel Cuisine: A History of Food in 100 Recipes @ Kitchen Conservatory
The series continues with William Sitwell's book, A History of Food in 100 Recipes. Chef Anne Cori will make Scotch broth, meatballs in pomegranate sauce, French creamed oysters, homemade ravioli, and custard and fruit trifle and discuss the book. From 1 to 3:30 p.m. Class is $40 per person; register here.
Roasting and Brewing Fundamentals @ Kuva Coffee Factory
Kuva Coffee is here to teach you about java, from beans to sourcing to brewing methods. You'll discuss fair trade and where Kuva gets its coffee from. Then you'll "see and smell the roasting process in action" and take home a sample of the just-roasted coffee. Finally, you can brew a cup yourself using any number of methods, or, if you're not so sure, a barista can brew it for you. From noon to 4 p.m. Tickets are $30, available here.
Oscars Night @ West End Pub & Grill
Watch the Oscars with a three-course meal as if you were at the awards yourself. In fact, the best-dressed couple will win a bottle of wine. Dinner includes beef carpaccio, grilled salmon with Mediterranean relish and blue cheese au gratin potatoes and a dessert of white chocolate-almond bread pudding. From 6 to 10 p.m. Dinner is $30 per person, call 314-531-4607.
Gut Check is always hungry for tips and feedback. E-mail the author at Nancy.Stiles@RiverfrontTimes.com.
Follow Nancy Stiles on Twitter:
---