Pig head simmering for headcheese. | Photo courtesy of Bolyard's Meat & Provisions
In perhaps the next iteration of the "farm to table" emphasis on local and sustainably harvested produce, "pasture to plate" refers to an animal-friendly, small-farm-raised, whole-animal butchery. As a result, there is a growing demand by consumers for butchers who are passionate about working only with local ranchers who're committed to the health and well-being of their animals -- and of the local community.
We visited two local shops to find out about the wide array of products available to home cooks and how to best use those products : Bolyard's Meat & Provisions (2810 Sutton Boulevard, Maplewood; 314-647-2567) and the Block (146 West Lockwood Avenue, Webster Groves; 314-918-7900).
See also: The 10 Best Burger Joints in St. Louis
Bolyard's Meat & Provisions opened in Maplewood at the end of last year with a mission to support the humane handling and slaughter of animals, and to only work with farmers whose animals are 100 percent pasture-raised, and antibiotic- and hormone-free.
Owner and head butcher Chris Bolyard believes mother nature knows what she's doing and that by allowing animals to engage in their natural, unconfined behavior, such as eating grass and "occasional acorn and grub worm," a farmer can yield a better quality of meat.
Bolyard was a former chef de cuisine at Sidney Street Café. In fact, his past life in the kitchen was where he first realized his passion for using all the parts of the animal out of respect for the life they had given up. Every piece of meat is used for premium cuts, deli meats, sausages or pates. Lard and tallow are turned into soap and hand balms, and trim goes to dog treats. Nothing in the shop is wasted.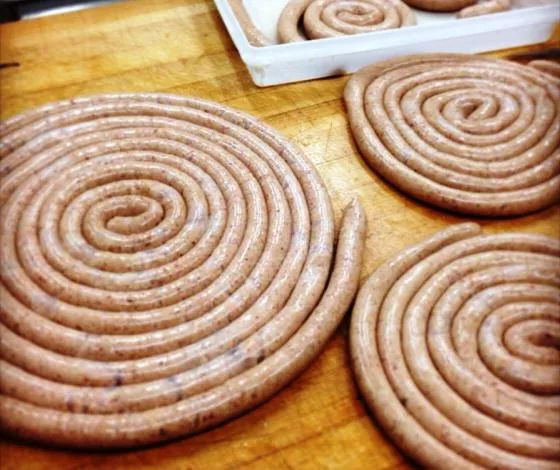 10. Housemade sausage at the Block | photo courtesy of the Block
Over in Webster Groves, chefs, owners and brothers-in-law Marc Del Pietro and Brian Doherty knew they wanted to cook with high-quality meat that came straight from small farms when they opened their restaurant, the Block. They also thought it would be more expensive, but once they gave it a try, they realized that using every part of the animal and cutting out the middleman was actually more cost-effective. They quickly decided they wanted to be able to offer this quality of meat and butchery to their diners to take home with them, and so they opened a shop located at the entrance of their Webster Groves eatery. After enjoying a delicious meal at the restaurant, customers can ask for that exact cut and learn how to prepare it.
The Block sources its pork from family-owned Rensing's Farm in New Douglas, Illinois. The beef is from Creekstone Farms in Arkansas City, Kansas. The lamb is from in Charleston, Illinois, and, the chicken hails from Double Star Farms in Bluford, Illinois.
When not in the kitchen, Del Pietro works with several local high schools' culinary programs. After taking a lesson on cooking techniques and the importance of using local farmers, the students visit the restaurant's kitchen for a first-hand lesson on butchering. And, of course, everyone has a chance to sample the product at the end of class.
The case at Bolyard's Meat & Provisions. | Sara Graham
Bolyard's is a "whole beast" butchery -- that is, beef, chicken and pork is delivered whole and broken down by hand in-house.
"Our cows generally weigh around 600 pounds and are delivered in four quarters (two forequarters and two hindquarters). After arrival, I separate each quarter into primal cuts -- short loins, flanks, rounds, sirloin, chuck, ribs and plates. These are hung until a request comes in," explains Bolyard in an email. "For instance, when someone wants a culotte steak, I ask, 'How thick?' and then grab the sirloin and cut the steak. Generally speaking, a hand-cut steak will take about three to five minutes to cut, but it's well worth the wait. We encourage guests to watch the process to pass the time and really get a connection to the craft of butchery."
Then there's the pork: "Pigs come in split in half, weighing about 200 pounds. Upon arrival we separate it into shoulder, butt, hams, ribs and trotters. The head gets braised for headcheese or boned out for porchetta de testa. The hocks get smoked, the shoulders are ground for sausage, the belly is used for bacon and the loin goes on the rack until we get a request for chops or tenderloin that we cut to order."
Sippable pork broth. | Courtesy of Bolyard's
Bolyard uses bones for stocks and sipping broths. "REM-E-DY" is the name bestowed on the ready-to-sip savory bone broths. Beef, chicken or pork bones are cooked for 12 to 24 hours to allow for the nutritious gelatin, vitamins and minerals to be released, providing amino acids, collagen and glycine.
In addition, each broth is infused with delicious flavors. There's beef with lemongrass, ginger and kaffir lime; chicken with sage, rosemary, bay leaves and turmeric; and pork with star anise, clove, cinnamon, fennel, Szechuan pepper and apple.
If you want more even more flavor and health benefits, add a shot of miso or kombu.
We asked Bolyard about his favorite cuts, and his tips for cutting and preparing them. Here's what he said:
Beef Merlot or Heel Steak: From the heal of the cow; more tender than a flank steak. Salt, pepper and throw it on the grill, or pan-sear and finish in the oven.

Beef Hanger Steak: A lesser-known beef cut with a lot of flavor. Cook on high heat after rubbing with tallow to create a nice char. Cook to medium rare or medium.

Beef Neck Roast: Full of flavor. Braise or barbecue "slow and low."

Beef or Pork Tongue and Heart: Under-appreciated cuts; versatile and economical. Corned, braised or smoked; great for tacos or diced into chili or soups.

Pork Porterhouse: Loin chop with the tenderloin attached, bone-in. Cut them one to one-and-a-half inches thick, grill or pan sear it and finish it in 400 degree oven.
Lamb chops at the Block. | photo courtesy of The Block
Over at the Block, the case is stocked with pork chops, house-cured bacon, pulled pork, sausage, butcher's terrene (headcheese), pig ears for dog treats, heart, liver, kidneys and housemade charcuterie including braunschweiger (a type of liverwurst).
Here is the Block's best advice for butchering a pork shoulder:
Instructions for butchering a pork shoulder: When butchering the shoulder of the hog, first remove the paddle bone (the blade bone). Then cut along the natural seam which divides the upper and lower portion of the butt. Finally, cut the blade steaks out of the upper portion for an ideal fat-to-protein ratio.
For beef, you'll find rib eye, New York strips, flank steaks, hanger steaks, petite tenders and ground beef. Both restaurants also sell custom spice mixes, housemade sauces and bacon jam.
How to select a quality steak: Look for marbling for a tender cut and a higher fat content for maximum flavor.
Get into a local butcher shop near you to try out these different cuts and products at home.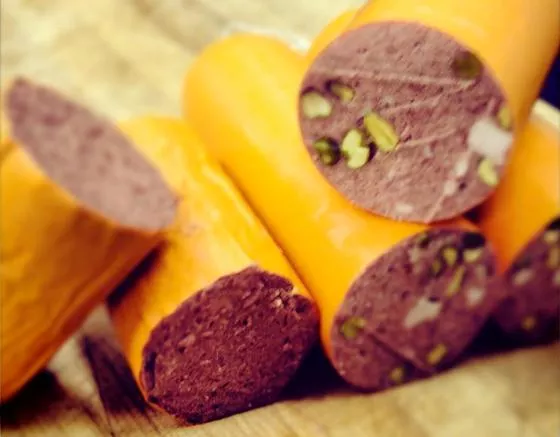 Braunschweiger and mortadella at the Block | photo courtesy of the Block
9. Ground beef at The Block | photo courtesy of The Block
Follow Sara Graham on Instagram at @EngageTaste and Twitter at @EngageTaste. E-mail the author at sara@engagetaste.com.
---