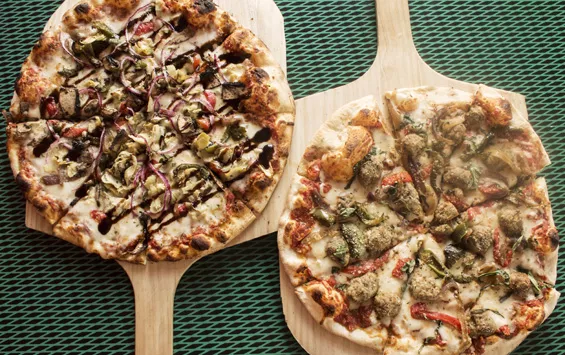 "Veggie" pizza with tomato sauce, roasted eggplant, peppers, zucchini, onion, mozzarella, provolone and fresh basil; "Hey Bauly" pizza with tomato sauce, mini meatballs, peppers, onions, mozzarella, provolone and fresh basil. | Mabel Suen
Leonardo's Kitchen and Wine Bar (2130 Macklind Avenue, 314-664-1410) Mon.-Thur. 11 a.m.-8 p.m.; Fri.-Sat. 11 a.m.-9 p.m. (Closed Sundays)
Rich LoRusso grew up on the Hill, just a block away from the tiny Texaco gas station on the corner of Macklind and Bischoff avenues. It's no surprise that he and his wife, Terri, ended up as restaurateurs: They met as teenagers working at the same small Italian restaurant. She was a busgirl; he was a cook. What neither expected, however, is that the fill-ups and oil changes at his neighborhood service station would cease -- and that they would end up operating a restaurant there instead.
Named after their grandson, Leonardo's Kitchen and Wine Bar is the LoRussos' sophomore effort. The pair has been operating LoRusso's Cucina, a midscale Italian restaurant in Clifton Heights, since 1986. When Station Pizzeria (the original occupant of the converted gas station) closed, they jumped at the opportunity to open a more casual concept in the nostalgic space.
See also: Avenue Amply Fills the Void Left By the Pomme Restaurants: Review
"Meatball" sandwich with housemade tomato sauce, provolone and basil pesto. | Mabel Suen
Two old-fashioned gas pumps greet guests as they walk up to the patio. Inside, the brown-glazed bricks and garage doors make it easy to imagine a time when '57 Chevys sputtered in and hummed out. The space is divided into two rooms (plus the patio that's enclosed for the winter), dotted with small tables in red-and-white-checkered tablecloths. At lunch, diners order at the counter; during dinner, a server takes orders tableside. Entreés come out on plastic plates, wine in plastic cups.
Leonardo's Kitchen and Wine Bar serves comforting and uncomplicated St. Louis-style Italian food. An appetizer of half-moon-shaped toasted caprese ravioli arrived crisp and golden brown, filled with tomatoes and mozzarella cheese. The accompanying red sauce was given a zesty kick by capers, kalamata olives and a healthy amount of oregano. The Parmesan "Naked Meatballs" were covered in the same sauce and topped with melted Provolone and grated Parmesan cheese. A signature dish at Leonardo's, the meatballs were tender, moist and about the size of a mandarin orange. The four-piece portion was almost too much for two, but they were so delicious, we managed.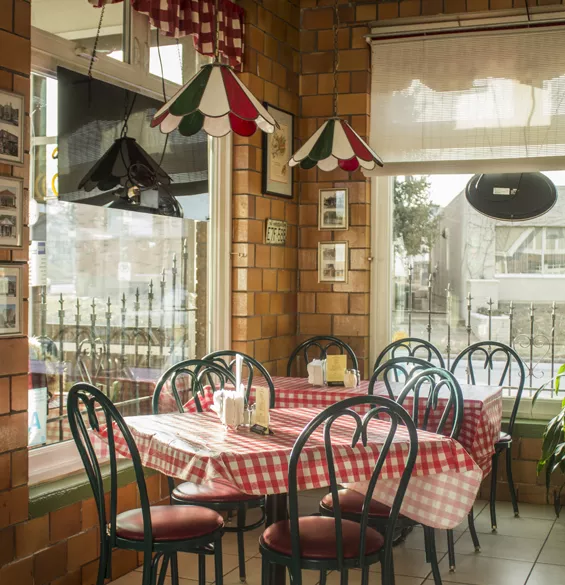 The dining room at Leonardo's Kitchen and Wine Bar. | Mabel Suen
The "Puttanesca Salad" is the Hill classic (mixed greens, marinated red peppers, tomatoes and onions) with a southern Italian twist -- Leonardo's adds capers, olives and anchovies, and dresses it in a balsamic vinaigrette. It's deliciously tart and salty, and comes in another generous portion big enough for two.
I'd be remiss if I did not mention the cheese garlic bread. Leonardo's prepares a quintessential version: soft buttery bread, a heaping sprinkle of fresh garlic and gooey Provolone cheese. It was delicious on its own, and even better as the base for the restaurant's monstrous meatball sandwich. Leonardo's stuffs four of them between two slices of the bread, then coats the meat in a simple chunky tomato sauce and a thin layer of basil pesto. This glorious beast is only available at lunchtime -- and it's probably the reason the place was packed on a dreary Monday afternoon.
The staff at Leonardo's wear shirts with the phrase "Where Italian Beef Rules." There is truth in this advertisement. The restaurant's Italian beef sandwich features seasoned, gravy-soaked meat and piquant giardiniera heaped between two slices of soft Italian bread topped with melted Provolone. The jus and pickled vegetable juice soak into the bread to form a mouth-wateringly spicy beef gravy. It was a tough act to follow, which led me to be underwhelmed with the "Yogi Hoagie." It was a fine enough sandwich -- roast beef, ham, salami, mortadella and Provolone dressed with tomatoes, lettuce, red onion and vinaigrette -- but it needed more zest.
Italian beef sandwich. | Mabel Suen
Leonardo's pizzas fall somewhere between St. Louis- and New York-style. The hand-tossed crust, made from a recipe passed down by Rich LoRusso's grandfather, is heftier than the St. Louis cracker version, but it retains a flaky crispness. The restaurant offers a variety of red- or white-sauced specialty preparations, or patrons can build their own. The "Hey Bauly" is covered in those meatballs, miniaturized, with tri-colored peppers and onions on a bright tomato-sauce base. The ingredients are set in a gooey blend of mozzarella and Provolone cheeses that is topped with fresh basil.
The "Chic Sev" is like spinach-artichoke dip in pizza form. Spinach, artichokes and slices of chicken breast rest atop a garlicky cream sauce and are topped with the mozzarella-Provolone blend. It was tasty, though the chicken dried out -- a common issue for this topping. The "Veggie" was my favorite. Red, green and yellow peppers, onions, zucchini, squash and eggplant smothered their red-sauce base -- this pie probably contained two days' worth of vegetables. Mozzarella and provolone topped the dish, and a sweet and tart drizzle of a balsamic reduction gave it depth.
Owner Rich LoRusso at Leonardo's Kitchen and Wine Bar. | Mabel Suen
Leonardo's offers homemade cookies and brownies for dessert, not that it mattered. After such a satisfying casual Italian feast, I could barely finish my cup of Barbera. Perhaps calling this a "former" filling station is a misnomer.
Follow Cheryl Baehr on Twitter at @CherylABaehr. E-mail the author at Cheryl.Baehr@RiverfrontTimes.com.
---