"Caldarello Sausage Sliders" with mozzarella and marinara. | Photos by Mabel Suen
The Place: The Feasting Fox (4200 South Grand Boulevard; 314-352-3500)
The Hours: Happy hour is offered Tuesday through Friday from 4 to 7 p.m.
The Deals: Half-off appetizers from the restaurant's "Pub Menu." $3 rail drinks, $4 draft beers, $4 glasses of wine and $2 domestics.
Taps at the Feasting Fox.
The Scene: South-city passersby likely recognize that classic steepled, stucco building that sits on the corner of Meramec and South Grand avenues. The St. Louis landmark was originally built in 1914 by August Busch of Anheuser-Busch in the era of Prohibition as a family establishment. It later operated as Al Smith's Restaurant from the 1930s to 1961.
Dutchtown residents Susan and Martin Luepker picked up where Smith left off in 1993, restoring the space to its original state and filling it with bits of history from all over the city. Every corner of the bar -- from the tables and chairs to steins, antlers and paintings on the walls -- contributes to the Feasting Fox's unique historical perspective. Happy hour is a particularly peaceful time at the restaurant, so bring a friend or plan on getting to know a regular.
Grilled bratwurst with sauerkraut.
The Food: Half-priced food options from the pub menu include toasted ravioli with marinara, German-style egg rolls, Caldarello-sausage sliders, grilled bratwurst, mini meatballs with marinara, a grilled-chicken breast sandwich, a German-meatloaf sandwich, chips and fries.
Did the Feasting Fox make the grade? Find out on the next page.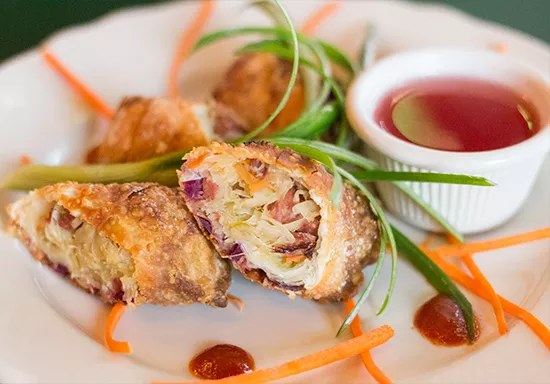 "German Egg Rolls" filled with sauerkraut, red cabbage and sausage.
The Verdict: The pub menu features plenty of small plates that honor the restaurant's heritage -- a couple of German dishes meet a St. Louis-style melting pot of simple yet ambiguous, easy-to-please food. The "German Egg Rolls" were a snack-time standout, fried just right and stuffed with a bright filling of sauerkraut, red cabbage and sausage. "Caldarello Sausage Sliders" packed just as much flavor with juicy sausage patties, tangy marinara and mozzarella served on buttery toasted buns.
A corner of the bar at the Feasting Fox.
Bratwurst comes from Wenneman Meats, cooked until browned and flavorful. It's topped with grilled onions and served on a bed of tender, flavorful house sauerkraut studded with sausage pieces. At a mere $3 to $4 per plate, the combination of dishes made a fine dinner. Factor in the charming atmosphere and friendly, attentive service, and we'd say it's safe to call happy hour at the Feasting Fox a time-honored winner.
The Rating: On a scale of one to five...

Previously on Happy Hour Handbook: - Monty's American Grill - Prasino - Tamm Avenue Grill - BaiKu Sushi Lounge - Van Goghz - Frazer's Restaurant & Lounge - The King & I - Sasha's - Nadine's Gin Joint - Juniper - United Provisions - Hammerstone's - Ranoush - Siam - SOHA Bar & Grill - Modesto - Square One Brewery - Cicero's - SqWires - Layla - Five Star Burgers - Central Table Food Hall - Planter's House - Atomic Cowboy - Stella Blues - Triumph Grill - Lola - Basso - Blue Ocean Sushi - Hwy 61 Roadhouse and Kitchen - Gringo - Jax Cafe - Mile 277 Tap & Grill - Sandrina's - Mangia Italiano - Kirkwood Station Brewing Company - Steve's Hot Dogs on the Hill
We're always looking for some more happy hour meal deals. E-mail the author at mabel.suen@riverfronttimes.com